People Top 5
LAST UPDATE: Tuesday February 10, 2015 01:10PM EST
PEOPLE Top 5 are the most-viewed stories on the site over the past three days, updated every 60 minutes

A while back President Reagan was invited to lunch at conservative columnist James Kilpatrick's house. So the Signal Corps dropped in to install the President's super-sophisticated phone system a few days before Reagan's visit. On it, a technician boasted, "We can reach any answerable phone in the world in 45 seconds. Come on, try us." Kilpatrick wanted to call his son, Kevin, who works in the U.S. Embassy in the Ivory Coast. "That's too easy," the technician replied as he woke up young Kilpatrick with the magic words, "The White House is calling." At the lunch, Reagan invited his hosts to test the system again. They decided to call their middle son, Chris, a Navy navigator then on secret oceangoing maneuvers. The ship's radio operator was reluctant to take the call. "What do you mean, the President of the United States is calling?" he protested. "What kind of code is this?" The line was faint, but Reagan eventually got on and chatted with the commander, then with Chris, before handing the receiver over to his folks and his wife. "It was like God calling the Pope," as the awestruck petty officer put it later, "and then asking him to put the No. 2 altar boy on the line."

Name Dropper
A high-powered Washington lobbyist just sent his resume" around town in an attempt to lure clients to his new firm. And an impressive résumé" it is, detailing as it does his service to the "Office of the Vice-President of the United States." Indeed, the words "Vice-President" appear seven times in four paragraphs. But it never says who that Vice-President was. No wonder. It was Spiro Agnew.

Mad at MADD
After football star Dan Pastorini was arrested for drunk driving last February, the Mothers Against Drunk Drivers organization (MADD) approached him for help in spreading the word about the evils of mixing driving and alcohol. The L.A. quarterback was only too willing to oblige—until he showed up for sentencing at the Newport Beach, Calif. courthouse and came out with three years' probation, a 90-day license restriction, a $556 fine and required enrollment in an alcoholic treatment program. Pastorini, a first-time offender, was so furious at the sentence that MADD hasn't heard from him since. MADD, of course, was instrumental in getting California to enact its get-tough drunk driving laws.

Storm over 'Storm
Whether Natalie Wood's final, and some say finest, performance, in the sci-fi epic Brainstorm, ever sees the light of day is the subject of some of the hairiest haggling in Hollywood. After Wood's death, MGM's insurance company, Lloyd's of London, agreed to pay $3 million for the completion of principal photography. Director Douglas Trumball shot what he said were the major remaining scenes and scheduled a screening of the movie for MGM's many moguls. But before the lights went down, he presented them with a list of 62 more scenes and special effects yet to be shot, scenes MGM may have to pay for. That made the moguls so mad they all trooped out. "Who do they think they're kidding?" fumed MGM chairman Frank Rosenfelt. "Did they think they were dealing with children?" Trumball retorted: "Who do they think they're kidding? They're trying to stall because they can't finance the completion of the film." Meanwhile the one print of Brainstorm is locked in a vault. "What we have here," says Trumball, "is a stalemate."

Furthermore
Ed Koch is known around New York as one of the city's most enthusiastic food lovers. But, says the Mayor, he also has a tendency to put on weight. As a result, he confesses, "I've been on a diet for 57 years." Which diet does Hizzoner throw his weight behind? "The best way to lose weight," says Ed, "is to close your mouth—something very difficult for a politician. Or watch your food—just watch it, don't eat it."


Reach Out and Startle Someone
Advertisement
Today's Photos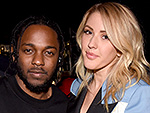 Treat Yourself! 4 Preview Issues
The most buzzed about stars this minute!