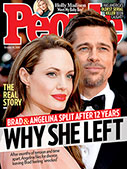 This Week's Issue!
People Top 5
LAST UPDATE: Tuesday February 10, 2015 01:10PM EST
PEOPLE Top 5 are the most-viewed stories on the site over the past three days, updated every 60 minutes

During a surprise performance at his alma mater, the Detroit Country Day School, the star of the upcoming The World According to Garp aimed a zinger or two at the World According to Bloomfield Hills—the affluent suburb where he spent part of his childhood. "People there don't buy Lacoste shirts," said Robin Williams. "They just staple a live alligator to their house."

Sophia's Choice
With Sophia Loren behind bars," worried Midwest radio personality Dick Purtan, "Pia Zadora could take her place as a leading sex symbol." Purtan organized a rally to raise money to free Sophia. About 600 people showed up at Buddy's Pizzeria in Farmington Hills, Mich. on the second Thursday of Sophia's jail term. Besides a bocce tournament, the rally featured a "picket line" with prizes for the most inventive signs. The best slogans included "Mama Mia, Free Sophia," "Free-a Sophi-a" and a racy one: "Free the Italian Two." Another, purportedly representing the warden's point of view, read, "Time off for bad behavior." And the winner? "Hire an ex-con." The whole thing was in the spirit of fun; the $500 raised actually went to the Children's Hospital in Detroit. Less fun was a "Free Sophia" rally in New York on Memorial Day. Three thousand people were expected, but only a dozen showed up in the rain.

Cover Flap
A collection of novelty tunes about the Fab Four, Beatlesongs, hit record stores last March. But instead of cries of delight, the disc prompted a storm of protest. Seems the jacket cover, drawn by artist William Stout and featuring tongue-in-cheek portraits of Beatlemaniacs, contained one caricature that was less than amusing: John Lennon's killer, Mark David Chapman, helping to hoist a "We Love You Beatles" banner. Outraged record shop owners and fans demanded that the producers of Beatlesongs, Los Angeles' Rhino Records, withdraw the LP and remove the picture of Chapman. Stout, however, balked at doing a new cover, contending that the figure of Chapman made "an important point." The artist claimed that "in the darkest depths of a thing called Fandom, Mark David Chapman is the ultimate Beatle fan." The album was reissued last month, however, with a different cover—a photograph of Beatle memorabilia. The controversy, naturally, boosted sales.

Ready to Serve?
At the French Open last week, neither Guillermo Vilas nor José-Luis Clerc, both Argentine citizens, faced a British opponent, but it's only a matter of time before the conflict in the Falklands gets in the way of tennis. Both players had been planning to compete at Wimbledon later this month, but that seems less and less likely. "I doubt I'll play," says Vilas, "unless things improve between now and then." Clerc puts it another way: "If the war is still on, I won't go. I respect my country." Would either pro fight for Argentina? "I am very old," says Vilas, 29, "and I think they call by age. I am eligible, but I'm far away from being drafted." Clerc, 23, says, "I don't know what good I could do, but I would go and fight with a racket and balls in my hand."

Furthermore

•Bill Cosby's wife, Camille, is learning to fly, and the 44-year-old comedian says he's "tickled. I mean, can you imagine her piloting me? The plane lands, and I lean over and kiss the pilot. Other guys' wives drive them to the train station in curlers. Camille could pilot the plane in hair curlers, too."

•Cop chronicler Joseph Wambaugh has joined a Caltech organization that entitles him to use its Athenaeum club. "I heard they had a great bar," he says, "and it is. Only graduate students and professors are allowed in. At other bars, I usually feel I'm smarter than anyone else. This is the first time I've felt every other drunk at the bar is twice as smart as I am—and if they don't know any better, how the hell am I supposed to?"

NEXT WEEK IN PEOPLE

On the job with Barbara Walters
With a retinue of 28, ABC's queen of shmooz travels to Texas to interview (yup!) Willie Nelson

George Plimpton goes a few rounds with Sly (Rocky III) Stallone
The author interviews Hollywood's box office champ about his surprising alter ego and his comeback as a family man

Is Grease the word for Lorna Luft?
Judy Garland's other daughter hopes the film sequel will do for her what Cabaret did for Liza


The Unofficial Preppy Handbook
Advertisement
Treat Yourself! 4 Preview Issues
The most buzzed about stars this minute!