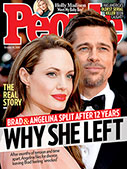 This Week's Issue!
People Top 5
LAST UPDATE: Tuesday February 10, 2015 01:10PM EST
PEOPLE Top 5 are the most-viewed stories on the site over the past three days, updated every 60 minutes
Land, Hoe! Lawyer Jerry Potter Seeks a Tragic Civil War Shipwreck Under An Arkansas Soybean Field


It lacked the grandiosity of the Titanic, or the political impact of the Maine. But in the minds of the survivors quoted above, the sinking of the river-boat Sultana early on April 27,1865 was one of the most horrible maritime accidents in American history. It was also historically the deadliest. After exploding and burning, the grossly overloaded steamer foundered in the Mississippi, about nine miles north of Memphis. It was carrying more than 2,200 passengers, most of them Union soldiers just released from Confederate prison camps. Some men, so badly wounded or sick they couldn't move, begged to be thrown overboard so they would not burn to death. Those in the water fought over floating planks. In all, 1,547 perished.

It is an old tragedy. But for Jerry Potter, 31, a Memphis lawyer and former history major at the University of Tennessee at Martin, it has a strange immediacy. After five years of research, Potter believes he has discovered the boat's long-lost wreckage—in a soybean field. Potter's interest in the Sultana was sparked when he saw a painting of the burning sidewheeler in the lobby of a Memphis bank. Soon investigating the riverboat tragedy became an obsession. He found himself waking at 5 each morning to read before work, and traveling to the Library of Congress and the National Archives to obtain old newspapers, maps and even a water-blurred passenger list. Puzzling questions emerged. Why had the 260-foot Sultana, with a listed capacity of 376 passengers, taken on 2,000 freed POWs at Vicksburg when two other empty steamboats were waiting at the dock? Was the fatal boiler explosion accidental or caused by a torpedo smuggled onto the boat by a diehard Confederate? Most perplexing, where was the wreckage, which a century ago seemed to disappear?

The first two questions are still open to historical dispute. But Potter concluded, along with other experts, that because the Mississippi has wandered away from its old bed, perhaps by three miles, the ship is probably now under dry land, across from Memphis near the river's Arkansas bank.

Last summer Potter approached Sam Oliver, a farmer in Mound City, Ark., and, indicating a point on a map showing Oliver's farm, said, "Sam, I think it's right here."

"No, it's not," replied Oliver, "it's about 50 yards north." Oliver, who knew of the Sultana story, had idly wondered if odd pieces of cast iron he and his father, Dearmont, had run up against while clearing the area were part of the boat.

After a year's testing, Potter is now convinced that the metal is from the Sultana. Clive Cussler, an expert on lost ships who wrote the novel Raise the Titanic!, conferred with Potter and has said, "It looks like a 99 percent chance that we've got it."

Metal detectors indicate a mass sizable enough to be the lost steamer, and Potter reckons it lies 10 to 15 feet underground. But the final answer to the hulk's identity will have to wait until Oliver has harvested his bean crop. Then he and Potter will drill core samples to locate the object they hope is the Sultana and remove the first few feet of topsoil. Potter plans to call in specialists for the dig's final stages.

"If there's just one boot down there, we don't want to ruin that boot," he says. "We're not going to commit archaeological disaster down there."

There is likely to be more than just a boot. The Sultana was carrying 100 hogsheads of sugar, 1,000 bushels of coal, assorted livestock—and a ship's safe rumored to contain gold coins that would now be worth $3 million. Any profits from the dig will go to the Olivers. Potter insists he isn't in it for the money. "History to me is alive," he says. "I can go out on the Shiloh battlefield, close my eyes and feel the agony. And if this is the Sultana, I'll be touching a very important fragment of American history that has not been touched for 117 years."


Men who were scalded and bruised were crawling over one another to get out of the fire"; "Men who were buried beneath the wreck were crying for help"; "Flames were madly rushing through the broken kindling of the boat cabin"; "The stench of burning flesh was intolerable."
Advertisement
Treat Yourself! 4 Preview Issues
The most buzzed about stars this minute!