People Top 5
LAST UPDATE: Tuesday February 10, 2015 01:10PM EST
PEOPLE Top 5 are the most-viewed stories on the site over the past three days, updated every 60 minutes
Confident at Last, Martina Navratilova Is No Longer a Fish Out of Water at the U.S. Open


The 25-year-old defector from Czechoslovakia, who acquired U.S. citizenship last year, dismisses her troublesome rivals of the past, Chris Evert Lloyd and Tracy Austin, as unlikely threats to her dominance. "I can stay out there longer than they can and I'm in better shape," says Martina, who maintains she can play the Evert Lloyd-Austin baseline game better than they can adopt her own aggressive, net-charging style. Evert Lloyd is neither intimidated nor amused by her former doubles partner's bravado. "She's just bluffing," retorts Chris. "She feels the pressure. I still think she can crack. She gets very emotional on the court. I don't consider her in the same league as Tracy and me or even Billie Jean [King] as far as being mentally tough."

Currently ranked No. 1, Martina has already surpassed Chris and everyone else in career winnings with a record $4.5 million. Now she is eager to assure herself a place in tennis history by winning the cherished Grand Slam. (Traditionally, the Grand Slam has been reserved for players winning the four national championships in a single calendar year, but representatives of the tournaments have agreed that Navratilova's win in last December's Australian Open will be counted should she win at Flushing Meadows.) Chris, however, taking the long view, considers Martina's achievements still a bit second-class. "After Wimbledon, Martina said that she wanted to be known as the best woman player ever. What an insult to Billie Jean and me, who have had 10 times better careers," says Chris, in a rare flash of heat. "She's had one great year. I've had seven and Billie Jean's had at least eight. You can be good and still respect other players—but Martina doesn't."

Though Navratilova has been virtually invincible in 1982, she has not, until now, shown the consistency that a great player must. At times her awesome talents have seemed almost wasted. Undisciplined and hedonistic, Martina binged on junk food until she ballooned to 167 pounds in 1976 and limited her daily practice sessions during tournaments to 45 minutes of desultory hitting. Now, at 5'7½" and 145 pounds, she is sinewy and stronger than any of her opponents. "I always knew I had the talent, but I relied on it without working," Martina admits. "I realized finally that I had better get my butt in gear for the few years I have left to play."

Her former coach, Renee Richards, modified her serve and backhand last year. Even more crucial, she taught Martina court strategy. "Before, I never had a special plan for different players," says Navratilova. "I had no idea what I was doing out there. Now it's inbred." Martina credits housemate Nancy Lieberman, 24, the premier women's basketball star, with her newfound fitness. Indeed, the atmosphere in Lieberman's three-bedroom Dallas condo is more akin to boot camp than to the comfortable life Martina had previously shared with gay novelist Rita Mae Brown in the tennis champion's 27-room Virginia mansion. Barking orders like a drill sergeant and clutching a stopwatch, Lieberman supervises an unrelenting regimen of wind sprints, weight training and four-mile jogs, in addition to four hours of daily practice. "I've told Martina that confidence is not a new car, a diamond ring or another house. It comes from hard work," says Lieberman. "When I first met her, I couldn't believe how unconfident she was. I expected this great athlete, this tennis superstar, to be like me—cocky."

Martina's penchant for reform also apparently extends to her once-extravagant life-style. Under a new austerity program, she has shed the diamond and gold jewelry, the Gucci shoes and accessories and four of her seven cars—though she is keeping her white Rolls-Royce Corniche convertible. She shares housework, cooks her own meals, and usually flies economy class—whittling her yearly touring expenses from $80,000 to $65,000. "I have enough money for the rest of my life even if I never play another tournament," she explains, "but I want enough to live the way I like to live." When she retires from tennis, Martina expects to divide her time between a Palm Springs condo and her eight-acre estate outside Charlottesville, Va.

Now wealthy and thoroughly Americanized, Martina has strayed far from her roots in Revnice, Czechoslovakia, where her mother and half sister, both named Jana, and her stepfather, Mirek Navratii, returned after an eight-month trial visit to the U.S. in 1980. (Her natural father committed suicide when Martina was 7.) Mirek, who earns $2,400 a year as an economist for a Prague factory, was unable to adapt to Dallas or to learn English as readily as Martina, who is also fluent in Russian and German. "He wanted to coach me and travel with me, but I didn't want that," she says. "I had to take care of them all. If the refrigerator broke, I had to get it fixed. They didn't know how to call for help."

The culture shock was understandable for parents who had scrimped year-round so that their child prodigy could compete on the national summer tennis circuit, often staying in cramped dorms to save money. By the time she was 15, Martina was the Czechoslovakian women's champion and had already sampled first-class hotels and expensive meals on the European and U.S. tennis tours. When she defected three years later, after the 1975 U.S. Open, neither her family, Czechoslovakian tennis officials nor her friends were surprised.

Though tennis liberated her, Martina's real emotional center has been remote from the sport's traveling road show. Held in thrall by a series of companions, including former golfer Sandra Haynie and the outspoken Brown, she seemed in search of a surrogate family. Perhaps as a result, her personal life has involved one painful rupture after another. "If one friend takes an interest, that person dominates her," observes Rosie Casals, the tennis tour's mother hen. "Nobody else exists for her. Martina has trouble finding her identity and her own individuality beyond tennis. I really feel that she doesn't know what Martina is all about. She's bright, funny, very caring, and yet she has no substance."

Lieberman has taken pains to declare publicly that her relationship with Martina is not romance but friendship, yet her influence and control are total. "Martina has a deep craving for love and she needs someone to push her; she can't do it on her own," says Evert Lloyd. "As long as Nancy doesn't push too far, their friendship will endure. But as soon as somebody starts interfering with that 10 percent of Martina that wants independence, that person is in big trouble."

If success has brought Martina the recognition she yearned for, it has also subjected her private life to unwelcome scrutiny. When her relationship with Brown received extensive publicity last summer, Martina anticipated the same image damage that cost Billie Jean King $1.3 million in lost endorsement contracts after King's former secretary filed a palimony suit. Yet Martina's contracts with Yonex rackets, Spalding tennis shoes and Kim sportswear have all been unaffected by the controversy. "I'm with really good people and obviously they don't care," she says with a shrug. "The same kind of people who dropped Billie Jean also dropped Anita Bryant. Explain the logic in that. Are you not supposed to have any opinions? Are you supposed to be a nun? What's ordinary? Where's the happy medium?"

Until recently Martina's explosive Slavic temperament has usually been about as helpful as a blown fuse against the steely calm of an Evert Lloyd or an Austin. Now, though her competitive fires burn hotter than ever, she seems less prone to useless outbursts of temper. "I can control my emotions a lot better," she says. "They still eat me inside, but I don't throw my racket anymore." She was over-whelmed when the crowd gave her a standing ovation after she lost to Austin in the final of last year's U.S. Open. "I've always craved the love. Now it seems that the affection of my friends has carried over to the general public," she muses. "I wonder what changed it? Did I open up first or did people love me first?"

Accepted at last, blessed by superb strength and quickness, and displaying the competitive maturity that has always eluded her, Martina is playing the most dazzling tennis of her career on the eve of the only major tournament she never has won. "She could be unbeatable," says Casals, and the new Martina is quick to agree. "This is the best phase of my life," she says. "Everything is going really well for me right now." Then, for a moment, she lets slip an echo of the Martina that was. "Sometimes I get scared that I'm going to mess it up," she whispers. "Or that somebody else will."


When the U.S. Open tennis tournament begins this week at Flushing Meadows, N.Y., just a lob away from the rumbling jets of LaGuardia Airport, no one has more to win—or to lose—than Martina Navratilova. Not only would victory make her the third woman in tennis history to score consecutive triumphs in the game's four major national championships—the Australian, French and U.S. Opens and Wimbledon—it would earn her a $1 million prize for sweeping the more lucrative, if less august, Playtex Challenge. Having already won more than $1 million in 1982—more than any other woman athlete has won in one year in any sport—and riding the crest of a superlative eight months in which she has won 64 of 65 matches, Martina is confident, almost arrogant, about what will happen. "I'm going to win, I know it," she says. "They better dread playing me. I'm the favorite going in and they'll be gunning for me. That's fine. I want to be the one to beat."
Advertisement
Today's Photos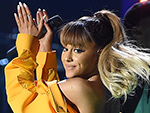 Treat Yourself! 4 Preview Issues
The most buzzed about stars this minute!