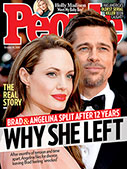 This Week's Issue!
People Top 5
LAST UPDATE: Tuesday February 10, 2015 01:10PM EST
PEOPLE Top 5 are the most-viewed stories on the site over the past three days, updated every 60 minutes

Since I became a Hopelessly Devoted fan of Olivia Newton-John (PEOPLE, Sept. 6) four years ago, I have eagerly waited for a chance to see her live in concert. When I read about her "50-concert swing" in your fall preview issue, I hopped on the phone and made a few calls. I am now the proud owner of two tickets to her upcoming show in Oakland, Calif. Thanks to your informative article, my autumn will be even more colorful than I hoped for.
Eric E. Long
Reno, Nev.

Martina Navratilova
The quarterfinals of the U.S. Open certainly made mincemeat out of Navratilova's statement in PEOPLE: "I'm going to win. I know it. They better dread playing me." Had she given others the chance to praise her, perhaps the egg on her face wouldn't be so sticky.
Christine C. Wiley
Rahway, N.J.

Martina Navratilova was portrayed in your article as just another egotistical sports figure who is infatuated with herself and her ability. To the contrary, I admire Ms. Navratilova for being so honest. I feel she has gone through a lot of changes and is trying to come to grips with her goals in sports as well as in her personal life. As a teenage lesbian who is involved with sports, I find that she is a role model I can respect.
Name withheld
Carlsbad, N. Mex.

Rosanne Cash
Thank you for the long-overdue article on Rosanne Cash. Your story confirmed what I've always felt—that the lady is not only talented and very classy but also honest and intelligent as well. Johnny needn't fear: The family name is in good hands.
Jef Fazekas
Irvine, Calif.

Bette Midler
If Ken Wahl, Bette Midler's co-star in Jinxed, wants to become a legend, too, he should keep his preferences to himself. (He claimed that he could get through the "smooch" scenes only by thinking of his "pooch.") Bette Midler is a terrific singer, but she is also an outstanding actress with a great sense of humor. That's what I call a star.
Diana Taylor
Parkersburg, W.Va.

Edward Jay Epstein
If Edward Jay Epstein professes to be so well versed on diamonds, why is he pictured looking through the wrong end of the loupe at the fake diamond he is examining? We think his description of the diamond industry is as false and distorted as that stone must look to him. The industry has held up remarkably well in view of our troubled world economy. Sales figures from industry sources show an 8 percent increase in 1981 from 1980. In fact, it has been reported that more married women in this country acquired a second piece of diamond jewelry in 1981 than ever before, and in the same year over 80 percent of first-time brides in America received diamond engagement rings. We are confident that the desire to own and give diamonds, a tradition dating back to the 15th century, transcends even difficult financial times and that the diamond industry will prosper as the health of the U.S. and the world economy improves.
Lloyd Jaffe
Chairman
American Diamond
Industry Association
New York City

Ever wonder why the little people are so suspicious of big business? Most of us can't afford diamond chips in a sparkling setting, let alone a commercial-grade diamond "with a slight imperfection invisible to the naked eye" at "$2,000 a carat." Perhaps Epstein will inquire into another of nature's expensive antiquities—coal or oil.
Ann Paskiewicz
Grand Junction, Colo.

Luciano Pavarotti
I could hardly believe that PEOPLE actually let one of its writers make the statement that Luciano Pavarotti has "an okay singing voice." Pavarotti is just the greatest tenor in the world. Tell your writer to clean out his ears and listen to a legend.
Patti Dillon
Alameda, Calif.

Indeed, we have. Our reviewer was engaging in a fortissimo understatement.
—ED.

William F. Buckley Jr.
In Chatter, PEOPLE reports that St. John, New Brunswick businessman Aubrey Pope caught me, my son and Prof. Thomas Wendel, while cruising down the St. John River, in flagrante: "Three of Buckley's crew members had indeed sought to unload their trash—by dumping it all on Pope's private dock. Pope happened to intercept them and ordered them off. 'I'm not very big, but I can get ugly,' he said, adding that he 'would have been glad to help'—if it hadn't been for their 'arrogant attitude.' Buckley's response was to dump his trash without permission at a scenic spot farther downriver." Well, now. (1) Pope didn't "intercept" us. He arrived at his dock as we arrived at it. (2) We didn't unload the garbage from our dinghy, we asked whether we might do so, to which his answer was a curt "No." (3) We didn't proceed to dump the trash anywhere, retaining it on board the dinghy until reaching the Yacht Club the next day. (4) If we had been unconcerned about pollution, we would quite simply have dumped it into the river in the first place. I, my son and Tom Wendel happen, coincidentally, to be the three politest men alive, and the most responsible. It would not occur to us to dump garbage on private property without permission.
William F. Buckley Jr.
New York City


Fall Preview
Advertisement
Treat Yourself! 4 Preview Issues
The most buzzed about stars this minute!