People Top 5
LAST UPDATE: Tuesday February 10, 2015 01:10PM EST
PEOPLE Top 5 are the most-viewed stories on the site over the past three days, updated every 60 minutes
After the Horror of Poltergeist, Jobeth Williams Is Sitting Pretty


Fortunately, it didn't get either of them, and with her Spielberg-engineered triumph behind her, Williams, 33, is off on a winning streak. Having already grossed over $70 million since June, Poltergeist is being re-released for Halloween, at the same time as Jo-Beth's latest, Endangered Species, in which she plays a Colorado sheriff investigating cattle mutilations. "She's one of the finest actresses around," raves Spielberg. "She'll soon be a big star in the mold of Jill Clayburgh."

Ironically, Williams almost turned down Spielberg's offer to play the sassy, pot-smoking mom who risks her life for her children in Poltergeist. "It wasn't until I read the script that I agreed," she says. "My gripe with horror movies is that you don't get involved enough in the characters to care whether they get axed to death or not. In Poltergeist, the family relationships were the most important thing in the movie."

Having just finished a four-hour ABC miniseries, The Day After, about the effects of a nuclear explosion in Kansas City, JoBeth cares most now about the time she's not spending with John Pasquin, her husband of seven months. As an actor and director himself—he's in charge of six episodes of Alice this season—John understands. But that doesn't make it easy. "The most frustrating thing about being in this business," says Williams, "is that the more successful you get, the more you are not going to be with your mate."

JoBeth and John met seven years ago in a Princeton, N.J. theater production. "We were friends for quite a long time before we were ever romantically involved," says Williams. "Because I am in this business, I have always been very nervous about getting married." John made her think the chance was worth taking. Though they still keep a one-bedroom apartment in Manhattan, last summer they bought a four-bedroom, 1930-vintage house with a swimming pool in the Hollywood Hills. "We're so used to apartments and sublets and hotel rooms," she explains. "We both wanted a place where we felt rooted."

JoBeth was raised in Houston, the daughter of a salt-of-the-earth Texas mother and a volatile Irish-Welsh father who was a tenor with the Houston Grand Opera Company. She started voice training early, then developed a taste for acting. After graduating from Brown University in 1970 as an English major, Williams stayed in Providence, R.I., to perform with a repertory company. Two years later it was on to New York, where she appeared off-Broadway and on the soaps. Working with her future husband, who was directing, she played home wrecker Brandy Shelloe on Guiding Light. "But when they turned her into a heroine with a heart of gold," JoBeth recalls, "the character became uninteresting to me." Her big break came with her first movie role, a one-scener in Kramer vs. Kramer. Playing a business associate who spends the night with divorced dad Dustin Hoffman, JoBeth—stark naked—bumped into his son in the hall. "The scene was funny and I was nude," says Williams. "Whatever it was, people suddenly wanted to meet me. At first I feared producers would say, 'Oh, well, nudity is what she does,' but it didn't work out that way." Within six weeks after the movie's release, she was offered roles—fully clothed—in The Dogs of War and Stir Crazy.

Despite her Poltergeist success, Williams isn't in any rush to do more horror films that require lathering her body with bloody special-effects goo. "We were covered two days from head to toe in this caca," she groans. "Boy, I'd love to do a movie where I could be warm and dry, wear an evening gown, carry a cocktail glass and spout Noel Coward dialogue." She'll come close playing a businessman's wife in her next film, The Big Chill, with William Hurt. A bigger wish after that is motherhood. "We're working on that at the moment," JoBeth shyly admits. And what if it slows down her career? "There will be times when you just turn down that next job," she says. "The relationship is more important." Looking around her new home, she laughs. "Got a lot of bedrooms. Got to fill 'em up."


Looking terrified came easy to Jo-Beth Williams in the climactic swimming-pool scene of Steven Spielberg's film scare-fest Poltergeist. It wasn't the rotting corpses bobbing to the muddy surface that made her eyes pop. The true horror lay in the giant fans and lights set up around the pool. "I have this paranoia about electricity, and my real terror was that someone was going to drop a light in all that water," she explains. "Everyone assured me that the lights couldn't topple, but I was still nervous about it. So Steven put on wading boots and stood in the pool with me. He said, 'If it gets you, it gets me too.' "
Advertisement
Today's Photos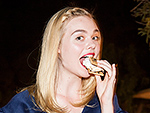 Treat Yourself! 4 Preview Issues
The most buzzed about stars this minute!