People Top 5
LAST UPDATE: Tuesday February 10, 2015 01:10PM EST
PEOPLE Top 5 are the most-viewed stories on the site over the past three days, updated every 60 minutes
Princess Diana's Royal Retreat
During An Alpine Ski Holiday Disrupted by the Press, She Displays a Renewed Zeal for Privacy
For Diana, 21, what was supposed to have been a private getaway (with 7-month-old baby William in a nanny's care in England) turned rapidly into a public spectacle. Tailed by an aggressive press that was unshackled by palace conventions usually respected in Britain, Charles and Diana found themselves caught in a Keystone Kops version of cat-and-mouse. And, as the week-long battle with the press continued, "shy Di" was no longer bashful about her preference for privacy. On and off the slopes, Diana was uncharacteristically icy to the pursuing paparazzi. As she pulled down her ski cap and hid her face behind gloves during one close encounter with the press, even Charles found her behavior frustrating and pleaded: "Please, Diana, don't do that. You're being stupid."
Diana's uncooperativeness was considered conduct unbecoming back home, where she prompted Buckingham Palace concern and London newspaper editorials. "We're afraid that she might start to behave the same way on official duties," worried a senior palace official. Nigel Dempster, celebrated palace observer for the Daily Mail, goes further. "She's behaving like a petulant, spoiled brat," he says, predicting: "It's going to get worse before it gets better."
As her Alpine holiday indicates, Diana is undergoing a difficult period of adjustment. Unlike her 34-year-old husband, who was born in the spotlight, Diana has yet to develop the worldliness that lifelong celebrity bestows. Since the announcement of her engagement 23 months ago, she has assumed in rapid succession the weighty roles of media personality, royal princess and mother. Even an otherwise admonishing editorial in a London newspaper admitted, "It's not easy being thrown in at the royal deep end at the tender age of 21."
The trip to Liechtenstein was intended as a reprieve from responsibility and care. The couple stayed at the fairy-tale castle in Vaduz that is the residence of Prince Franz Josef, 76, a longtime friend and distant relative of the British royal family. Perched on a mountainside, the castle is accessible only by a single road. The princely digs are familiar to Charles; during his bachelor days, there was speculation that he might marry Franz Josef's only daughter, Nora, 32, who once lived in London. During the ski vacation, Charles and Diana were entertained by Franz Josef's son, Prince Hans Adam, 37, and his wife, Princess Marie, 42.
Within an hour of the royal arrival, 40 newsmen had gathered outside the castle, and the chase was on. The next morning the royal car "came out of the castle gate like lightning," recalls Hans Walthard, a free-lance photographer for a Swiss newspaper, and the press was in pursuit—with one exception. A British reporter did not recognize any of the security men in the car, and decided it was a false alarm. It was. When newspapermen caught up with the car, they found one of Franz Josef's chambermaids made up to resemble Diana.
The real royal party headed for Laax, Switzerland, but the ruse faltered fast. A loyal reader of a Swiss newspaper tipped off the publication to Diana's presence, and the paper dispatched three photographers in a rented helicopter to trail the Princess down the slopes. When the helicopter caught up with her on the Vorab glacier, Diana responded by angrily waving her ski poles at the chopper.
Both sides had redrawn their strategy by the next morning; the press camped out on every intersection near the castle, guaranteeing that they would spot the couple. But Charles and Di had a countermove. They crossed over to nearby Austria and headed for St. Christoph. Photographers who tracked them were delayed by lengthy border checks obligingly arranged by Austrian officials. The press caught up to the couple only at lunch, but Diana stayed inside the mountainside restaurant the entire afternoon. Later she emerged with Charles, who tried to joke with the" press corps. "Now I'm going to blow my nose for everyone to photograph," he said. He did, and cameras clicked.
Austria's willingness to cooperate on security apparently pleased the royal pair; the next day they surfaced at the ski town of Lech, where a British photographer who was intending to ski alongside the royal party was elbowed and kicked by a local policeman. Prince Hans Adam witnessed the incident and asked the officer to apologize, but that was one of the few moments of civility in an increasingly tense situation. Because of the intensive media attention, Buckingham Palace had dispatched a press officer and the Prince's private secretary to Liechtenstein. They arranged a photo session, but Diana and Charles would not participate. Instead, they dashed into a waiting black Mercedes. Recalls photographer Walthard, "They threw their skis on top without bothering to secure them and sped off." Walthard gave chase. "A drive that would normally take me 45 minutes took me just 25. They were driving through tunnels on the wrong side of the road and at times reaching speeds in excess of 100 miles per hour."
On Thursday the press discovered Charles and Diana in a slope-side restaurant in Lech. Charles' personal bodyguard, Police Superintendent John MacLean, attempted to defuse the situation by promising a photograph later in the day if the couple were left alone while they dined. The press complied, but Diana did not. She emerged with her head down, a frown on her face. Not even Charles could persuade her to accommodate the crowd. "Please, darling, please, darling," he implored repeatedly. Later MacLean apologized to the newspapermen. "We haven't kept our side of the bargain, so I guess it's too much to expect you to keep yours."
The couple eluded their followers for the rest of the week. They went skiing on Friday and Saturday, but even after their departure on Monday, Franz Josef's press officer would not reveal where they had skied. The aide said the two royal couples enjoyed "a very friendly and familiar atmosphere." But, added the aide, the visit was "hard work in a way we didn't anticipate."
The zealousness of the British press took some curious forms. The Daily Mail sent its 70-year-old ski correspondent, Maurice Willoughby, to assess Diana's skill on the slope. Though most observers counted her a near beginner, Willoughby optimistically predicted that with practice "she could easily reach silver and possibly gold medal standard by her mid-20s." But Willoughby's assignment was not an easy one. He complained that bodyguard MacLean knocked him off his feet twice for skiing too close to the Princess, and that his life was endangered when he fell near a 200-foot precipice.
Theories abound as to why Diana should now display resentment over her press attention after she breezed through the pre-engagement brouhaha. According to London psychoanalyst Arthur Hyatt Williams, many young people in the limelight would inevitably undergo a difficult transition. "If one is barely out of adolescence, one wants adulation, glamour, indulgence, but there is also the adolescent yearning for privacy, which is encroached on. Some can solve it. Some cannot."
Ministering to two princes—husband and son—in addition to official duties may have taken a toll. According to the 1982 court circular, Diana attended 67 public functions last year, and the Princess reportedly schedules her appearances so that she can spend dinnertime with son William. But palace monitor Dempster, an increasingly harsh critic, insists that her daily routine is "lunch, dinner and shopping. She is not overburdened."
Although some gossips suggested otherwise, knowledgeable observers agree that the royal family is standing firmly behind its popular Princess. According to one of the Queen's closest aides, Elizabeth "is reassured by how well the Princess of Wales has dealt with the pressures with so little experience." Adds the aide: "Some things that are imagined by others to surprise the monarch don't do so because of her long experience of seeing things from the top."
Less than six hours after Charles and Diana returned to England, they were once again fulfilling royal duties. The couple made a public appearance at a reception for an upcoming British arts festival. Diana was her more familiar public self, stylishly dressed and smiling as Charles spoke to the assembled guests.
That quick recovery encouraged Di's fans, who realize that the constant attention to the Princess isn't likely to end, nor is the continuing battle of the palace vs. the press. Admirers hope that the Princess will once again adopt a more congenial attitude about some of her unscheduled appearances, as she did before the birth of
Prince William
. And at least one observer insists that Diana is capable of calling a truce whenever she wants. Says a veteran London photographer, "She should learn the trick of her father-in-law, the Duke of Edinburgh, who would smile graciously at the camera while at the same time cursing you through his teeth. We got our pictures, and he got in his abuse. Everyone was happy."
Contributors:
Jerene Jones,
Terry Smith,
Terry Spencer.
Advertisement
Today's Photos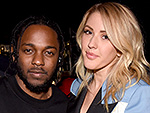 Treat Yourself! 4 Preview Issues
The most buzzed about stars this minute!