People Top 5
LAST UPDATE: Tuesday February 10, 2015 01:10PM EST
PEOPLE Top 5 are the most-viewed stories on the site over the past three days, updated every 60 minutes
Brooke Bobs Up in Israel
The Innocent Siren of Sahara—Her Upcoming Movie—Wows Her Rich Suitors but Remains Under Mom's Control
Brooke Shields
wearing a pinstriped suit, modified wing tips and a Panama hat. With her torrent of chestnut hair pulled tightly beneath a boy's wig and a skinny mustache pasted above her perfect lips, Brooke looks more like Wayne Newton than the pretty baby the world has watched blossom. When the director barks "Action!" Brooke swaggers down what is meant to be a murky Moroccan side street. After the scene she searches the spectators for her mother-manager, Teri, 49. "Mom," she asks, "was that good?" Teri gives a nod. Brooke eases to her mother's side and plants a tender kiss on her lips. While the crew sets up the next scene, Brooke cups her palms around Teri's breasts and tucks her long fingers inside her mother's armpits for warmth. "I'm so tired of kissing the little boy with the mustache," says Teri later. "I want Brooke the girl back."
The list of those who want Brooke is growing. It now includes such international suitors as Jordan's Prince Talal, 17, a nephew of King Hussein, and Mohamed Khashoggi, 19, son of billionaire Saudi tycoon Adnan. They leave jewels at her doorstep while they wait for her to grow up. At 17,
Brooke Shields
is 5'11", 130 pounds and as flat as Melba toast. Enough of a sport to joke about her missing cleavage, Brookie remains an arresting beauty with Mediterranean blue eyes, a vanilla complexion and a voice like Tinker Bell. But among her priorities romance is noticeably absent: Instead, they are college (Princeton is first choice); grades (she maintains an A—average and scored 610 and 610 on her SAT exams), and animals (she will spend a month at a zoo for her senior project). Boys don't even score on her list of favorite things: movies, mocha chip ice cream and slumber parties with her "inner circle."
Traveling with a menagerie of stuffed pets, a fluffy baby pillow, two footlockers neatly layered with color-coordinated outfits and a handful of C&W tapes for her Walkman, Brooke has come to Israel to shoot her ninth movie, Sahara, a $15 million, 1920s-period romantic adventure. When it wraps in mid-March, she will have earned $1.5 million for three months' work. Teri, too, has a role in Sahara—as executive producer with a paycheck of $250,000 plus expenses. The Shields entourage includes Brooke's godmother, Lila Wisdom, a team of round-the-clock bodyguards, two high school tutors, a driver and Brooke's pet German shepherd, Jack, who is booked into a separate hotel room. A documentary film unit hired by Teri is tagging along to shoot A Reel Look at Brooke, which may be sold to network TV later this year.
Some natives have nicknamed Brooke "halvah" after the gooey sweet pastry hawked in local markets. A regiment from the women's army converged on the set with dozens of "peace" carnations. Between takes, extras queue up for her autograph, while Israeli soldiers toting machine guns meander out of the sandy wilderness to stare. Not everyone is impressed. The head of a Bedouin tribe hired for the movie did not know Brooke and merely inquired, "Can she belly dance?" Three Israeli jewelry companies offered gems in return for endorsements that Teri rejected. "I can buy her diamonds with no strings attached," she snorts.
But then, baubles and blandishments are nothing new to Brookie. Long before splashing down in the Middle East, she had reaped both from her Arab admirers. A sapphire band from Adnan Khashoggi, a diamond necklace from his son, Mohamed, a sapphire-and-diamond ring from Prince Talal. "Every red-blooded American is after her," teases her "Aunty" Lila, "and every blue-blooded European, with a few south of the border." No one is more atwitter over Brooke's future than her Svengali-esque mother and godmother, who profess to be happiest when Brooke is "having fun."
To that end, Teri agreed to Sahara. "I wanted it to be cute and light and I wanted a fatherly director, who would play with her, smack her around, have fun," she says. "I don't want anyone looking at her like a woman yet. It's not time." What Teri got was eight rewrites to which she contributed and two directors who quit before production in Israel began. Currently Andrew (The Blue and the Gray) McLaglen, a veteran of John Wayne movies, is at the helm. Brooke, who is on the screen 90 percent of the film, plays an American auto heiress who disguises herself as a boy to enter a desert race in the car her father designed. She is abducted en route and wooed by a swarthy sheik, played by French actor Lambert (Five Days One Summer) Wilson.
Their first love scene turned frosty when Brooke balked at Lambert's kissing her with his tongue. "No one has ever kissed me that way before," she objected. "But I don't feel comfortable any other way," Lambert, 24, replied. Well, sniffed Brooke, "I don't feel comfortable that way."
Finding her movie co-star took nearly a year. "I wanted someone as handsome as could be with an unusual accent," Teri recalls. Among the hundreds she considered for the part were some of Brooke's friends, including Ted (Happy Days) McGinley("I darkened his hair and had him grow a beard, but he couldn't get the accent"); Khaled Khashoggi, Adnan's second son ("He is a gorgeous boy, but he's not an actor"); and John Kennedy Jr. ("He's dark, handsome as hell and what a physique, but can you imagine the press if he co-starred with Brooke? The film would get lost. Besides, I didn't think his mother would let him").
Produced by Israel's prolific moviemakers Menahem Golan and Yoram Globus, the plot was inspired both by Rudolph Valentino's 1921 silent classic The Sheik and by the temporary disappearance of Margaret Thatcher's son in the Sahara during a car rally last winter. "Brooke eees dee most bew-tee-fool creature on earth," says Golan, known for his B movies and bad temper. "She eees dee genie of dee desert and Lambert is a wildman, but educated. He wants to rape her, but he controls himself. We are not afraid here of clichés. I want a bew-tee-fool romantic blockbuster where all Amereee-can keeds will identify."
An average day on the set is chaotic. Rain has slowed shooting. Brooke's Packard keeps stalling, and Bedouin performers stop to pray every few hours. All directives are translated into Hebrew over a bullhorn—"Shut up and move your asses" is a frequent command. The production includes a 130-member crew, 32 actors, 120 horsemen, 12 stuntmen and some 3,000 extras who receive an average 500 shekels ($14) per day—slightly less than a camel's wages. Shooting is scheduled around the star while she labors over trigonometry in her trailer. (Her contract allows her four school hours a day.)
Teri is rarely absent. Some regard her as a motherly figure who gets things done; others see her as a menace. She eyeballs Brooke, fussing over her hair, offering acting tips. Once, after noticing Brooke wearing the wrong mustache for a close-up, Teri halted filming. As the sun began to set, the director held his head in his hands. Teri summoned the makeup man. "Brookie," she demanded, "how do you say 'new mustache' in Italian?" Later, when an assistant director shouted at Brooke, Teri belted back, "That's no way to talk to anyone," and advised Brooke to walk off the set if it happened again because "that's what Faye Dunaway does if she is mistreated." "It's absolutely nauseating," observes one exasperated crew member. "Brooke is the little princess. And that mother—I thought that sort of thing didn't happen anymore."
At a Moroccan restaurant in Jerusalem where Shields & Co. have been invited for a "genuine couscous" dinner, Brooke is seated at a table for 14 between a bodyguard who speaks no English and German actor Horst Buchholz, whose favorite topic is Horst Buchholz. Looking politely bored, she nibbles on the doughy centers from her bread and leaves behind a pile of picked-out crusts. Teri suggests she speak French to her bodyguard so he will feel included. Brooke obeys. Turning to her mother she asks, "Mom, would it be rude to ask for fish in my couscous instead of meat?" "Yes," Teri replies. Later, when the waiter notices the star has not taken any meat from the platter, he rushes over and ladles gnarled gray "lamb from Bethlehem" onto her plate. Awash in a sickly smile, Brooke offers a meek thank-you. After dessert is served, she asks, "Mom, would it be rude if I went back to the hotel?" "Yes," says Teri.
The two are as entwined as pastel ribbons on a maypole. "I'm with my mom so much," she says, "that we're more like buddies. A lot of my friends' parents aren't divorced and they have brothers and sisters. They have to share." Teri spoils, but she can be stern. A forgotten please or thank-you on Brooke's part triggers Teri's fur-flying temper, which is soon washed away with a cascade of "poopydoll" endearments—"Oooooo, I just love you so much."
On a weekend break, Brooke stops at a resort spa on the Dead Sea. After a float in the salt water followed by mud and sulfur baths, Brooke sunbathes, oblivious to the throng of oglers draped over a balcony. Sighting her mother several yards away, Brooke calls out, "Mom, I'm lonely," and makes a sad clown face. En route to Brooke's side, Teri waves at the crowd, then jumps into the air and clicks her heels. Landing beside Brooke, she scoops her into her arms and grins at the onlookers as if to say, you can look but you can't have.
After wrapping Sahara, Brooke has tentative plans to visit her friend Prince Talal in Jordan. (He sent her 1,000 balloons on her birthday; she presented him with a
Brooke Shields
calendar when they met last November.) Afterward a rich Moroccan—George Washington University student Steve Ohana, whom she met at Regine's—has invited her to visit his family. She also has an open invitation to the Khashoggi yacht (the one with the helipad), where her guest suite is stocked with white rosebuds and her bathroom appointed with gold faucets and a lapis lazuli tub.
Back home, Teri has masterminded more projects to fortify the Shields empire. Brooke wants to cut a C&W record. She has endorsed a stocking line, The Brooke Look. Mom is negotiating a possible jewelry and bathing suit deal. A
Brooke Shields
TV cartoon serial is under discussion with producers Hanna-Barbera. "She is happiest just being in her room studying or organizing her closet," says Teri. Brooke lines up her regiment of sweaters by color. Her school texts are neatly filed inside her book bag. "If I leave a blouse in her room by accident," says Teri, "within minutes it's back in my room." "There's something mysterious about her," says Lila, "as if she has a secret backyard where she goes to play alone. The man who falls in love with her will never know her completely."
On the subject of men, Brooke is coy. She keeps a photo of actor Ted McGinley in her wallet. "It's hard to find someone who is nice and good-looking at the same time," she observes. Her heart fluttered briefly for John Kennedy Jr. after he guided her through the Brown University campus. "He's really nice and extremely down-to-earth," says Brooke, who nevertheless rejected Brown as too hippieish and unstructured. Lex Barker's son, Christopher, blew it when he sat next to Brooke at dinner and opened with "Which do you prefer, modeling or acting?" "I like someone who is sensitive, kind, who has a sense of humor," says Brooke. "Someone who can deal with the fact that I might be well-known; somebody," she continues, "who would separate me from my professional life and who I wouldn't feel uncomfortable with being able to just talk." "Brooke is too young to fall in love or know what her goals are," says Teri. "She should play the field. At 25, I'd like to see her happily married with a couple of little ones."
Still, in Teri's master plan, there may be a holdout for a royal marriage. Recently, while Brooke floated in the Dead Sea, Aunty Lila gazed across at the rocky cliffs of Jordan. "Play your cards right," she laughed, "and it can all be yours." It is only a partial jest. Teri is quick to note that Grace Kelly was "once a commoner." "I'm so in love with Charles and Princess Diana,' sighs Brooke. "I fashion myself after her. It's a storybook fairy tale. In some ways I'd like to have a life like hers. It must be difficult, but she has a lot of spunk—and she doesn't have to sign autographs." When asked whom she would most like to meet, Brooke replies Prince Andrew (England) and Prince Albert (Monaco). "But," she adds, "I hope I know a week in advance, so I can prepare."
Advertisement
Today's Photos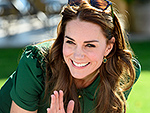 Treat Yourself! 4 Preview Issues
The most buzzed about stars this minute!