People Top 5
LAST UPDATE: Tuesday February 10, 2015 01:10PM EST
PEOPLE Top 5 are the most-viewed stories on the site over the past three days, updated every 60 minutes
From Candies to Comedies, the Spellings of Hollywood Have the Recipe for Success


Aaron doesn't understand what the fuss is about. "I get tired of all this criticism of Candy," he snorts. "She looks magnificent in beautiful jewels, so why shouldn't I give them to her?"

To a considerable degree, of course, the animosity directed at the Spellings—in particular Candy, whom many regard as cold but friends describe as "warm and thoughtful"—is rooted in pure envy. Aaron Spelling, 58, is widely considered the most powerful independent TV producer in town. With his new ABC series Hotel (with Bette Davis, Anne Baxter and James Brolin) joining an already imposing lineup of Love Boat, Fantasy Island, Hart to Hart, Dynasty, T.J. Hooker and Matt Houston, Spelling's shows span a record seven hours of network prime time. That's not counting his string of old hits like The Mod Squad, The Rookies, Starsky and Hutch, Family, S.W.A.T and Charlie's Angels, most of which are still raking it in on reruns. TV critics are not always kind to Spelling's efforts—"the king of shlock" some have dubbed him—but he has an undeniable sense of the popular pulse: His first-ever attempt at a made-for-theater film, Mr. Mom, grossed a hefty $43 million in the first eight weeks following its release this summer.

Candy, too, has proved she's no slouch at turning a profit. Fourteen months ago she and a friend, party planner Marcia Lehr, launched a pricey Beverly Hills boutique featuring everything from $20-a-pound almonds with an edible silver coating to a $2,000 rocking horse and antique English silver. Despite shaky economic times, the shop, Lehr & Spelling, is already thriving. "If Candy had failed," opines a sympathetic observer, "the ladies might have been more charitable."

There has been a certain amount of tongue wagging from the day Aaron Spelling and Candy Marer met 17 years ago. She was 20, a graduate of Beverly Hills High School whose little-girl looks made her seem closer to 16. Her father was in the furniture business and, she says, "I was just starting a career as a decorator, mostly of commercial buildings. I'd gone to the Chouinard Art Institute [in Los Angeles] and was getting more work than I could handle. I wasn't in any hurry to get married."

That's not how it looked to many. Aaron was twice her age and a rising producer whose sense of insecurity was fast becoming a legend in the industry. The frail son of a Russian immigrant tailor, he had grown up in a Dallas ghetto, wearing hand-me-downs and being called "Jewbaby" by the bullies. After serving as a Stars and Stripes reporter with the Army in Germany during World War II, Spelling had subsequently wangled his way from staging Army theater tours to a job writing, then producing, for Dick Powell's Zane Grey Theater. By 1964 he had dissolved his 11-year marriage to actress Carolyn Jones and was rediscovering swinging. "I had no intentions of ever marrying again," Spelling recalls. "It was a good life, plenty of beautiful girls, and being a producer didn't hurt. They're pretty willing when you're in that line of work."

They met one night at the Daisy, a favored L.A. disco. "I wasn't wild about my own date," Candy says, "so when Aaron came over and asked me to dance, I said yes. Well, it became two dances, then three, four and five, and Aaron wouldn't let me go back to my table. I never did go back. My date finally left without me."

"She was terribly shy," says Aaron, however implausibly. "When we were out with other people she'd just kind of stand there looking down, not saying much. But we had plenty to talk to each other about." About a year later he proposed. "We got a license, but then he backed down and kept putting it off," Candy says. "It began to get embarrassing. By the third year I had had enough. I wasn't going to be just another one of Aaron's girls, so I picked up and moved to New York."

That brought him around, and his telephone entreaties brought her back. Still, Candy "didn't believe he was serious" until the day they gathered in her parents' Beverly Hills apartment, with a few friends as witnesses, and made it official.

Soon, however, there were new problems. "I knew Aaron was a workaholic, but I never realized how much," Candy notes. "I hardly ever saw him. I'd talk to him on the phone around 5, and he'd say he was coming right home—then he'd forget. People would drop into his office to rehash problems and just hang around." Finally Candy devised a plan. "I started making up a basket of hors d'oeuvres and taking it over to his office every day at 5. I'd just sit around while they drank and ate. I didn't enter much into their conversation, but that way I'd at least see something of Aaron, and we'd go home together."

Gradually her role expanded. "Candy has always had a good business head," says her husband. "I began listening to her advice." At the time, Aaron was in partnership with Danny Thomas turning out such hits as The Danny Thomas Hour and The Mod Squad. Candy encouraged him to strike out on his own. "I wanted him to get full credit for his talent and ability," she says.

Spelling formed a new partnership with former ABC-TV vice-president Leonard Goldberg. During the next four years they produced 30 made-for-TV movies and the string of series that became television staples. But the Spelling-Goldberg team broke up in 1976, and it was rumored that ill will between the wives was the cause. Today all that Wendy Goldberg will say is a cryptic "I wish her well, but we don't see each other anymore." Candy says nothing.

From such as that springs Candy's reputation as a calculating cookie. "She's very friendly with me unless there's someone important in the room—then I might not get more than a nod," says an acquaintance. Marcia Lehr hastens to the defense of her partner. "That's not deliberate," Marcia insists. "She has so many things going through her head that sometimes she may seem cool and aloof. There are a lot of people who want something from her because of her husband's position." Still, even she doesn't deny Candy's distant side. "I'm 'Marcia' to the staff," she admits, "but she's definitely 'Mrs. Spelling.' "

"You get hurt and wind up not trusting many people," Candy admits. "You never know whether someone's being friendly or just wants something."

The pressures have made the Spellings love the comforts of home. Says former actress Lynn Loring, a production vice-president for Spelling's company, "Aaron and I are probably the only executives in the business who stay at our homes nights with our children watching The Jeffersons instead of being seen out at parties." Bodyguards with holstered pistols patrol the Spellings' Colonial-style mansion in Holmby Hills. Yet the family is planning a move to still ritzier digs—a nearby $10 million estate once owned by Bing Crosby. When the renovations, which reportedly will double the size of the place, are completed, the new home will boast a regulation bowling alley. "Since we spend so much time at home," Aaron explains, "we're trying to make the house self-contained." Meanwhile, he and Candy give each other Thoroughbred horses and have accumulated a stable of 16. "Now," says Candy, "he actually reads the Racing Form in the morning before he opens Variety." As for their youngsters, Tori, 10, and Randy, 5, "There isn't a toy those kids don't have," says a friend. "I think it's because Aaron was so poor as a child."

Aaron Spelling concedes that he remains a driven man—but not a miserable one. "I have a beautiful wife, children I love, work I enjoy," he says. Whatever others may say or think, he adds, "I've never been happier in my life."


For a couple of homebodies—never mind that the home is worth a cool $8 million—Aaron and Candy Spelling get more than their share of Hollywood's incessant sniping. "Know what you get when you wind up a Candy Spelling doll?" goes one bitchy favorite of the showbiz wives who spend their noontimes at Jimmy's or the Bistro Garden. "A stab in the back." Then there's the "Ring," as it is not at all fondly known in town. That's the 40-carat bauble Aaron gave his wife last Christmas; Candy wears the diamond lots—even polishing glass, my dear. Naturally, the Spellings hear all the jibes. "I've grown a shell and those remarks just bounce off," Candy claims. "But say something like that about my husband or my kids, and I'll go for the jugular."
Advertisement
Today's Photos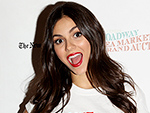 Treat Yourself! 4 Preview Issues
The most buzzed about stars this minute!