People Top 5
LAST UPDATE: Tuesday February 10, 2015 01:10PM EST
PEOPLE Top 5 are the most-viewed stories on the site over the past three days, updated every 60 minutes
Coming Attractions
There's the Promise of Struttin' On-Screen, a Bagful of Best-Sellers, a Prince of a Year in Song and Twins on the Tube


Robert Redford has not appeared on-screen for three years, but he hasn't hung up his spikes. Having proved himself as a director his first time out with Ordinary People, he is content merely to star in The Natural, a baseball drama. The movie takes place between 1918 and 1939, and Redford plays a man entering middle age who fulfills his childhood dream of becoming the best in major league baseball. Glenn (The Big Chill) Close is his childhood sweetheart who has raised the son that he doesn't know he fathered in a one-night union. "She's had 15 years to get over him, and then he comes back into her life," says Close. "It's a wonderfully romantic story." In the baseball sequences Redford went to bat for himself, although Yankee bull-pen coach Tony Ferrara was on deck as an adviser. The movie, adapted from Bernard Malamud's acclaimed first novel, was directed by Barry (Diner) Levinson. (Opens in May)

Swing Shift recaptures the days of World War II, when American men went to battle and American women went to work. Goldie Hawn stars as a housewife who joins the assembly line while her husband is fighting overseas. Kurt (Silkwood) Russell is the workingman she falls for. During production he became Goldie's offscreen co-star too. Plagued by problems, including a flood that wiped out a specially built '40s roller rink in Santa Monica, the movie is now suffering postproduction delays, sparked by Goldie's dissatisfaction with her image. Veteran script doctor Robert (Chinatown) Towne has written a few scenes that director Jonathan (Melvin and Howard) Demme will shoot. "I hope," Demme says, "they will just make us like the movie more." (March)

A bear on a motorcycle is one of the more ordinary characters in The Hotel New Hampshire, Tony Richardson's adaptation of John Irving's 1981 best-selling novel. Along with bear-prodding Wallace Shawn (far left) and entrepreneur Beau Bridges, this story of an eccentric family and their movable hotel features Jodie Foster, Nastassja Kinski and Rob Lowe. To keep within a relatively modest $6.5 million budget, the movie's scenes in New York, New England and Vienna were all shot in Quebec province. The moviemakers didn't stint on plot—The Hotel New Hampshire has enough for at least two pictures. But in the end, Irving's convolutions were reduced to one not-so-simple question: Can a young weightlifter madly in love with his older sister find happiness with a lesbian who hides inside a bear suit? (March)

With a cast of 200 and a budget of $42 million (and rising), The Cotton Club has already generated more talk in production than most movies do after opening. Richard Gere and Gregory Hines (above) step out in this lavish re-creation of the Harlem hot spot that was the place to be during Prohibition. So far, though, most of the attention has gone to the epic-size egos of producer Robert Evans and director Francis Coppola. Their relationship goes way back—Evans headed Paramount when Coppola directed The Godfather—and probably has never been worse. At one point Coppola walked off the set, shutting down production for two and a half days. If the movie sparks half as much tension and passion as the filming, it should be dynamite. (December)

Rhinestone teams up the two most famous chests in Hollywood. Dolly Parton is a country and Western bar singer who bets her boss that she can turn anyone into a country crooner. Anyone turns out to be Sylvester Stallone, a New York City cabdriver. "This is the most radical image change of my career," trills Stallone, who has three solos in the film. Rhinestone has run into a few snags, including the replacement of director Don Zimmerman with Bob (Porky's) Clark. But Dolly remains buoyant. "Sly is the only person I've ever met that could totally match my energy," Dolly gushes. "We bounce off each other quite well." (June)

After stumbling as the good guy on the High Road to China, Tom Selleck embraces the wrong side of the law in his next movie. In Lassiter, Selleck is cast as a devilishly handsome thief enlisted by the FBI and Scotland Yard to swipe $10 million in Czechoslovakian diamonds from the Nazis. Set in 1939, the adventure pairs Selleck with Jane Seymour as his disapproving girlfriend. Lauren Hutton is a sadistic countess who may give Selleck's muscles more of a workout than they get each week on Magnum P.I. (February)

Pages '84

Cartland Cooks, Woodward Digs And Cunningham Tells Her Bendix Tale

After serving up more than 370 books that have sold some 400 million copies worldwide, the éminence rose of romance is about to publish her first cookbook. No mere meat and potatoes for Britain's Barbara Cartland, 82. The Romance of Food, due in May from Doubleday & Co., is just that: a compendium of aphrodisiacal concoctions such as "Dreams Do Come True," and "Joy of the Gods"—the first, a veal kidney dish, the second, a salade Niçoise.

"There isn't any plant, any leaf that hasn't been an aphrodisiac," says Cart-land, whose own chef of 18 years, Nigel Gordon, drew up the lists of ingredients and the directions for carrying out Barbara's recipes. "I've looked up all the different things," the author says of her libidinous bill of fare, "and told lovely stories about them." Cartland promises that her first effort at a culinary romance will be "quite, quite different" from Fanny Farmer and Julia Child. No doubt.

Pulitzer prizewinning Washington Post reporter Bob Woodward (All the President's Men, The Brethren) is also venturing into unfamiliar territory with his Wired: The Short Life and Fast Times of John Belushi (June, Simon & Schuster). Wired offers a portrait of the late comedian and a chilling look at the bizarre show-business culture in which he was immersed. With the help of a full-time research assistant, Woodward (who never met Belushi but shared his hometown of Wheaton, III.) worked for more than a year on the book, interviewing "his doctors, his wife, his brothers, his money managers—everyone from the people Belushi went to high school with to the people he was working with before his death in 1982," according to one Deep Throat. The Watergate ace says he emerged from his latest round of sleuthing with a detailed reconstruction of Belushi's final 19 days—and with quite a few surprises besides.

Businesswoman Mary Cunningham, the Harvard MBA who rocketed to the top of the Bendix Corporation four years ago at 29, will spill her own secrets next June in Powerplay: What Really Happened at Bendix (Simon & Schuster). The book focuses on Bendix's rough-and-tumble 1982 takeover attempt of Martin Marietta Corp., which resulted instead in Bendix being taken over by Allied Corp. Cunningham also promises to give her version of her ascendency at Bendix, where her relationship with then-chairman William Agee, 45, uncorked a Niagara of gossip. They married in 1982. Cunningham's memoir will show "what I've learned and what I hope other people can learn from my experiences." Lesson one: It never hurts to befriend the boss. Unless you're a woman.

Song '84

Thompson Twins Discover Real Instruments, And Foreigner Returns From Exile

You can teach old electro-pop dance bands new tricks. Thompson Twins—all three of them, none related—are looking to double their fans' dancing pleasure when they release their next album by using real instruments. Not that (from left) England's Joe Leeway, Tom Bailey and Alannah Currie are planning to dump the synthetic keyboards, guitars and percussion that made Side Kicks one of 1983's most danceable LPs. It's just that the Twins want to make music with things you can't also play Pac-Man on. "There's been a shift toward—dare I say it?—the traditional song," explains Bailey, that old sentimentalist.

The legendary Eric Burdon (left) and the Animals hadn't gigged together since the '60s. But the great ones never forget how it's done. In 1983 they toured the States; this spring, hear the live album.

After a self-imposed exile of more than two years, Foreigner is back in the recording studio—and the onetime CEOs of blatantly commercial "corporate rock" may finally have something more than sales figures on their minds. Lou Gramm and Mick Jones (at left), Dennis Elliott and Rick Wills have a new producer—Trevor Horn, who also produced Sex Pistol Svengali Malcolm McLaren—and some new ideas. Said Jones, "Some of the songs are a bit more innovative than the last album." Well, every little bit helps.

The Coyote Sisters have joined forces to fulfill a howling need—music for those too young to put away their dancing shoes, but too old to cope with Quiet Riot. "There are a lot of people like us—children of the '60s who still buy records—but they're not buying the Go-Gos," says Renee Eugenie Armand. With this in mind, recording and composing pros (from left) Leah Kunkel, Marty Gwinn and Armand release their first effort in February. Awash with gorgeous harmonies, Nobody Moves Like Us is the product of a combined 30 years of studio work, touring and writing hits for other performers. ?

In the movie Purple Rain, a young black musical genius languishes in the Midwest. Despite his humble beginnings, our hero rises like an MX missile to the top of the rock world, where riches, fame—and a beautiful, mysterious woman await. Though Purple Rain, scheduled for an April release, was conceived by Prince, stars Prince and features several songs written and performed by Prince; though the film is, in fact, currently being shot in Minneapolis, the hometown of Prince; though it seems to parallel the sudden rise of its young star, who came strutting onto the rock scene out of nowhere in 1978, a slithering combination of the Marquis de Sade and Jimi Hendrix—still Prince denies the obvious: Purple Rain is autobiographical. Yeah, sure, and the shock-rock king's onetime performing outfit—thigh-high boots, bikini briefs and an oft-doffed raincoat—is now the new Boy Scout uniform.

Tube '84

Alan Alda's Return, An Indian Love Song And The Olympic Torch Light Up The Next Season

If last year was the hour of the hunk, '84 may be the time for twins. ABC is developing a series about twins, but it's just one of a pair. NBC has beaten its rival to the one-two punch with Double Trouble, an Embassy Television sitcom scheduled to debut in March. The stars are Jean and Liz Sagal, the 22-year-old twins of the late TV film director Boris (Masada) Sagal. The sisters play the identical teenage daughters of a gym owner (Donnelly Rhodes). In real life, as on the series, twins have special problems. "There's one show about what it's like for twins at birthdays," says Liz. "I always hated people who gave one present for both of us." The young actresses—who moved 2,500 miles apart (New York and Los Angeles) several years ago—have rarely teamed onscreen. Says Jean, "We had always avoided working together, but we loved it in Grease II." Still, if Double Trouble doesn't work, adds Jean, "We'll go our separate ways."

India is an in-demand location spot again, thanks to Gandhi's 1983 Oscar sweep, a fact not lost on HBO, which will pair Ben (Chariots of Fire) Cross and Amy (Yentl) Irving as the cross-cultural lovers in The Far Pavilions. Set in 19th-century colonial India, the six-hour miniseries is based on M.M. Kaye's romantic best-seller. Cross, 35, plays an Englishman raised by an Indian woman. "It's an Errol Flynn-type role," says Cross, "with sword fighting and swashbuckling. My character is also something of a misfit, and I think I have an affinity for such roles." In Chariots he was cast as a Jew fighting for acceptance in Christian Cambridge. Amy Irving, an American, was even more an outsider playing an Indian princess, despite the help of makeup-darkened skin and exotically penciled eyes. There were some complaints from Indian sources, but the exigencies of filming the $12 million production on the desolate plains near Jaipur, with 1,000 extras and 20 elephants, took precedence. The Indian government even allowed the depiction of an outlawed rite in which a woman throws herself on her husband's funeral pyre. The cast, which includes Omar Sharif, John Gielgud and Christopher Lee, had to endure the heat and snakes on the set. Unlike the usual Hollywood production, the only sacred cows were the real ones.

Of the leading characters in The Four Seasons, only Jack Weston (as the neurotic dentist) is re-creating his role in the CBS sitcom based on the hit 1981 movie. But don't despair. The film's star, Alan Alda (here having his teeth examined by Weston), will be seen in at least the first episode of the series, debuting in January, so there is life after M*A*S*H. Then Alda will move behind the camera as co-executive producer and co-writer of the series. Says Weston, "Alan has a bead on the relationships of middle-aged couples." Other actors on the show include Tony (Annie Hall) Roberts and Barbara (Hill Street Blues) Babcock. Alda's real-life daughters, Elizabeth, 23, and Beatrice, 22, who did bits in the film, will have bigger roles on the tube playing aspiring TV writers.

There will be a real expert reporting the Olympics for ABC this year. Joining longtime commentator Jim McKay at both the Winter and Summer Games is Donna de Varona, 36, the Gold Medalist in the 400-meter individual medley and a member of the 400-meter freestyle relay team during the 1964 Tokyo Olympics. "If people see Jim as Mr. Olympics, maybe they'll see me as Miss Olympics," says de Varona. Adding color commentary on their specific sports from Sarajevo, Yugoslavia this February are five-time Gold Medalist speed skater Eric Heiden and Mike Eruzione, captain of the winning U.S. hockey team in 1980. After L.A., Donna will be toiling as sports assistant to ABC President Roone Arledge.

In 1979, when Roots co-producers Stan Margulies and David Wolper began a miniseries on American Indians, based on the novel Hanta Yo by Ruth Beebe Hill, it seemed like the logical next step. But Indian groups protested the book's "stereotypes." This spring, after Native Americans advised on the script about the Oglala Lakota tribe in the South Dakota plains, the five-hour mini-series premieres on ABC as The Mystic Warrior. "The new title reflects the emphasis on the religious life of the Indians," says Margulies. Robert (Eating Raoul) Beltran, confronting the mystical white buffalo, below, is one of the many Indian actors in the cast.

Princess Daisy meets The Group. That's pretty close to a description of Lace, the ABC miniseries based on Shirley Conran's 1982 best-seller about a sex symbol's search for her unknown mother. The daughter, Phoebe (Fast Times at Ridgemont High) Cates, is inadvertently helped by a rich matron, played by Angela (Mame) Lansbury, with Cates, above. Here's the twist: The mother is one of three finishing-school students: Bess (Jaws 3-D) Armstrong, Brooke (The Dead Zone) Adams and Arielle (Pauline at the Beach) Dombasle. Lansbury, 58, says her character's age begins "to crack through her makeup over the 20 years" covered in the script. Presumably the plot holes will be more difficult to decipher.

Style '84

The Briefing Of America Takes Hold, As Women Step Into Locker-Room Lingerie

It may be remembered as the Boxer Rebellion of 1983-84. Not satisfied with raiding trousers and shirts from men's closets, women have moved into their drawers. In other words, ladies are—egad—wearing men's underwear.

Calvin Klein and Jockey International are the pioneers of locker-room lingerie. Jockey, a giant in the men's field, was the first to cross the great divide. Its Jockey for Her line of lace-free panties and unadorned camisoles of 100 percent cotton is now selling in more than 200 department stores across the country. Klein's underwear is more overtly masculine. The collection, with matching tops, includes scanty briefs that look suspiciously like jock straps, thigh-high bikinis and boxer shorts with a fly. The bottoms have you-know-whose name spelled out on elastic waistbands as broad as the boys'.

Both Jockey and Klein have launched strong ad campaigns. Jockey, convinced it's riding a winner, has already spent more than $3 million on its Look Who's Wearing Jockey Now promotion. Klein's campaign, predictably provocative, has raised the wrath of feminists. It features a model, lying, eyes closed, on her back, wearing briefs and an undershirt pushed up to reveal her right breast. "It's sexist advertising," says Florence Rush of Women Against Pornography. Sexist it may be, but Klein, who expects sales to reach $20 million by the end of 1984, isn't changing a thing. "I'm not looking to provoke people," the designer has said. "I'm not trying to sell sex. But there's sex in everything."

Meanwhile, Fernando Sanchez, a leading lingerie designer, has a role reversal of his own in mind. Sanchez's spring collection includes satin tank tops and silk mesh bikinis—for the boys, natch.


Screen '84
Advertisement
Today's Photos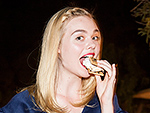 Treat Yourself! 4 Preview Issues
The most buzzed about stars this minute!