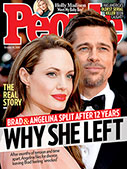 This Week's Issue!
People Top 5
LAST UPDATE: Tuesday February 10, 2015 01:10PM EST
PEOPLE Top 5 are the most-viewed stories on the site over the past three days, updated every 60 minutes
Firefall
Formed in 1972 by alumni of Spirit, the Flying Burrito Brothers and the Byrds, Firefall is a California country-rock group that has never achieved any success as high-flying as the Eagles' nor as wide-ranging as America's. Its leader, guitarist-singer Jock Bartley, is the only survivor of the original Firefall. The group's sound is basically the same as it has always been, though—maybe a trifle harder on the rock side and softer on the country. All the material on this LP was written by members of the sextet, with help from sit-in bassist Paul Crosta. This isn't much to brag about, given such lines as "Tell me, what kind of love's on your mind/Having you would be so divine." The three tunes written by Bartley alone are the most memorable, especially Mirror of the World, another pop music indictment of TV watching. (Why do rock musicians hate TV so much?) (Atlantic)
1984
Van Halen
This album is pretentious, silly, noisy, unkempt and abusive. In other words, it is just what a standard heavy metal record is expected to be. Its nine tempestuous tunes feature such indelicate titles as House of Pain, Girl Gone Bad and Hot for Teacher. Eddie Van Halen proves with some nimble work on Panama and Drop Dead Legs that he still knows his way around a guitar. But the only number that provides any hint of originality is the title cut, an instrumental overture that is mercifully free of David Lee Roth's laughable high-octane vocals. This collection, the group's sixth, indicates that the brash Southern California quartet has run short of fresh ways to beat their dead musical horse. (Warner Bros.)
BIG AND WARM
Big Nick Nicholas
George Walker Nicholas, better known as Big Nick, is a towering, moon-faced tenor saxophonist with a tone as welcoming and generously proportioned as his own physiognomy. Since Big Nick left Lansing, Mich, in 1941, when he was 19, his bags have rarely stayed unpacked. In the early '50s he was booking agent, featured performer and M.C. at Harlem's illustrious Paradise Club, where his fans included Billie Holiday and Charlie Parker. Otherwise he has toiled in relative obscurity, even though John Coltrane, another admirer, later named a tune for him (Big Nick). What fascinated Trane was not Big Nick's technique (no speedster, he's more like molasses flowing) but his sound-orotund, loose-linked and heartfelt. That's also the way he sings Georgia and You're My Thrill on this LP, for example. (Critic Nat Hentoff recently described Nick's vocals as "sounding like a deep-voiced walrus in love for the first time.") The record, his first under his own name, captures the homey feel of Nick's nightclub gigs. All that's missing is the corny patter he uses in person, referring to almost everybody as "a great, great man who'll never be replaced." If anyone deserves that accolade, it is Big Nick himself. (India Navigation, 177 Franklin St., New York, N.Y. 10013)
NO SELL OUT
Malcolm X and Keith LeBlanc
Would it perplex Malcolm X to know that his political invective is being used to spur people to action on the dance floor? Malcolm was assassinated in Harlem 19 years ago next week. For whatever motives, the widow of the black nationalist leader, Betty Shabazz, has given her blessing to the making of this 12-inch single, in which snippets of Malcolm's speeches are set to the high-voltage thud and clap of a synthesized rap beat. Keith LeBlanc, former staff drummer at Sugar Hill Records, put the piece together, and it is nothing if not provocative. Even these fragments succeed in reminding the listener of the challenging directness of Malcolm's rhetoric. "If you're afraid to tell the truth," he declares, "why you don't even deserve freedom." He also could evoke stark imagery ("I've got a plate in front of me. But nothing is on it") and a steely poise that was striking ("I was sitting in a house last night that was bombed. My own. It isn't something that made me lose confidence in what I'm doing"). Although he disavowed Christianity, the charismatic cadences of his speech displayed his birthright as the son of a Baptist preacher ("There'll be no skulduggery, no flimflam, no compromise, no sellout, no controlled show"). Missing here is Malcolm's early antiwhite rhetoric; indeed, there is hardly any mention of race. But the real question is what response will the record provoke? Perhaps young people will be impelled to study Malcolm's life. More likely, they will say, "Malcolm? Yeah, he is some mean rapper." (Tommy Boy)
Contributors:
Ralph Novak,
Carl Arrington,
Eric Levin.
MIRROR OF THE WORLD
Advertisement
Treat Yourself! 4 Preview Issues
The most buzzed about stars this minute!