People Top 5
LAST UPDATE: Tuesday February 10, 2015 01:10PM EST
PEOPLE Top 5 are the most-viewed stories on the site over the past three days, updated every 60 minutes
Hello, Harry!
Weighing Six Pounds and 14 Ounces Britain Welcomes Another Prince to the House of Windsor
Moments later a town crier, decked out in a white-plumed hat and red knickers, rang a large bronze bell and intoned, "Her Royal Highness the Princess Diana has issued forth a second son." (It sounded official, but actually the gentleman had been hired by a Japanese television company to enliven its coverage.) Champagne corks popped and church bells pealed throughout the kingdom. Congratulatory flowers and telegrams poured into the hospital, and two traditional 41-gun salutes ripped the air. One was fired in Hyde Park by the Queen's Troop, the Royal Horse Artillery. A second salute was fired simultaneously from the Tower of London, where Henry VIII—the last King Henry—had had two of his six wives beheaded.
Prince Henry arrived a week before expected. Just as the mist was gathering on the emerald lawns of Windsor Castle at 6:30 a.m. on September 15, Diana and Charles, accompanied by their bodyguard, made the 30-minute car journey from their royal apartment to St. Mary's. Tiny Harry was delivered in the same $175-per-day, 12' by 12' room where
Prince William
was born on June 21, 1982.
Until the last three hours of labor, the 23-year-old Princess read a paperback novel, while Charles dozed in an armchair next to her bed. When the moment came, the royal gynecologist, white-haired George Pinker, 59, presided over the natural birth. Diana, who took no drugs, sucked on an ice cube to prevent dehydration during the delivery, while a nurse rubbed her chapped lips with cream. Prince Charles, dressed in a green hospital gown and surgical mask, stayed at his wife's side throughout the delivery, just as he had during William's birth.
Two hours later the proud, 35-year-old father greeted the still-cheering crowd, shook hands and accepted a baby pacifier from one well-wisher. But when a comely 19-year-old subject tried to kiss him, Charles pulled away, saying, "I've had enough excitement for one day." Charles described his newborn son as "absolutely marvelous. It didn't matter whether it was a boy or a girl." When the crowd chanted, "Let's have another one," Charles smiled. "We've nearly got a full polo team now," he said.
Of course, the question on everyone's mind was how
Prince William
, 2, would react to the birth. The answer came the following morning, when Charles returned to the hospital carrying his bewildered heir. Father and son took the elevator to the fourth floor. When Diana heard her toddler running down the corridor, she got out of bed and peeked out her door. "Wills," she said softly. "Darling, come here." Then the royal family had a moment alone, during which William was allowed to touch his brother and hold his hand. "It will be lovely for William to have a companion and a playmate, and someone to fight with," noted Diana's father, Earl Spencer, as he hoisted the family standard above his Northamptonshire estate. "I'm sure Harry will be a very good chap."
Although it's unlikely that little Harry will ever rule the kingdom, his birth was anything but anticlimactic. In fact, it was greeted with as much fanfare as William's, no doubt due to his mother's unflagging popularity. Since the beginning of her storybook romance with Charles, Diana has come to represent an ideal of her generation. In just three years she has grown from a shy teenager into a self-possessed, confident young woman capable of upstaging even the Queen. Her imperfections only serve to humanize her. The girl known for dropping out of dance class when the steps got too difficult still cannot stop biting her nails, which remain unpolished and chewed down to the quick. But that is the only sign of Diana's inner tension.
Usually she seems completely serene as she did on September 16 when she returned home to Kensington Palace just 22 hours after giving birth. While Charles zipped off in his Aston Martin for a polo match, Diana settled her new son into the yellow-and-white nursery he will share with William. Head nanny Barbara Barnes, who has taken care of William since his birth, presides with help from assistant Olga Powell, who is in her late 50s, and from a nurse. For the next several months Diana plans on spending plenty of time in the nursery, surrounded by antique oak furniture and a rabbit mural, breast-feeding Harry and cuddling her toddling prince, who may yet experience some sibling jealousy.
So far, however, William seems bewitched by his brother. "William has taken to the new baby like a duck to water," Charles confided to one of his groundsmen. "It's worth a guinea a minute watching him enjoy himself. He's been climbing in and out of Harry's cot."
Despite daily morning sickness during her first trimester, Diana seemed happier and healthier than during her first pregnancy. She missed fewer official engagements this time, and thanks to a strict low-calorie diet, swimming and ballet exercises, Diana seemed far slimmer than she did while carrying William.
Not that Diana was trying to conceal her condition; in fact she flaunted it. Unlike Monaco's Princess Caroline, who hid her pregnancy as long as possible, Diana announced hers early, talked openly about it and proudly displayed her growing girth. She stunned guests at a palace fete one evening when she showed up wearing a gown with the "royal bump" wrapped like a Christmas present in a huge satin bow. A few weeks later she mesmerized the audience at a Neil Diamond concert in Birmingham by leaping to her feet and swiveling her hips in time to the music.
A compulsive shopper with a weekly budget of $34,000, Diana logged many hours at Harrods, picking up baby supplies such as towels (she bought two sets, one in pink and one in blue) and ordering a new crib, bedecked with pink satin ribbons. Diana also bought the baby a new wardrobe.
Even as she was bringing new life into the world, Diana was shadowed by death. During a polo match in Gloucestershire on the Princess's birthday, July 1, a woman was trampled by a pony as she approached the royal box to greet Diana. Then, in late August, Diana's favorite uncle, 45-year-old Lord Fermoy, who had threatened suicide a few days earlier, shot himself at the stables of his 700-acre estate near Sandringham, Norfolk, where Charles and Diana had been frequent guests. Elegant in a black silk maternity dress and weeping softly, Diana arrived alone at Lord Fermoy's funeral after a 500-mile trip from Balmoral Castle, the Queen's country home. (Charles, who like other royals attends only the funerals of relatives and close friends, stayed home.)
The new prince will make his Hollywood debut in October 1985, when he'll travel to California on an official trip with his parents and older brother. Until then, Diana will keep a busy schedule. In a colorful ceremony in Southampton on November 15, she will christen the Cunard Line's $136 million Royal Princess, billed as the world's most expensive cruise liner, which will make its maiden voyage to Miami. Diana has also stunned the press by agreeing to her first major television interview. Although no date has been set, the Princess has asked that the interview be conducted by Selina Scott, 34, the hostess of the BBC's Breakfast Time morning show, who is frequently described as a Princess Di look-alike.
However, one of the royal couple's most important jobs will be undertaken out of the public eye—ensuring that little Harry doesn't develop an inferiority complex. "Royal firstborns may get all the glory, but secondborns enjoy more freedom," says Diana. "Only when Harry is a lot older will he realize how lucky he is not to have been the eldest. My second child will never have quite the same sort of pressure that poor William must face all his life."
Contributors:
John Wright.
Advertisement
Today's Photos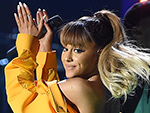 Treat Yourself! 4 Preview Issues
The most buzzed about stars this minute!