People Top 5
LAST UPDATE: Tuesday February 10, 2015 01:10PM EST
PEOPLE Top 5 are the most-viewed stories on the site over the past three days, updated every 60 minutes
Mr. T's Sibs Are Teed Off Over Their Bro's New Book


Yet just as the myth looms larger than the man, a rancorous family feud is taking the gloss off Mr. T's image as an honest, clean-living, God-fearing model for American youth. Calling the legend of Mr. T hokum, several of T's own siblings are charging that his autobiography is more fiction than fact and that the author isn't the do-gooder he claims to be. "Mr. T has conned America," says his brother Nate Tero, 40. "He don't just take the truth and stretch it. He turns it inside out."

Nate and brother Gus, 37, used to work as Mr. T's bodyguards until Nate quit in disgust and Gus was fired in April 1984. Both are back in Chicago working their old jobs—Nate as a fireman and Gus as a policeman. But Gus is suing little brother T for $70,000 for breach of contract. "We want it to be clear that the family is not ganging up on Mr. T, or that we're acting out of spite or revenge," says sister Angie, 34, a telecommunications worker. Nate insists that the family just wants Mr. T to stop telling "lies" during interviews. Says sister Linda, 29, a nurse, about the book, "If you find any truth in there, let me know."

Mr. T boasts in chapter one that his book is "the unadulterated truth," penned in his own words. "Matter of fact," he says, "I tried to find me a ghostwriter when I started the book eight years ago, but nobody would have nothin' to do with me because I wasn't known." Once a bodyguard for short-time heavyweight champ Leon Spinks and a bouncer at Chicago's Dingbat's disco, the former Lawrence Tureaud (later Tero) hit stardom as Sly Stallone's opponent in Rocky III. His autobiography describes his rise "from rags to riches, from welfare to faring well and from the ghetto to the get more." But his siblings scoff at his tales of stealing food to feed his family and exacting blood revenge against neighborhood criminals while growing up in Chicago. Although T has told reporters one of his goals was "getting all my family off welfare," Nate angrily insists, "Ain't one of my brothers and sisters ever been on welfare. We were born poor. But we all work."

Mr. T has also publicly promised to buy "a mansion for my mama," but his sibs point out that Mother T, 65, still lives in the same dilapidated rental house she has occupied for the past year. "And Mr. T isn't paying a penny toward her rent," says Nate. "She pays it and we help her." Nate also maintains that the Tero family created a building fund for their mother to purchase a home, and though T contributed some $29,000, he recently withdrew all of it without explanation. Previously he had turned down three properties suggested by the family, while insisting on the bizarre precondition that when the house was bought, his mother and his father, the Rev. Nathaniel Tureaud Sr., divorced more than 20 years ago, would have to live in it together. "What's he tryin' to do?" wonders Nate. "Play God to make them live together?" Mr. T says his mama's mansion is "in the working stage from the ground up," and that "they are going to live in the house together."

As to how brother T could get back in the family's good graces, Nate suggests, "He can stop and smell the roses along the way. Take off that gold from around his neck. Maybe it's cutting off the circulation. Let the blood get to his brain." Mr. T seems unlikely to loose his glittering chains. As he rewrites the biblical maxim on his book's flyleaf, "I live by the Golden Rule—the man with the gold rules."


Movie star, TV hero, recording artist, cartoon character—Mr. T seemed to have it all. Not surprisingly, perhaps, literary fame eluded him. Now, with the publication of his autobiography, Mr. T: the Man With the Gold (St. Martin's Press, $12.95), he has gained the coveted status of all-media celebrity, if not quite Pulitzer prize material. "Yessir," exults the 32-year-old star head-basher of NBC's top-rated The A-Team, "Mr. T—the street brother, the blue-collar actor—is an author!"
Advertisement
Today's Photos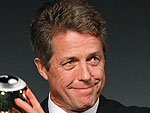 Treat Yourself! 4 Preview Issues
The most buzzed about stars this minute!