Archive Page - 12/1/12 39 years, 2,079 covers and 53,260 stories from PEOPLE magazine's history for you to enjoy
On Newsstands Now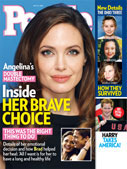 Angelina: Inside Her Brave Choice

New Details on the Ohio Three

Prince Harry Takes America!
Pick up your copy on newsstands
Click here for instant access to the Digital Magazine
People Top 5
LAST UPDATE: Tuesday May 21, 2013 07:10AM EDT
PEOPLE Top 5 are the most-viewed stories on the site over the past three days, updated every 60 minutes
Forecast '85
There'll Be a Treat for Scandal Lovers, Liz as a Noted Gossip, Shorter Skirts, Rose Beating Cobb, Rhett and Scarlett on Video, the Return of Halley's Comet and Lots of Other Eye-Catchers


This summer a white leather ball will whiz toward home plate, make contact with the bat of Cincinnati Reds player-manager Pete Rose and history will be made. With 4,097 hits to his name, Rose needs just 95 more to break Ty Cobb's all-time hit record. Last season Rose got 107 hits in 121 games and Reds president Bob Howsam predicts a repeat: "When Pete sets his mind to a goal, he reaches it."

One of two other men will not reach his goal when the title of undisputed middleweight boxing champion is settled on April 15 at Caesars Palace in Las Vegas. The competitors are the WBC's Hit Man Tommy Hearns and the current champion Marvelous Marvin Hagler. "These are the two best fighters in the world," says promoter Bob Arum, who will beam the match on closed circuit TV. "This is akin to the first Ali-Frazier fight." Hagler and Hearns each get a minimum of $5 million. At least the loser will never starve.

The growth of home-rule TN may reach critical mass this coming year as the video-cassette recorder continues its relentless conquest of the American living room. A recent Harris poll found VCRs in 17 percent of the country's homes, and with more affordable Korean models (price: around $300) showing up in the stores, the numbers should keep ballooning. "We are looking at home video to expand at the same rate of annual growth as last year," exults Court Shannon of Karl Home Video, originators of the Jane Fonda workout tapes. "That is, 100 percent." VCR owners can also look forward to a different sort of milestone when MGM/UA releases the epic Gone With the Wind, which has consistently led the list of most requested titles. Made from a rediscovered virgin negative that had been stashed for safekeeping in a Kansas salt mine, the video promises to be of superb quality. The two cassettes, packaged in a special slipcover, should retail for $89.95. And since the demand for programming is outstripping the supply of classics from the vaults (of which GWTW is about the last), says MCA Home Video's Jane Ayer: "We'll be seeing more and more original programs. That's where the future is." Very soon, insiders say, you'll view feature films made only for home video.

In 1910, when Halley's (rhymes with alley's) comet streaked across the sky, the people of earth responded with comet hysteria. Several, fearing it was an evil omen, died of fright, and one Oklahoma cult tried to sacrifice a virgin to the bright light in the sky. But near the end of next December, when Halley's begins to shine very dimly over the southern horizon as it does every 76 years, the hysteria should be mostly commercial. Already set for sale are special Halley's warm-up jackets and cocktail glasses, yogurt-covered sunflower seeds called comet pills (to save you from alleged poison comet vapors), at least a dozen comet books and several cruises below the equator, where Halley's will shine brightest. British scientist Edmund Halley made one big mistake when he described the comet's irregular orbit in 1682—he forgot to get a trademark.

Fashion tip No. 1: Watch David Bowie for next year's styles. As David shows us, you don't have to stick to black and white to be hip in '85. Fact is, the more crazy patterns you mix, the better. "For men it will be print shirts and ties—bigger, bolder and more colorful—along with checked and plaid pants," says Sydney Bachman, Bergdorf Goodman's fashion director. London designer Scott Crolla helped launch the trend by selling clothes made of paisley and brocade fabrics to Bowie, Mick Jagger and Elvis Costello. Says Crolla, "Everybody is sick of black. Patterned fabrics are stimulating."

The New York Times calls Cho-Liang Lin "the hottest new name in classical music" and the violin virtuoso is likely to get hotter. Born in Taiwan, Lin, who is 24, played his first note at 5 and became a star at New York's Juilliard School at 15. He'll give five of his fiery performances with the Los Angeles Philharmonic in January, and he hopes soon to release the last seven of the 10 discs he agreed to record for CBS.

After Lin plays with the Boston Symphony in March, Beantown will hold an even bigger musical event: a 100th birthday party for the Boston Pops. On April 30 Star Wars movie theme writer John Williams, the Pops' resident conductor, will lead a celeb-studded concert, then probably twirl his baton at the White House on the Pops' actual birthdate, July 11.

Elsewhere the big news in classical music is the 300th birthday of George Frideric Handel and Johann Sebastian Bach. Oddly, Handel seems to be getting the bigger play. On his Feb. 23 birthday, the Metropolitan Opera's Kathleen Battle and Samuel Ramey will star in his Semele at Carnegie Hall, while Tatiana Troyanos and Maureen Forrester will sing his Giulio Cesare at Washington's Kennedy Center. Rarely if ever performed in full, each opera will last close to four hours with, one hopes, a few intermissions.

Hemlines are on the rise again. It was only last fall that androgyny was in full flower, and now it seems women have had it with mannish threads and are about to enter what Women's Wear Daily calls The Short Age. "I think the designers of the world backed themselves into a man-tailored brown herringbone corner and have been looking for a way out," says Kalman Ruttenstein, vice-president of fashion direction at Bloomingdale's. "Short clothes look fresh and feminine." Perry Ellis, Anne Klein, Oscar de la Renta and Calvin Klein have added short to their repertoire, and the postpop psychedelic frocks of Stephen Sprouse continue to be strictly mini.

Long has not entirely vanished from the scene. Adrienne Vittadini is still hedging her bets, while many designers are including Bermuda shorts as an alternative to the higher hems. Reasonable people trying to make sense out of these mini-fits and starts had best forget it. Only last season Rei Kawakubo, the austere archpriestess of Japanese design, was swathing the ladies of the West in dark, dreary clothes. This spring she is kicking up her heels with a puffed shorty. With Kawakubo into minis, it can't be long before the maxi's back.

Hold onto your wallets. Having first appeared on the dollar bill in 1869, George Washington is due for a facelift. Even if the lines in George's fiscal visage go untouched, Treasury Secretary Donald Regan may put a little color back in the cheeks of our founding father. In 1985 he will decide on a new design for bills of all denominations, possibly adding a pastel tint that would be darn near impossible to forge. And just as easy to spend.

Nearly every city in the country will sponsor some event in the 1985-86 Festival of India, approved by Reagan after the late Prime Minister Indira Gandhi's 1983 visit here. Washington's Smithsonian Institution has scheduled a summertime festival of dance, singing, puppet shows and folk art; New York's Metropolitan Museum will display Indian art of the 14th to 19th centuries; and an exhibit of Indian science and technology since 2500 B.C. will travel to Chicago and L.A. Closer to home artistically, some 60 folksy paintings by Grandma Moses will travel—in the first major show since her 1961 death—to West Palm Beach, Omaha and yes, even Peoria.

Five members of the Supreme Court are already past the golden age of 75, and at least one of them this year might render a judgment in favor of retirement. Democrats William Brennan, 78, and Thurgood Marshall, 76, may hang in there to keep Reagan's hands off the court, but Washington sources predict that Chief Justice Warren Burger, 77, is likely to step down. A couple of rumored candidates for any empty seat: Reagan's pal Nevada Senator Paul Laxalt, 62, whose desire is considered stronger than his chances, and Circuit Court Judge Robert Bork, 57. You remember Bork. As Solicitor General he fired Archibald Cox during Nixon's Saturday Night Massacre in 1973. Some insiders say Reagan already has a new Chief Justice in mind in case Burger leaves: Sandra Day O'Connor?

Now that you've thrown away your clunky old 1960s bike in favor of a sleek racing machine, guess what's back in style. The latest thing in pedal power is a heavier, wide-tired cycle called a mountain or city bike. With tires that just won't pop and a long frame for a softer ride, the new bikes can easily handle both city potholes and mountain meadows. This year about 11 percent of all bike buyers are expected to choose the heavy-duty machine, and on Sept. 6 to 8 about 250 riders will use them to compete in the country's biggest mountain bike races, near Amherst, Mass. Last year 5,000 spectators watched as cyclists there pedaled over logs and picnic tables. Now try that with an Italian racer.

Name the top-grossing concert giver in the first half of 1984 and you'll name a 1985 record breaker too: Liberace. From April 4 to 21 the candelabra kid returns to Radio City Music Hall in New York. An almost guaranteed sellout crowd of 100,000 will pay out just over $2 million for one of history's most lucrative limited engagements. Lee will play for them on a brand new rhinestone-studded piano that matches the rhinestone limo in which he plans to make his entrance. He'll also appear in a borrowed conveyance: the classic 1956 Rolls given to Elizabeth Taylor by Mike Todd. As suggested by 50,000 tickets already sold, it should be some show.

PAGES

A beautiful Anglo-Indian girl with black hair and slanted green eyes escapes a wretched hovel in Calcutta and travels to London. Later, as "Dawn Avalon," she marries a legendary producer and becomes an international film star. This is Queenie Kelly, the heroine of Michael (Charmed Lives) Korda's April novel, Queenie (The Linden Press, $17.95). And does she sound suspiciously like the late Merle Oberon? Well, during some of the six years Oberon was married to Korda's flamboyant uncle, film producer Sir Alexander Korda, the then aspiring author shared a house with the couple—and obviously observed his sultry "Auntie Merle" carefully.

When Senators William S. Cohen (R-Maine) and Gary Hart (D-Colorado) caucused to reach a compromise not on legislation but on the plot of a spy novel, what resulted was a feverish Potomac "potboiler" about the murder of the family of the Secretary of State. In The Double Man (William Morrow Co., Inc., $15.95), out in May, the clues eventually lead back to the assassination of John F. Kennedy. Both first-time novelists hope it will fare better than Gary did this year at the polls.

In The Thorn Birds Colleen McCullough took wing with an earthy romance set in Australia's Outback. Now McCullough has turned philosopher-ecologist in her next summer's novel, Creed for the Third Millenium (Harper & Row, $17.95). The setting is America in the year 2032, and the plot involves dwindling energy supplies. Ah, but those who still sigh for the heat, dust and lust of the Outback will find, come February, a kind of Rhodesian Thorn Birds in A Man Cannot Cry(William Morrow Co., Inc., $22.50). The author, a Rhodesian-born housewife named Gloria Keverne, tells all you want to know about a young doctor who fights to preserve a Quaker mission and win the love of a beautiful but blind missionary.

Two of the new books for winter are for losers, big losers. In The Palm Beach Long Life Diet (Simon & Schuster, $14.95) Dr. E. Joan Barice offers a gradual reducing plan to help Sun Belters over 50 tighten notches without wrinkling and sagging. Younger heavies who want a faster way to streamline can try The Tokyo Diet (William Morrow Co., Inc., $11.95) by Dr. Yoko I. Takahashi and Bruce Cassidy. The authors promise weight losses of up to 15 pounds in 30 days by eating gourmet meals based on Japan's traditional low-fat cuisine. And if a person doesn't like soy sauce, says Dr. Takahashi, "He can always eat mustard instead."

SCREEN

For an actress, Meg Tilly has the humility of a nun, if not a saint. When she tried out for the part of the dead man's girlfriend in The Big Chill, she says, "I thought there was no way I was going to get it, because the script called for an 'extremely beautiful' girl." But she did. When she heard that the Broadway hit Agnes of God would be made into a movie, she was more self-assured. She bugged director Norman Jewison to let her try out for the part of a young nun who gives birth, which meant competing against Amanda Plummer, who'd originated the role on stage. "Finally, they let me test," she says. "They weren't considering me before. Who'd ever heard of me? I'm not very well known. And I'm glad. I have bad dreams about being well known. I'm not in it for the limelight." But she's bound to be in that light after Agnes. Only 24, Tilly has a 5-month-old daughter, Emily, with her producer-husband, Tim Zimmerman, 20 years her senior. She's so young that when she was filming Chill, she claims, her co-stars were "all reminiscing, and I'd never heard much about Vietnam." But Tilly seems mature—or at least realistic—beyond her years. "This year people say I'm a wonderful actor," she says, "and in five years they may not know my name." (September)

This'll sleigh ya: a $50 million fantasy titled Santa Claus the Movie. The epic, directed by Jeannot (Supergirl) Szwarc, stars Dudley Moore as an elfin toymaker named Patch who leaves the North Pole to make it on his own. David Huddleston plays the fat man in the red suit, with John Lithgow as a villainous toy hustler who wants to replace Claus, and Burgess Meredith as a senior elf. The real stars are eight reindeer from Lapland, each of which has its own personality (Donner suffers from vertigo). One third of the budget is being spent on special effects, such as Santa flying under a moonlit Brooklyn Bridge. Szwarc promises "no cruelty, sadism or cheap tricks." Keep your antlers crossed. (December)

After Falling in Love, Meryl Streep is falling apart in her next film, Plenty. Adapted from David Hare's stage drama, the movie features Streep as an Englishwoman who worked for the French Resistance during World War II, then becomes disillusioned and drifts into madness two decades later. Hare, who wrote the script, wanted Mike (Silkwood) Nichols to direct, but Nichols had other commitments. Consequently the drama, which co-stars Sting and Sir John Gielgud, is being directed by Australian Fred Schepisi, who goes from the science fiction of his last film, Iceman, to the social commentary of Plenty. (October)

In Mask, her first movie since Silkwood, the usually uptempo Cher turns to another downbeat story. She plays a motorcycle-club groupie and the mother of a boy named Rocky, who has craniodiaphyseal dysplasia, a disease that causes the head to swell to three times its normal size. Set in L.A., this true-life, modern-day Elephant Man story is directed by Peter Bogdanovich. Playing Rocky, who died at age 16, is Erlc (The Wild Life) Stoltz, 23. Says Cher about her co-star's performance: "He was so good I could bust his chops." (March)

She was a double agent in The Little Drummer Girl, but Diane Keaton plays a different kind of turncoat in Mrs. Soffel. The true tale of a warden's wife who falls in love with a notorious robber and helps him escape, this oddball romance takes place in Pittsburgh in 1901, with Mel Gibson as Ed Biddle, the convict. Although the film was shot mainly in Toronto, care was taken to re-create the grimy look of turn-of-the-century Pittsburgh, where industrial pollution was so thick that the street lights had to be kept on in the daytime. The director is Gillian Armstrong, who launched Judy Davis in My Brilliant Career and did the punk-rock musical Star-struck. (February)

Since 1914 there have been six film versions of Brewster's Millions, about a young man who will inherit a fortune if he can spend a million dollars in 30 days. In the new Richard Pryor remake, that sum's been adjusted for inflation—it's $30 million. Brewster's Millions was directed by Walter (48 HRS.) Hill. Pryor is cast as a baseball player, and John Candy is his best friend and teammate. The opulent sets—including Pryor's $1-million-a-month, Bauhaus-inspired hotel suite—have been described as "Busby Berkeley meeting Mesopotamia." (May)

After nearly 10 years of false starts, Broadway's longest running show, A Chorus Line, is finally alive and kicking as a movie. The adaptation is being directed by a Britisher: Oscar winner Sir Richard (Gandhi) Attenborough. By the time the cameras began rolling last October, $7 million of the $24 million budget had already been spent on screen rights and script development. More than 3,000 performers auditioned. Playing Zach, the hard-driving director, is Michael Douglas; the cast also includes Audrey Landers of Dallas, Broadway's Alyson Reed and Nicole Fosse, daughter of Bob Fosse and Gwen Verdon. Most actors in this show about the democracy of dance are unknowns, however, and all will be listed alphabetically. Attenborough has shot largely inside Broadway's Mark Hellinger Theatre, resisting temptations to "open" the work up, but he does promise a surprise twist at the end. Surely Liz Taylor doesn't show up to sing What I Did for Love? (December)

TUBE

When Jackie Collins' book Hollywood Wives came out, it kept thousands of readers guessing who the characters really were among Hollywood's Babylonians. In February, TV viewers will get to guess along when ABC makes the book into a mini starring Angie Dickinson, Stefanie Powers, Candice Bergen, Suzanne Somers, Rod Steiger and oh so many more. The stars wink and hint that they know who's who, but they coyly refuse to say. "There are pieces of people in the script who really do exist, though not all in one situation," says Angie, who plays a superagent. "But if you stir it all up, it's the same stew." A spicy one at that.

Hardly any star has been gossiped about as much as Elizabeth Taylor. Now Liz gets her revenge playing a gossip, the legendary Louella Parsons, in Malice in Wonderland, a CBS movie about Parsons' Hollywood wars with competitor-columnist Hedda Hopper. Jane Alexander plays Hopper, which is quite a casting switch for her, too. "I usually play the heavy dramatic-political-social roles," says the star of Testament. "I can hardly wait to play Hedda. She was malicious, glamorous, vain and always looked great." She looked great in hats—outrageous, outsize bombastic bonnets. "Hedda wore such romantic ones," says Alexander, who vows, "I am going to bring them back."

It's Robert F. Kennedy's turn to have his life made into a minisaga: on Jan. 27, when CBS begins its seven-hour video version of Arthur M. Schlesinger Jr.'s biography about the former Attorney General, Senator and presidential candidate. "I didn't know anything about Robert Kennedy till I got the job," admits the star, Brad Davis of Chiefs. "I was not political in the '60s. I remember seeing Kennedy killed on TV. But I don't remember where I was." To plug that startling gap in his awareness, Davis read the biography and watched tapes of the man in action. The story begins in 1946 and ends on June 5, 1968, when Kennedy was assassinated. Now that he has portrayed RFK, Davis says, "I love his passion, his vulnerability and the mask he put on over that vulnerability. I am real aware now that we have no men of vision like we did back then. Robert, John Kennedy, Martin Luther King—the most inspired men were killed in one decade and no one like them has been seen since." But they do live on in memories and miniseries.

In the NBC miniseries A.D., scheduled for March, Anthony Andrews, the doomed hero of Brides-head Revisited, affects a scraggly beard, a ring-around-the-collar toga and a croaky voice in his role as Nero, the Emperor of Rome. "Nero fancied himself an actor, and his voice was always hoarse from performances before captive audiences," says Andrews, who sings rather than fiddles while Rome burns. A.D., which covers your basic dawn of Western civilization in 12 hours, was filmed in Tunisia with a cast of miniseries regulars, including Colleen Dewhurst and Ben Vereen. Ava Gardner plays Nero's mother and "their relationship was close to incestuous," says Andrews, who confides that this salacious footnote to history is "suggested" in several scenes—without any actual fiddling around.

There aren't as many stars in CBS' Space as there are in the heavens, but there are enough: James Garner, Beau Bridges, Bruce Dern, Susan Anspach, Blair Brown, Melinda Dillon, Michael York and David Dukes, among others. Based on the novel by James Michener (whose Poland and Texas are also being videoed), the 13-hour mini-series tells the teeming tale of America's ventures into space, fictionalized with surely more raunchy than right stuff. At least one actor turned astronaut was less than beguiled by his brush with the new frontier. Asked whether he'd hitch a ride on the shuttle, Bridges says, "I might do it when I'm older...so old it wouldn't matter if I croaked."

The producers are calling it the "Mary Tyler Moore Show of the '80s" and "the first show really dealing with the Yuppie." Those are big penny loafers to fill, but Geena Davis may just be the one to do it in Sara, an NBC sitcom expected to debut in January. Davis shared a dressing room with Dustin Hoffman in Tootsie, deflected Dabney Coleman's advances on Buffalo Bill (for which she also wrote a script) and recently fumbled as a housekeeper on Family Ties. Now, with Alfre Woodard of Cross Creek as a cohort, she'll be a San Francisco lawyer: beautiful and smart. But unlike MTM, this single woman in the city won't come off as a virgin. "We don't actually show anything," Davis says, "but you just know she is having sex." Blush. Her family can't wait to participate in Geena's success. "My mom keeps reminding me that she worked two jobs to put me through college," Geena says, "and isn't that good enough to get her a guest spot."

SONG

Although Whitney Houston's mother is gospel great Cissy Houston, and pop diva Dionne Warwick her cousin, the 21-year-old singer is now in a position to succeed or fail on her own. Whitney, who began singing backup for her mother at 12 and working part-time as a model when she was 17, was signed by Arista Records last year. That quickly led to two duets with labelmate Jermaine Jackson on his recently released LP, as well as background vocals for hot New York funk artist Kashif. Both gentlemen returned the favor by contributing vocals and production help to her debut LP, Whitney Houston, due in February. A blend of R&B and pop, it may spell the end of her modeling days with the notable Wilhelmina agency. "I like modeling," says Houston. "But singing was in my blood. There was no way to escape that."

Fate has decreed that the Bangles have to spend a fair amount of time explaining what they aren't. They aren't, for example, the Go-Go's, that other all-female pop foursome from Los Angeles. "We're definitely different bands," claims bassist Michael Steele, who says that Bangles tunes generally have a harder edge. And, although the Bangles have a rich, guitar-based '60s sound, "We're not a museum band—we know what year it is," says Steele.

What they are is four Southern Californians who had their lives altered by radio waves. "It happened during our Wonder bread years, our formative years, ages 1 through 12," says Steele. "In those days AM radio was incredible—that's where all the groovy stuff was." The resulting music is reminiscent of the Byrds and the Mamas and the Papas—and Columbia Records is hoping the Bangles' sound is just as marketable. Their first LP, released last June, sold well, and the band is scheduled to return to the studio in April. Meanwhile, they just finished opening for Cyndi Lauper (during the two-month tour Lauper dyed Steele's hair maroon) and found that a lot of younger fans are becoming more familiar with some of the groups that inspired the Bangles' music. Recalls Steels: "A few years ago the kids would say, 'Lucy in the sky with Diamonds? Oh yeah, Elton John did that song.' But now there's rock roots, which is wonderful."

Thanks to computers, K-cars and Converse high-tops, many consumers are finding it's making sense again to buy American. The L.A.-based Blasters hope that trend continues at least through February, when their fourth album, Hard Line, hits the racks. Indeed, a more quintessentially U.S. sound than the quintet's thumping mix of blues, swing, country rock and Cajun boogie is hard to find. Critics' darlings almost from the moment they entered L.A.'s lively punkabilly scene five years ago, the Blasters have watched three LPs land in the discount bins while another revivalist group, Stray Cats, clawed its way to the top. Sick of "gettin' run over a lot," in the words of lead guitarist Dave Alvin, and frustrated with cult status, the boys decided their own revivalism needed revamping. "We brought our music up to date lyrically on the last album [1983's Non Fiction]," says Alvin. "This time we wanted to bring the sound up to date." John Cougar Mellencamp wrote and helped produce one cut for the LP, and, in search of what Alvin calls the "radio sheen" that typifies commercial hits, the Blasters have dropped their usually hard-driving horns. The group maintains, however, that listeners will still get their money's worth, especially at concerts. Says Alvin: "People know that when they lay down eight bucks to see us, they're gonna get eight bucks worth of foot-stompin' music."

It started the way all good rock 'n' roll stories should: at an L.A. drive-in. Guitarist Ryan Hedgecock and singer Maria McKee met, discovered a mutual passion for country legend George Jones and began penning beautiful (country) music together. Marvin Etzioni joined in on bass and Don Heffington on drums, and soon Lone Justice was off spreading the C&W gospel among the spike-haired pagans of L.A.'s punk club circuit. Along the way they acquired some notable devotees. Dolly Parton, impressed by McKee's range and twang, came backstage after a performance and offered to write songs for the group. Geffen Records signed the quartet in 1983 and has paid its living expenses for a year while the first LP is being made. That chore fell to Jimmy lovine, who has also overseen albums for Bruce Springsteen, Stevie Nicks and Tom Petty (who contributed one song, Ways to Be Wicked, to Lone Justice's debut). The album, which tilts toward rock, is due in March. Aside from the usual predebut anxiety, Lone Justice has only one problem. "I wish there was a story to go along with our name," says Etzioni, "but we just thought it up."


Anyone in the mood for sex this spring definitely needs to check out the new musical produced and directed by Broadway's golden boy, Michael Bennett. Since Scandal is a reenactment of just about every possible female sexual fantasy, it could generate even longer lines at the box office than Bennett's previous super-hits, Dreamgirls and A Chorus Line. Jimmy (MacArthur Park, Wichita Lineman) Webb wrote Scandal's songs and Treva (Mary Tyler Moore Show) Silverman wrote the book, so it promises to be a lot funnier and more tender than the sex shows that usually play Times Square. "I think it will shock some people but I'm beyond shock," says Swoosie Kurtz, best known as the spunky star of Broadway's 1980 hit, Fifth of July. Her co-star, Treat (Prince of the City) Williams, puts it differently: "I haven't the faintest idea how people will react, but in my fantasy they like it."
Advertisement
Treat Yourself! 4 Preview Issues
The most buzzed about stars this minute!