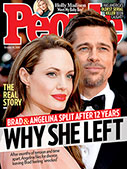 This Week's Issue!
People Top 5
LAST UPDATE: Tuesday February 10, 2015 01:10PM EST
PEOPLE Top 5 are the most-viewed stories on the site over the past three days, updated every 60 minutes
All in a Day's Labor
Within 25 Hours of Each Other, Farrah Fawcett, 37, and Christina Onassis, 34, Finally Became Mothers


The phone rang at Habilitat drug rehabilitation center on Oahu on Wednesday morning, January 30th. It was for Griffin O'Neal; his dad, Ryan, and Farrah had good news. "It was a natural birth," Griffin reports. "They described it all to me." The little boy, they said, was 7 pounds, 2 ounces and 21 inches long, with blue eyes and blond hair. "It was a long delivery," says Griffin, "and at one point she wanted to give up. But Ryan was at her side, urging her on. It was like something out of a movie."

Well, of course. What would one expect from stars of the big and small screen? But if the birth of Redmond James Fawcett O'Neal (Redmond after his father's role in Barry Lyndon) was filmic, it wasn't Farrah's old smile-and-jiggle routine. Rather it was the kind of declarative act that she has been increasingly striving toward. Farrah-as-mom is a challenging role, featuring control—of self and others—that no one dreamed the toothsome Angel could have exerted a few years ago. Notes one Hollywood observer, "The baby and the refusal to get married are both part of a new productive cycle: Farrah's decision to take charge of her career and life."

Fawcett had begun to prepare for motherhood even before she knew she was pregnant, cuddling small children on the set of The Burning Bed and playfully introducing her screen kids as her real sons and daughters. Despite morning sickness, she maintained a physical regimen of sit-ups, tennis and racquetball almost to the end. "I don't know how the baby is ever going to expand through that mass of muscle," Ryan joked.

Two months before term, Farrah and her obstetrician, Dr. Ira Friedman, arranged to have the child at the Family Birthing Center at Valley Presbyterian Hospital in Van Nuys, Calif. The FBC allows a woman to go through labor, delivery and recovery in one hotel-like room. With its pastel purple, green and pink decor, private bath and bed for a husband or other "support person," only an unoccupied bassinet would remind Farrah she was not at a Hilton or Hyatt. Just three days short of her 38th birthday, she proved a very healthy mother indeed. Aided by Ryan (who had taken prepared childbirth classes with the actress and, along with comforting her, took pictures and cut the cord) she was in labor for 21 hours, but only five hours after bringing Redmond into the world, Farrah headed home with father and child, taking along a present the hospital gave her son: a tiny T-shirt bearing pictures of a teddy bear, kitten and chicken.

Then it was all over but the rejoicing—"Ryan told me the baby looks just like me," said Griffin—and the carping. Now that she'd had the baby, would she finally wed? Dr. Joyce Brothers wanted to know. "It's so easy to get married," she clucked. "At least give this child a sense of holding his head up with pride." Ryan's accountant put it another way. "Is this going to be your deduction," he asked, "or Farrah's?"

For the Roussels of Paris, such questions are moot. For one thing, they are married (happily, it should be said). For another, they are one of the wealthiest couples in the world.

Greek television reported the arrival of baby Athina laconically: "After four marriages, Christina Onassis has finally succeeded in having a baby." Commentators elsewhere noted, with more interest, that the new infant was also Jackie Onassis' first step-grandchild. And at the storm's center, the 187-bed American Hospital, where Christina's father, Ari Onassis, died 10 years ago, the paparazzi gathered once again. This time it was to record the nonstop deliveries from Paris' tony flower shop, Lachaume, and the exuberant arrivals (four times in the first day) of Christina's husband, conglomerate executive Thierry Roussel, 31, and the child's paternal grandmother. "We are delighted—very happy," said Madame Francine Roussel.

If anyone ever deserved delight, it is Christina. She had been a public child herself—a tiny, big-eyed girl who played with dolls designed by Dior, rode Mongolian ponies presented by King Saud and had one of the world's largest yachts, Christina, named after her by her doting father. But the external trappings came to seem merely a setup by the gods of tragedy as, one by one, the people she loved the most were plucked away from her. First her brother, Alexander, perished at age 24 in a 1973 plane crash. A year later her mother died of pulmonary edema. In 1975 Onassis himself succumbed. With that, Christina became extraordinarily rich—and extraordinarily lonely. Her first three marriages, to an American, a Greek and a Russian, ended in divorce. And Christina the rich became Christina the unloved, the obese, the mocked.

Then, in the first days of 1984, she began seeing Thierry, a onetime flame and heir to the enormous French drug firm, Roussel-UCLAF. His major charm was an easygoing affability in a high-pressure world. His ambition, he said, was to "have children with Christina and grow old at her side."

The first is now accomplished. After discovering her pregnancy last spring, Christina gained back many of the pounds she had shed in honor of her marriage to Roussel. But in deference to her unborn, she cut down on her already reduced social schedule. On her island, Scorpios, for an August vacation, she suddenly rushed back to Paris when she discovered she was spotting. There, she was tended by her gynecologist, French obstetric eminence Michel Lanvin (who vigorously denies reports that Christina paid him $1 million for his services). He reassured her he stood ready to assist her at any time.

Luckily so. On Monday, January 28, a full month before the baby was due and while Thierry was in Zurich on business, the heiress suddenly went into labor. Rushed to the American Hospital, she gave birth to a 6-pound, 3-ounce baby girl by cesarean section. Then, because all the maternity rooms were occupied, one of the world's wealthiest women began her recovery in the cardiac unit. Athina was taken to nearby Necker Children's Hospital, which is renowned for its facilities for preemies.

Despite a slightly bumpy beginning, Athina's life thus far has brought only happiness. Christina, by now resting in the opulence of a private maternity suite, began placing orders for baby clothes and field-marshaling the decoration of a child's room in the family's Paris residence (European superstition dictates that such decoration not begin until the baby is born). A Swiss nanny has been hired.

Meanwhile in Necker, heedless of the glories and trials that await her as the one of the richest little girls in the world, all Athina has to do is reach 6½ pounds before she can be released. There seems little doubt that that will happen tout de suite. "She's all plump," reports grandmother Roussel, "with very pretty hands and feet. Her skin is olive toned. She has no hair except a little chestnut brown at the back of her head.

"She is superb!"

Written by DAVID VAN BIEMA from bureau reports


Advertisement
Treat Yourself! 4 Preview Issues
The most buzzed about stars this minute!