Archive Page - 12/1/12 39 years, 2,079 covers and 53,260 stories from PEOPLE magazine's history for you to enjoy
On Newsstands Now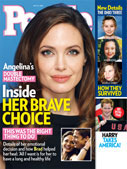 Angelina: Inside Her Brave Choice

New Details on the Ohio Three

Prince Harry Takes America!
Pick up your copy on newsstands
Click here for instant access to the Digital Magazine
People Top 5
LAST UPDATE: Saturday May 18, 2013 05:10AM EDT
PEOPLE Top 5 are the most-viewed stories on the site over the past three days, updated every 60 minutes
Teen Suicide
Every Year, 500,000 Teenagers Attempt To Take Their Own Lives. ABC's Movie, Surviving, Helps Shed Light On The Uncomfortable Topic Everybody Needs To Be Aware About


'The First Few Days Are The Hardest'

Justin was an uncommonly bright child. He was reading before he went into kindergarten. He was affectionate and giving, the kind of kid who would go out and nip a daffodil to bring home to Mommy. He was also very sensitive and would get disturbed by the way people treated other people or the fact that the cat had come in with a puffy face after a fight.

In school he was capable of excellence, but he also did not care terribly much. A lot of things came easy to him; those that didn't, he would not invest a lot of effort in. He would rather go off and read science fiction or Tolkien or listen to Beethoven. He didn't approve of rock. It was common, and everybody was doing it.

Justin never fit in very well. He used his mouth the way some kids use their fists, not abusively so much as cuttingly. He did not have many friends. There was a group he played Dungeons & Dragons with, though. He loved the fantasy and the fact that there was a universe that he controlled.

Justin wasn't delighted when Leah came along. He was 3 when we adopted her, and there was an 18-month difference between them. She's a very gregarious soul and makes friends easily. I think that exacerbated the fact that Justin didn't have anybody.

We were aware of how lonely he was. We got him into counseling when he was in sixth grade, because of his grades. It was a socialization group, and the other kids in it had the same problems—difficulties making friends, feeling alienated. He stopped going the summer after eighth grade. It was mutually agreed upon. The counselor felt Justin didn't need it anymore. That next year, in the ninth grade, he was looking forward to a lot, like having the lead in the spring play, guitar lessons, graduation and going off to camp again.

I still have no idea what made it happen. He left no notes or diaries, and no one has come forward to say that he talked about doing it. It may just have been that it was Valentine's Day. You know, "The rest of the world is in love, why am I not?" There had been one other suicide in the area at that time, a boy in Peekskill 10 days before. That was front page news in the local paper, but in all probability Justin did not see the story. I understand there was some discussion of it at school. Nothing too intense, because not that many kids knew him. Justin didn't.

On Valentine's Day he went off to school as usual. I got back from shopping around 3 p.m., just after the kids got home. Justin was already out playing with a friend. I called him in and kissed him goodbye before I went to work. I'm a dispatcher for the Putnam Valley Police Department. I was working the swing shift from 4 to midnight and left at about 3:40. Giles is a counselor with the New York State Division of Mental Health. He got home around 6:30, so there were about three hours when the kids were on their own. Leah was with a friend and vaguely recalls Justin coming in around 5 o'clock to watch TV, then going out again sometime before 6.

When Giles got home, Justin wasn't there. Giles found that a little unusual but didn't start to get nervous until about 8:30. He began calling around, but nobody had seen Justin. Giles called me at about 10:30, and I made some calls. At about 11:15 he called me again and said, "I'm really worried. I want you to come home." As soon as my relief arrived, I went flying out the door. A friend, Bob Grobman, happened to be in the station and asked if he could help. I told him to grab a couple of hand lights, and then he drove home behind me.

My stomach was in knots. I thought maybe Justin was out in the woods and had tripped and broken his leg. When we got home, I started looking in the yard while Giles searched behind the house. Then Bob and I went across the road up into the woods. He was a few yards off when I heard him say, "Oh, my God." I started heading in his direction, but he came crashing through the woods and backed me up against a tree and said, "Stay put." Then he went running back to the house yelling for Giles. I turned my light on and saw Justin hanging from a tree. That's the thing that still keeps me awake in the middle of the night, that vivid image. That's the hardest part to deal with. His eyes and mouth were open, and his tongue was swollen and protruding. I shined the light across his eyes. I'm an emergency medical technician, and this is what I've been taught to do. I knew because his eyes were fully dilated and by his color that that was it.

I put out my hand and touched his arm. It was cold. I think in that half second I offered my bargain and said, "Okay, are you going to let this be a bad dream?" I knew that plea was rejected and so got through that stage of it right then and there. I knew what I was coping with; I just didn't know why. In the back of my mind even then there was the thought, "I don't know if I want to know why."

When Giles saw Justin, he began to cry. I would have preferred him not to have seen him. I had the feeling that it would be particularly devastating for him. I guess in some ways I'm the tough one. I come from old New England Yankee stock, and we're always cool under fire. It's not that I didn't react emotionally over Justin. It was just something I kept pretty much to myself. It's a private thing. I have a feeling that people sometimes see me as cold-blooded. I would say I'm just the opposite. It just doesn't show. To me a cold-blooded person is one who doesn't give a tinker's damn, and I do.

Working for a police department, I knew that we had to leave everything intact. So we went back to the house and waited for the police and the coroner to arrive. Giles went with them to the morgue. He said later that he wanted to see Justin in the light—in repose, without the rope—so that there was something to offset that last image.

Leah was crying and didn't want to sleep in her own room that night. But the next day she started to cope. She threw herself into housework. Giles and I began to make funeral arrangements. The wake lasted two days. Leah stayed for about two minutes the first afternoon. It was too emotionally laden, so she decided to check out.

At the funeral there were a lot of kids from Justin's school with their parents. Some of the parents were frightened. I understood. I just hoped it would make them think more about the job they were doing. As for the kids, I think most had probably never grappled with the fact that dead is dead. You don't come back. If you do something like this, look at what it does to all the people who are left behind.

Those first few days were the hardest to get through. There's a physical shock and an emotional numbness and the realization that you're no longer a family of four. I wanted to go back to work very fast. Having a job that's meaningful has had a lot to do with how I survived this. The people I work with have been very supportive.

Giles returned to work almost immediately, too. He was afraid initially that he might react with anger and hostility to his clients, these people who were committing slow suicide. Essentially that's what drug and alcohol abusers are doing. He's found since then that, if anything, he's had more compassion. I think that's because neither of us feels guilty about Justin's death. We both accept that this was his decision and not ours. Maybe each of us played a part in that decision. If I wasn't there enough, maybe I'm to blame. But maybe no one was listening to him. I could have chosen to blame his counselor, his teachers and friends, all the people who apparently didn't love him enough. The more I thought about blaming, though, the more I realized, if I started, there would be no place to stop.

In most ways, the experience has brought Giles and me closer. We're aware that we need each other more, and we're closer to Leah. She hasn't talked much about Justin's death. She has talked to her school counselor and she's gotten into a rap group at school.

In May, Giles and I also started seeing a crisis-intervention counselor. A crisis like this brings out anything that has been wrong in a relationship all along. I go to talk about what is wrong with the way we relate to each other, not about Justin's death. We're trying to beat the odds. Our counselor told us that 60 percent of the parents of an adolescent suicide eventually divorce, don't want to become a statistic.

I'm not looking forward to Valentine's Day. It would have been easier if it were almost any other day. But we managed to get through Justin's birthday last October and Christmas. One thing that helped is that we moved from our old house. It was no longer a comfortable place to be. Leah didn't like staying there alone, and when I came home after midnight and looked toward those same trees, I would always have the feeling that I'd like to be somewhere else, thinking different thoughts.

Very shortly after Justin died, the media started calling. In early March then Lt. Gov. Alfred Del Bello's office contacted me. He wanted me to help raise public awareness of the problem. My first reaction was, "Do I want to be a poster child for this politician?" But almost no other parents were talking then. It's like a conspiracy of silence, but if we bury our heads in the sand and say our son died accidentally, nothing will change. You can build a mausoleum and wear sackcloth for the rest of your life. Or you can make it worth something. I have been given the opportunity to make other people aware of what's going on and prompt them to insist the government do something. That's a living monument. It's too late for Justin, but it's not too late for some other kids.

Our short-term goal is to see a prevention program in place in the Putnam County schools. My long-range goal is to have the problem addressed on a national level. Damn it, this is an epidemic, and it's the brightest, the best and the most sensitive who are at risk. We're losing them, and we don't know why.

It's hard to say what I miss the most about Justin. Just his being there, just the fact that there was this very sweet, bright kid who used to come up and hug me and say, "Oh, my little mommy," and tease me about being short. It's very much quieter. There's an empty space.


Advertisement
Treat Yourself! 4 Preview Issues
The most buzzed about stars this minute!