People Top 5
LAST UPDATE: Tuesday February 10, 2015 01:10PM EST
PEOPLE Top 5 are the most-viewed stories on the site over the past three days, updated every 60 minutes
Like A Virgin
Madonna's Name Doesn't Fool Anyone. Rock's Sexy Sensation Prays Only for Stardom
Madonna
's cherry lips like an expletive. Rock's latest "It" girl is seated on a couch with her frosty tresses pinned up, and she is peering intently through staid herringbone glasses. She could pass for a typing-pool pro except for her decidedly unsecretarial attire: black mesh stockings, peekaboo skirt and skimpy top festooned with enough crucifixes to supply a convent. "Yecch! Groi!" she exclaims as if she'd discovered something fetid in her refrigerator. In fact she is screening the glamorous results of a photo session in Hawaii for a forthcoming pinup calendar. "Groi!" she barks as another shot flashes on the screen.
"Groi?"
Madonna
has coined the term for "Get rid of it." The photographer showing the slides relaxes when at last she coos' "Great! I love that!" in reaction to a picture of her splayed across a black sand beach wearing little more than an alluring expression. Life is pretty telegraphic for
Madonna
: Things are either great or groi. And nowadays, with a growing legion of wide-eyed fans turning on to her pouty sex-kitten put-on, life is mostly great. Whatever her musical talents,
Madonna
is a runaway fashion rack, has exhibited the most agile midriff since Salome and could become the Monroe of the '80s. Her triple platinum Like a Virgin was the top LP in the U.S.A. for three weeks, having toppled Boss Springsteen, and the title song spent seven weeks as No. 1 before yielding the spot. Now
Madonna
's Material Girl single is No. 18 and climbing, along with a cut called Crazy for You from the sound track of Vision Quest, a movie in which she makes a cameo appearance. MTV? It almost looks like the
Madonna
Show, with all the airtime her flashy, trashy videos are getting. All told,
Madonna
music is selling at an astonishing rate of 75,000 vinyl discs a day.
And there's more. She's got a feature film opening in March, a seven-week tour scheduled, a fashion line in the works and she has inspired two new popographies. But reaction to the 26-year-old flaxen flamethrower is varied, intense and personal.
Madonna
's critics have dismissed her as a bagatelle, like Blondie's Debbie Harry. Her voice has been likened to "Minnie Mouse on helium." Record label executives pray she is this year's Thriller. Fashion photographer Francesco Scavullo has called her "baby Dietrich." Hollywood would settle for a Mansfield, if not a Monroe.
Madonna
's closest professional counterpart is chameleon David Bowie, who has shrewdly used pop stardom rather than being used by it. "I'm here. I'm there. I love to work. My brain is always in overdrive,"
Madonna
says. "I guess you'd say I'm a hyperactive adult."
The legend she bears on her custom-crafted belt buckle is "Boy Toy." That calling card, added to what sounds like the ultimate stage name, conjures up the image of another disco dolly sashaying her way to short-lived fame. The Virgin album jacket, showing her in lace, looking like a prom queen in heat, adds to that impression. "I've been called a tramp, a harlot, a slut and the kind of girl that always ends up in the backseat of a car," she says. "If people can't get past that superficial level of what I'm about, fine."
There is a mastermind behind the image making, and it turns out to be none other than
Madonna
Louise Veronica Ciccone of Pontiac, Mich. Though not a trained musician, she composes much of her own material, conceives her own videos and is very much involved in the business of being
Madonna
. That she inspires ire in many is a token of success that almost delights her. "I'm tough, ambitious and I know exactly what I want," she says. "If that makes me a bitch, okay." One associate described her as "a great white shark in goldfish clothing," and another observes, "If you cross
Madonna
once, you might as well have never existed as far as she is concerned." And woe to the showbiz spider who mistakes her for Little Miss Muffet. "She will suffer fools when it is in her interest," says a friend, "but never gladly."
Madonna
has also incurred the wrath of feminists because of her vampish displays and unenlightened flesh mongering. "I wanna say to Gloria and the gang, 'Hey, lighten up. Get a sense of humor.' " One sullen critic took her to task on behalf of the economically downtrodden because of the crass sentiments of Material Girl ("The boy with the cold hard cash/Is always Mr. Right"). "Look at my video that goes with the song," she says. "The guy who gets me in the end is the sensitive guy with no money."
What
Madonna
gets is pretty much whatever she wants. "I have always been able to get my way with charm," she admits. "I have always been resourceful, whether it was convincing my father to let me stay out late or getting out of paying a cab fare in New York when I didn't have any money." She is the third child (of eight) and oldest daughter of an Italian Catholic family that lived in racially mixed, working-class Pontiac. Her crucifix collection is a reaction to her strict Catholic upbringing. Her father worked as a design engineer for Chrysler, and she was named
Madonna
after her mother. "Ours was a strict, old-fashioned family. When I was tiny, my grandmother used to beg me not to go with men, to love Jesus and be a good girl. I grew up with two images of a woman: the virgin and the whore. It was a little scary."
Madonna
's mother died of breast cancer when her daughter was just 5. Little Nonni, as she was known then, was further devastated by her father's remarriage three years later to a woman with whom
Madonna
has never made peace. "From that time on I felt like Cinderella with a wicked stepmother. I couldn't wait to escape." Meantime she reveled in her individuality. "We had to wear uniforms to [parochial] school, so I would put bright panty bloomers underneath and hang upside down on the monkey bars at recess," she says with impish glee.
When she was 10, her family moved to Rochester, Mich., where
Madonna
joined the Camp Fire Girls and limited herself to schoolgirl pranks. Childhood pal Carol Belanger recalls peeking through convent windows with
Madonna
"to see the nuns without their habits. We found out then they had hair." By high school
Madonna
had discovered Motown, become a cheerleader and begun startling her friends with her outspokenness.
"Sometimes I'd literally put my hand over her mouth to shut her up," says Belanger, remembering the time the pair drove to a nearby lake in
Madonna
's red Mustang. A group of bikers began dropping firecrackers on them, and "
Madonna
yelled up and told them to knock it off. The next thing I knew, one of the biker girls came down and started hitting her in the mouth. We finally got away, but
Madonna
had a black eye and bruised cheek."
In her junior year she began ballet classes with Christopher Flynn, now 54 and a University of Michigan dance professor. Abandoning cheerleading, she cut off her brown shoulder-length hair, "pierced her ears, got into nuts and berries, stopped shaving her armpits and legs," says her high school chum Mary Conley Belote. "She was kind of far-out." Flynn remembers her as "one of the best students I've ever had, a very worldly sort of woman even as a child. We would go to gay bars, and she and I would go out and dance our asses off. People would clear away and let her go."
Deciding that a ballet career was her ticket to the top,
Madonna
spent three semesters at the University of Michigan and then headed for New York. She arrived in 1978 with a satchelful of tights and toe shoes, $35 in cash and a giant baby doll under her arm to keep her company. Her footwork earned her a work-study spot with the Alvin Ailey Dance Company. But frustrated by her inability to leap into the limelight, she began exploring other possibilities. She starred in a minor underground film, playing a vengeful weirdo who dominates three sex slaves. Through theatrical contacts she met the impresarios behind European disco singer Patrick (Born to Be Alive) Hernandez. "They liked me and took me to Paris to make me the next Edith Piaf," she says scornfully. "They made me meet these awful French boys and I would throw tantrums. They would just laugh and give me money to keep me happy." After six months she returned to New York and eventually moved into a Lower East Side building with her friend, illustrator Martin Burgoyne, now 22.
Madonna
left when their adjacent apartments were ransacked by neighborhood kids, and fled to Abbie Hoffman's old 13th Street digs. Burgoyne rejoined her 48 hours later when his apartment was further vandalized by toughs with chicken droppings and blood.
By 1982, at the age of 24,
Madonna
had enough street savvy to start her on the pop-tart trail. She bounced around the SoHo art rock/New Wave scene until she had a demo of her own music and had "charmed" Danceteria deejay Mark Kamins into playing her stuff. Next stop Sire records, whose president, Seymour Stein, was in the hospital at the time recovering from an attack of endocarditis. "I got this call from my assistant about a
Madonna
tape that Mark brought," he says. "I arranged for her to meet me at the hospital; then I shaved and had someone bring me a bathrobe from home. When she walked into the room, she filled it with her exuberance and determination. It hit me right away. I could tell she had the drive to match her talent."
Her first album,
Madonna
, was released in July 1983 and did a slow burn through the dance-club circuit until it eventually crawled onto radio play lists and yielded two hits, Borderline and Lucky Star. The slow ignition of that debut effort allowed
Madonna
the luxury of plotting further career tactics, and her first task was hiring a no-nonsense personal manager. Her approach was simple. She asked herself who the biggest act in the world was at the time? Michael Jackson. Who was his manager? Freddy DeMann. DeMann has since lost Jackson as a client but was intrigued when a brash blonde he'd never seen showed up in his office in the summer of 1983. "She had that special magic that very few stars have," he remembers.
With new management
Madonna
went after Nile Rodgers, who crafted David Bowie's best-seller Let's Dance, to produce her second album. Then after cutting Virgin last spring, she turned her energies to film. She landed a plum role as the title character in Desperately Seeking Susan, directed by Susan (Smithereens) Seidelman and co-starring coquettish Rosanna Arquette. "At first it was hard to get producers to take me seriously because I was a rock star," she complains. "I guess they thought I would throw fits or do blow [cocaine] on the set or something. I think they were shocked when I showed up every morning like clockwork." Seidelman concurs: "She is an incredibly disciplined person. During the [nine-week] shoot we'd often get home at 11 or 12 at night and have to be back on the set by 6 or 7 the next morning. Half the time the driver would pick
Madonna
up at her health club. She'd get up at 4:30 in the morning to work out first."
Madonna
says part of the allure of playing Susan was her identification with the character. "She's this really crazy, lively, wild girl who kind of wreaks havoc in everyone's life. I can relate to that. She drifts in and out of guys' lives and they fall in love with her and she says 'later' and stuff like that. The difference is she was kind of a drifter and I am very focused."
The difference in romantic affairs is subtle. Already
Madonna
has left a long register of boyfriends in her jet stream. Her longest romance has been a stormy two-year live-in relationship with New York deejay "Jellybean" Benitez. Lately, though, she's been seen with actor Sean Penn, currently perking at the box office in The Falcon & the Snowman. The pair met when Penn showed up on the set of her Material Girl video, and since then friendship has blossomed into courtship. "I don't feel swept off my feet," she says, "but he is somebody whose work I have admired for a long time. He's wild, though. He'll probably die young. We have so much in common—we were born one day apart—and have such similar temperaments. I feel like he is my brother or something. In fact when I squint my eyes, he almost looks like my father when he was young." Besides sharing shoptalk, Penn recently took
Madonna
to the Westwood, Calif. cemetery to visit Marilyn Monroe's grave. "Joe DiMaggio's rose was there," she says breathlessly. "He really loved her."
Madonna
is currently in California rehearsing for her concert tour. "She'll be playing small venues [3,000-5,000 seaters]," explains DeMann. "I want fans to be able to see
Madonna
sweat." That means more nomadic living. "Right now I am living out of a suitcase in a hotel room," she says. "It's a little bit disconcerting."
Madonna
thus far has avoided conspicuous consumption. No mansion, yacht or impressive stock portfolio is hers yet. "I did buy a TV set and a 10-speed bike," she says. "I always said I wanted to be famous. I never said I wanted to be rich." DeMann reports that when he informed her of the gigantic royalty check she would be getting from her record company, all she said was, "Great! Now I don't have to take the subway anymore." But she's hardly unmindful of her cachet among Hollywood power brokers. In a cute display of upmanship, she recently dropped William Morris as her agents. "I'm making a list and checking it twice," she says, shopping for new representation. Then she laughingly finishes the rhyme, "Gonna find out who's naughty and nice."
One irritation is her vanishing privacy. The weird phone calls from "nut cases" have started. "When I was in Japan, somebody called up and said my father had died, just to get me on the phone," she says shaking her head. "People get these psychotic fixations on you. It's scary. Strangers feel like they know you because you are a public figure. I've had guys I've never seen before come up to me on the street and try to kiss me." To reduce the hassles of fame, she has engaged a bodyguard, rides first-class in airplanes and no longer hangs out in dance clubs. Yet she refuses to dress incognito—or even a little less like a Christmas tree. "The attention can be very tiresome," she says. "But it can also be a rush when some kids in the balcony shout out your name."
To keep her ample figure in shape, she does daily aerobic drills and she swims. Her intellectual palate is as eclectic as her taste in snacks, which runs to Tab, sugarless gum and cheese-flavored popcorn. She is currently savoring the works of poet Charles Bukowski, Czech novelist Milan Kundera and the latest lurid Marilyn biography, but she'll just as quickly pick up a movie magazine, French Vogue or the steamy tabloid Weekly World News. "Hey, I'm a sponge," she says smacking her bubble gum. "I soaked up everything in my life and this is how it manifested itself."
Fans aren't complaining. Less saintly than her name, less sinful than her reputation, the Boy Toy bad girl has become the sponge a great many people would most like to squeeze. "Her playful devil-may-care attitude is mixed with sex appeal and a rebelliousness that give her a lot of credibility in the youth market," concludes Sire president Seymour Stein. The creator of the Boy Toy puts it more simply. "Bruce Springsteen was born to run," she says. "I was born to flirt."
Contributors:
Jane Briggs-Bunting,
Julie Greenwalt,
Mary Shaughnessy.
Advertisement
Today's Photos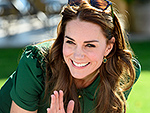 Treat Yourself! 4 Preview Issues
The most buzzed about stars this minute!