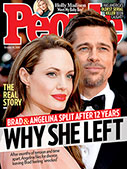 This Week's Issue!
People Top 5
LAST UPDATE: Tuesday February 10, 2015 01:10PM EST
PEOPLE Top 5 are the most-viewed stories on the site over the past three days, updated every 60 minutes
How much money would it take to get you to dress up like Boy George all day, every day, for a year? Who is your favorite actress? Actor? Are the different colors of Jell-O really different flavors? Yes, it's time for PEOPLE'S poll, our annual attempt to cover the pop-cultural waterfront. Audits and Surveys Inc. contacted a representative sample of 1,000 readers and asked them about practically everybody and everything from Bette Midler to the budget deficit, X-rated videos and Dynasty vs. Dallas. The best of the readers' answers follow. Also included this year are the replies to a questionnaire in the March 4 issue that invited readers (13,000 responded) to pick their all-time favorite TV shows, stars, comedians, doctors, horses and dogs. The presence of nonhumans on the list helped make it possible for Alan Alda to lose in some categories. [P] Whom would you be happy not to hear another word about in 1985? [P] Beat it, Michael Jackson; 16% of the readers would like to see the Gloved One wave goodbye for a while. Tied with Jackson was President Reagan, but a bloc of those votes were probably political. No one else came close, not even those primping paragons of publicity, Prince (5%); Liz Taylor (4%), and Joan Collins (4%). [P] Who is the best-looking woman in America? [P] Before announcing the winner, let's have a little suspense: The largest number of men (12%) choose their spouses (take your wife, please). Chivalry lives! Men select Christie Brinkley, Billy Joel's uptown bride, second (8%) and Linda Evans third (5%). Women, however, beg to differ, with enough of them (14%) voting for Evans, 42, to catapult the Dynasty star into first place overall. With the female vote tallied, Brinkley, 31, winds up in a four-way tie for second with Jaclyn Smith, 38; Joan Collins, 52, and Liz Taylor, 53. [P] Who is the best-looking man in America. [P] Oops. Only 3% of women vote for their spouses (you can discuss that at home). First place goes to the hunk in the Hawaiian shirt, pineapples down. After 40-year-old Tom Selleck (30%)—way after—lurks the older guard, Robert Redford (5%); Burt Reynolds (5%), and Paul Newman (4%). Their average age: 52. [P] Would you be willing to pay $10 a week more in federal taxes for the next four years if it would eliminate the federal budget deficit? [P] Everybody talks about the deficit, but who is willing to do something to correct it? Half of the readers said they'd gladly shell out the 10 bucks, but 46% said they already gave enough at the office. [P] If you could pick the next President, who would it be? [P] Ronald Reagan, whom readers say they've seen too much of, is the man they most want to have around for four more years (14%). Otherwise it's George Bush and Ted Kennedy (8% each); Gary Hart (6%), and Lee acocca (5%). [P] Given the choice of Warren Beatty, Phil Donahue, Clint Eastwood, Robert Redford or Jane Fonda, who would you like to see run for high national office? [P] Hmmmmm. How do you feel about Mario Thomas as First Lady? At 31 %, Donahue clearly has the edge over Redford (24%); Eastwood (17%), and Fonda (13%). Next came "None of the above" (11%); followed by Warren Beatty (3%). [P] On a scale of one (dumb) to 10 (brilliant), how smart are the following: Ronald Reagan, Jacqueline Onassis, Jesse Jackson, Cher, Margaret Thatcher and Liz Taylor? [P] Readers perceive British Prime Minister Thatcher (7.54) as the brightest of this very disparate bunch, followed by President Reagan (6.78); Jackie O (6.30); Jesse (5.82); Liz (5.50), and Cher (4.60). [P] If we reach an arms agreement, do you believe the Soviets will cheat? How about the U.S.? [P] We don't trust Mikhail Gorbachev, and we don't trust ourselves much either—82% say the Russians will cheat, while 65% say we'll do it too. [P] If attacked by the armed forces of the Soviet Union, which, if any, of the following countries should be defended by U.S. troops: England, France, Germany, Saudi Arabia, China or Mexico? [P] The Europeans and the Mexicans can expect us. But the Chinese and Saudi Arabians—both physically and culturally distant—are on their own. [P] How much, if at all, do you think the defense budget can be cut without jeopardizing security? [P] Some say the defense budget could be cut 5%; 22% of the readers say 10%, and 33% suggest it be reduced by a fifth. But 19% like the military budget just the way it is, tanks. And 10% "don't know." [P] Who is your favorite actor? [P] Those lips, those eyes, that salad dressing: It's perennial Paul Newman, trailed closely by the rest of popular moviedom's Mount Rushmore: Clint Eastwood, Robert Redford and Burt Reynolds. Eddie Murphy and Harrison Ford are on the verge of cracking the Big Four. [P] Who is your favorite actress? [P] Yes, they like you, Sally Field, they really like you. But they'll still buy tickets to see Meryl Streep, Goldie Hawn, Sissy Spacek, Jane Fonda and Jessica Lange, in that order. [P] Who is your favorite female singer? [P] There ain't no mountain high enough for winner Diana Ross. On lesser peaks stand former shoo-in Barbra Streisand, Olivia Newton-John, Sheena Easton and Barbara Mandrell. [P] Who is your favorite male singer? [P] Put down that Pepsi, Lionel Richie, and take a bow. Our readers vote you tops, ahead of Stevie Wonder, Billy Joel, Bruce Springsteen and Barry Manilow. [P] Who is your favorite musical group? [P] Our readers are Alabama bound. A close second goes to currently hot Hall and Oates, followed by the Pointer Sisters, Huey Lewis and the News, and Foreigner. [P] Which area could the U.S. most easily do without: Southern California, New York City, Texas or Cleveland? [P] The object here was to find out which of these areas had the most detractors. Alas, everybody—well, 47% of you—jumped on Cleveland. After that it was "So long, Manhattan" and "Have a nice day, Southern California." The Lone Star State can stay—at least until we come up with another contest next year. [P] Do you balance your checkbook? [P] Sure do, say an organized and efficient 73% of our readers. [P] How often do you kiss someone? [P] Daily, say 75% of you (maybe there's a relationship between kissing and balancing checkbooks); 15% smooch someone at least weekly, and married folks (89% daily) kiss more than singles (55% daily). [P] How much money does your household need yearly to live comfortably? [P] To pay the mortgage, buy the food, gas up the car and groom the cat? We need at least $35,000, say nearly half of our readers—though another survey showed that the actual income of an average PEOPLE household was closer to $28,000. [P] Would you sing The Star-Spangled Banner solo in front of someone? [P] Ah, we have some brave souls out there. Although a third of those responding admitted they can't remember the words, let alone sing the high parts, 51% of our readers said, "Hit it!" [P] And now, something completely different [P] How much money would it take to get you to dress like Boy George all day, every day, for a year? [P] One third of the readers said their pride wasn't for sale—at least not for less than $500,000; 9% would become costume chameleons for $50,000, and 5% (mostly 18 to 24s, but also a notable smattering of 45 to 54-year-olds) would do it for $5,000. Half the readers we talked to—surprisingly, women were more vehement than men—said "no dice" at any price. [P] Would you applaud if a tennis umpire bounced a ball off John McEnroe's forehead? [P] "Go ahead, make our day," 64% of you said. Those under 25 said they'd applaud loudest. [P] Have you ever watched an X-rated tape on a VCR? [P] You bet your Betamax, said 40% of our readers. So, relax, you're not the only one who rented Stewardess Vixens From Outer Space. [P] Where will you go when you die? [P] There's a lot of talk about heaven and hell, but what do 20th-century Americans—in this case, PEOPLE readers—really think? In sum: 73% say there's a heaven and they're headed there; 7% believe there's nowhere to go. An honest—and probably depressed—2% think they're going to hell. [P] Are you satisfied with your partner's physique? [P] Let's hear it for homebodies: 90% of our readers say they're satisfied with their mates. [P] What part of your body do you like the least? [P] A lot of people (17%) can't stomach their stomachs, followed by legs (12%), hips and feet (8% each) and hair and noses (5% each). The 16% who answered "don't know" presumably either have no complaint or don't know where to start. [P] Would you want to run away and start all over again? [P] Feeling trapped? Unfulfilled? Antsy? Bored? You're not alone. While 65% of readers voted "sit," a significant minority (34%) voted "split"; 1 % were confused. [P] How often do you worry about nuclear war? [P] Never? Well, hardly ever, say 60% of our readers; 32% fret monthly, and 7% daily. [P] Have you ever struck your spouse or lover? [P] With all the talk about violence at home, we thought we'd ask. Some 13% of readers said they had hit their mate at least once. Interestingly, women were slightly more likely to strike than men. [P] How many Americans cheat on their income tax? [P] About half, you think. [P] Would you quit your job if you won a million dollars in a tax-free lottery? [P] Less than half say they would. Intriguingly, younger readers are more likely to quit than folks 55 and older. [P] Would you agree to an artificial heart transplant if there were no other way to save your life? [P] About 63% of readers answered yes, while 33% said they would decline. Younger readers were more willing than their seniors, and women were less likely to welcome a new heart than men. [P] Who is the most responsible for the sorry state of the criminal justice system? [P] Take that, lawyers of America—30% of our readers won't come to your defense. After that, blame goes to the Supreme Court, then the lower courts, the prison system and the police. [P] Of these recently wed stars—Sally Field, Olivia Newton-John, Bette Midler and Mariel Hemingway—whose marriage will last the longest? [P] Did you ever read about a celebrity marriage (Charlene Tilton and her rambunctious ex, country singer Johnny Lee, come to mind) and say, "I give 'em a couple of years"? Of the unions proposed above, readers have by far (40%) the greatest faith in Field and husband Alan Greisman, but are not nearly as certain that Midler and Martin von Haselberg are a good Bette. [P] Should Farrah Fawcett marry Ryan O'Neal, or don't you care? [P] He's got a reputation for being difficult, and they've got a baby. What does a nation think? Well, 32% of the readers say America's favorite unwed mother should get hitched, 15% say don't do it and 51% say, "Don't care." [P] How many more times will Liz Taylor get engaged? Married? [P] Roughly? Engaged thrice, married twice, say readers. [P] If you had to be one of the following, whom would you choose: Ronald Reagan, Dynasty's Blake Carrington, Bruce Springsteen, Mel Gibson or Johnny Carson? (Asked of men.) [P] Despite the alimony payments, "Heeeeeeeere's Johnny!", with a whopping 38%. A strong vote from 25-and-unders gave the Boss (Springsteen, 21%) second place, followed by the other boss (Reagan, 17%). [P] If you had to be one of the following, whom would you choose: Joanna Carson, [CELEBRITY_LINK "Brooke Shields"], Geraldine Ferraro, Joan Collins or Mother Teresa? (Asked of women.) [P] We're not sure what this means, but, overall, women said they'd rather be a TV sinner (Joan Collins, 31%) than a sophomore ([CELEBRITY_LINK "Brooke Shields"], 22%) or a saint (Mother Teresa, 18%). (Gauged separately, however, college grads placed Ferraro first.) [P] Which is better, Dynasty or Dallas? [P] J.R. and the oil clan lose, by a ratio of 5 to 3. [P] Of the following people, with whom would you most like to have dinner: Bernhard Goetz, Farrah Fawcett, Lee Iacocca, Julio Iglesias, Nancy Reagan or Tina Turner? [P] What's seriousness got to do with it? Readers opted for the presumed excitement of tea 'n' Tina (26%) over an inspiring meal with Chrysler's folk hero acocca (23%). First Lady Nancy Reagan finished third (19%). [P] Of the same group, with whom would you least like to have dinner? [P] Here Nancy Reagan and New York subway gunman Bernhard Goetz finished in a tie for first place, each tallying 25%. [P] Do you believe that the different colors of Jell-O are really different flavors? [P] A whimsy question, to be sure, but one that nonetheless makes some people stop and think for a moment. After due consideration 63% said yes; 33% no, and 4% just quivered, like Jell-O. [P] Alda glitters, M*A*S*H is gold in the television poll [P] What is the all-time best show? [P] Readers say it's M*A*S*H (18%), closely followed by I Love Lucy (16%). Then, after a big fall-off, comes Star Trek (6%); All In the Family (4%), and the Mary Tyler Moore show (3%). The Honeymooners' Ralph Kramden should demand a recount. [P] Who is TV's all-time best actress? [P] Let's fill our champagne glasses with Vitameatavegamin and raise a toast to comedienne Lucille Ball, who ranks first with an impressive 36% of the vote. Following the bouncing Ball are Mary Tyler Moore (13%); Carol Burnett (4%); Jean Stapleton (4%), and Stefanie Powers (3%). [P] Who is the all-time best actor? [P] Ol' Reliable, Alan Alda gets 22% of the votes and was particularly popular with women. Second place goes to James Garner (7%); then comes Richard Chamberlain (6%); Carroll O'Connor (4%), and Dick Van Dyke (4%). [P] Best horse? [P] It is neigh to Flicka (6%); Fury (7%); Silver (13%), and Trigger (23%). The winning horse, of course—with 42%—is the loquacious Mr. Ed. (Say a few words, Ed.) [P] Best actor in a Western? [P] Well hush my puppies: If it ain't Gunsmoke's James Arness, with 22% of the vote. Slower on the draw were James Garner (16%); Clint Eastwood (15%), and Lorne Green (7%). [P] Best dad? [P] Buy him a necktie, 'cause it's Father's Day for Bill Cosby, who receives 21% of the vote. The Cos outranks such familiar patresfamilias as Michael Landon, Hugh Beaumont, Andy Griffith, Tom Bosley, Fred MacMurray, Dick Van Patten and Robert Young. [P] Best mom? [P] She raised seven kids on a food budget that made Hamburger Helper seem like beef Wellington, so it's no surprise that the winner is Ma Walton, Michael Learned (17%). In second place is Barbara ("Ward, I'm worried about the Beaver") Billingsley, who exemplified the typical American mom by wearing her pearl necklace while mopping the kitchen floor. Next comes All In the Family's Jean Stapleton. [P] Sexiest actor? [P] We're beginning to suspect that the P.I. in Magnum P.I. stands for Physical Ideal. Tom Selleck's 24% easily outmuscles rivals Richard Chamberlain (10%); Pierce Brosnan (6%), and Robert Wagner (6%). [P] Sexiest actress? [P] This'll throw you a curve. The overall winner is Jaclyn Smith, with 10% of the vote, followed by Linda Evans, Joan Collins, Stefanie Powers, Loni Anderson and Veronica Hamel. But the male choice for sexiest is none of the above. Men, who as a group rate Barbara Eden A-1, apparently still dream of Jeannie. [P] Best comic? [P] Herewith more proof that TV's phosphorescent glow fades slowly. Carol Burnett, whose CBS show went off the air in 1978, was first (18%). And in second place: Red Skelton, whose show was last seen 13 years ago (12%). The only high-rater currently available on network prime time is No. 3, Bill Cosby. [P] Best secret agent? [P] Would you believe Don (Get Smart) Adams? With 24% of the vote, he out-smarts agents Peter (Mission: Impossible) Graves, Robert (The Man from U.N.C.L.E.) Vaughn and Diana [The Avengers) Rigg. [P] Best cop? [P] A tight race, but readers ultimately cite Hill Street Blues' Daniel J. Travanti, who cops 11% of the vote. (Notably, 35-to 44-year-olds give the top spot to Jack "dum de dum dum" Webb.) In overall second place is Robert (Baretta) Blake (9%). In a three-way tie (8%) for third place are Hal (Barney Miller) Linden, Jack (Hawaii Five-O) Lord and Telly (Kojak) Savalas. [P] Best nurse? [P] Four out of 10 readers agree: It's M*A*S*H's Loretta Swit. Michael (Nurse) Learned (12%) and Elena (Marcus Welby, M.D.) Verdugo (11 %) are in the waiting room. [P] Best doctor? [P] PEOPLE readers like to be kept in stitches by M*A*S*H's Alan Alda, who gets 28% of the vote (should we get another opinion?). Next on the Bedside Manner Meter is Robert Young (19%), followed by Richard Chamberlain (14%) and Jack Klugman (9%). [P] Best actress in a soap? [P] The winner, with 25%, is Susan Lucci, perhaps even better known as All My Children's Erica Kane, the pouting, spoiled, manipulative (and those are her good points) model. Deidre (Days of Our Lives) Hall, Genie (General Hospital) Francis and Judith (One Life to Live) Light are runners-up. [P] Best actor in a soap ? [P] The nod goes to General Hospital's Tony Geary, who plays Luke Spencer, bad guy-turned-heartthrob. Geary gets 29% of the vote, followed by Tristan (General Hospital) Rogers, John (General Hospital) Beradino and Larry (As the World Turns) Bryggman. [P] Best puppet or cartoon character? [P] Sufferin' succotash: The winner is Bugs Bunny (16%) by a hare over the Flintstones (15%). The Muppets (9%) are third, and Road Runner (8%) finishes fourth. [P] Best help? [P] The Jeffersons' Marla Gibbs, who plays Florence the maid, cleans up with 23%. Trailing in her dust are Shirley (Hazel) Booth, Sebastian (Family Affair) Cabot, Eddie "Rochester" Anderson and Nell (Gimme A Break) Carter. [P] Best second banana ? [P] The second banana with the most appeal is I Love Lucy's Vivian Vance, ("Quick, Lucy, Ricky's coming!"). Art Carney, Don Knotts, Gary Burghoff and Tim Conway round out the bunch. [P] Best dog? [P] Timmy's in trouble! Who ya gonna collie? With 64% of the vote, Lassie leads the pack. Close on her tail are Rin Tin Tin, The Thin Man's Asta and My Three Sons' Tramp. Woof. [P]
Advertisement
Treat Yourself! 4 Preview Issues
The most buzzed about stars this minute!