People Top 5
LAST UPDATE: Tuesday February 10, 2015 01:10PM EST
PEOPLE Top 5 are the most-viewed stories on the site over the past three days, updated every 60 minutes
Laura Dern, Daughter of Bruce (and Diane Ladd) Steps Out on Her Own with a Star Role in Mask


It took her 11 more years, but today 18-year-old Laura Dern is not only playing major roles but getting raves as well. In the current hit Mask, a film blessed with shining performances from Cher and Eric Stoltz, Dern came through uneclipsed in her role of Diana, the sightless girlfriend of a horribly disfigured boy. As Laura's mom tells it, Barbra Streisand saw the movie and found Laura's portrayal so convincing that she asked director Peter Bogdanovich, "Where in the world did you find a blind girl who can act?"

Dern prepared hard for the part, talking to blind people, attending dances for the blind, going for walks with blindfold and cane, even learning to ride a horse while blindfolded. Mask, she says, is "a beautiful love story that makes you think about the person inside; the exterior means nothing."

On the face of it her acting aspiration hardly comes as a surprise. She is, after all, the child of Ladd and Bruce Dern, both onetime Oscar nominees (she for her role as the wisecracking Flo in Alice; he as the shell-shocked Vietnam vet in Coming Home). Laura did a lot of her growing up around movie sets, occasionally picking up bit parts. "I had small roles in Middle Age Crazy and Won Ton Ton with Dad," she recalls. "I was an extra when Mom did White Lightning."

Her parents were married after they appeared together, in 1960, in an off-Broadway play. They went West soon after to pursue Hollywood careers, but in 1962 their first daughter, only 2 years old, drowned in the backyard pool. Traumatized by the event, they found their marriage deteriorating into a series of splits and reconciliations. At Laura Elizabeth's birth in 1967, her father called her "the little miracle," a last chance at holding the family together. It was a vain hope. Her parents divorced when Laura was 2.

If she accumulated hurts from her early years, Laura refuses to dwell on them. "Mom was amazing," she says. "She remained both mom and dad for me, even when she continued her career and remarried for awhile [to New York businessman William A. Shea Jr.]. My grandma, Mary, did a lot of raising too. Dad, I think, became a little detached; he remarried [to onetime actress Andrea Beckett] and turned toward his new life."

In retrospect Dern regrets his absence. "It was tough on Laura," he now says. "I really wasn't there for her. Some weekends when she came to visit, I would watch my ball games."

For all of Laura's hanging around movie sets, neither parent pushed her into a film career. "They said, 'If you are going to do it, do it on your own, and you must study,' " Laura remembers. So at 9 she resolutely pedaled her bike to summer acting sessions at the Lee Strasberg Theatre Institute. At 11 she fibbed about her age to land a small role as a party-crashing teen in the Jodie Foster film Foxes. "When I saw her on the screen with all her God-given talent," her mother says, "I got all choked up."

At the elite Buckley School in Sherman Oaks, Calif. Laura worried that her earnestness made classmates regard her as a geek. "I guess I preferred to write poetry than fit in," she says. "I didn't get into rock concerts, do drugs or pick up new dudes on the block." She was elected student body president, however, and got through school in a hurry: By doubling up on some classes, she graduated a semester early and, at 16, successfully petitioned the court for the legal status of an emancipated minor. This freed her to work adult hours on film locations without chaperones and tutors hovering by, thus gaining an edge over her age group.

She put her new independence to good use last year with a critically praised performance as a pregnant teen in Teachers. Since wrapping up a teen flick with Treat Williams called Where Are You Going? (to be released this summer), she has attended classes (English, psychology, film) at USC. She shares a West Hollywood apartment with a girlfriend. Boyfriends? "I've been in love a couple of times," she says, "but not at the moment."

Her relationship with her parents has remained warm since she's gone off on her own. Laura visits both often and notes in particular that "Dad has an easier time with me now that I'm a woman than he did when I was a little girl. I sometimes forget I'm only 18, and I think I'm interesting because I haven't figured myself out. But," she adds with a hint of a smile, "I'm beginning to know who I am—maybe."


Laura Dern might be unique in having the only Hollywood career ever launched by ice cream cones. One day when she was 7 she visited her mother, Diane Ladd, on the set of Alice Doesn't Live Here Anymore. Director Martin Scorsese spotted Laura and enlisted her as an extra. All she had to do in her first screen role was stand there and lap up ice cream. But before Scorsese was satisfied, he had shot the scene 19 times. "I had to eat 19 cones," Laura recalls, "and Marty said to my mom, 'If she doesn't throw up after that, this girl is ready to be an actress.' "
Advertisement
Today's Photos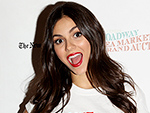 Treat Yourself! 4 Preview Issues
The most buzzed about stars this minute!