People Top 5
LAST UPDATE: Tuesday February 10, 2015 01:10PM EST
PEOPLE Top 5 are the most-viewed stories on the site over the past three days, updated every 60 minutes
Maxwell Caulfield Bares His Body on Stage but Keeps His Soul for Mate Juliet Mills
Tandy, who is one of America's theatrical treasures, enjoys the privilege of touching this centerfold body as the star of Salonika, an off-Broadway hit at the Public Theater. Salonika concerns an 84-year-old British widow (Tandy) who visits Greece with her sour 63-year-old spinster daughter (Elizabeth Wilson) and stumbles upon a nude beach bum asleep in the sand. Although Caulfield has a pivotal role, his main contribution before intermission is to rise once from his pillow of sand. He stretches his six-foot, 175-pound body, displays a perfect V-shaped torso, and, well, shows off the rest of his attributes—all in the name of art, since the beachboy symbolizes the sexuality absent from the daughter's life. Says a bemused Caulfield, 25, "Somebody told me the other day that I was a metaphor."
All this exposure hasn't made him self-conscious. Onstage "I just totally relax, which isn't something I do very easily. The audience is so close, you really have to put them out of your mind." Even when Wilson sponges his body, "I'm not thinking about the fact that people are being given a total bird's eye view of the works," insists Caulfield. Says director John Madden: "Maxwell is a gifted actor, and that is why he was cast. The nudity was a matter of course for him. What's he got to worry about? He's got a body that won't quit." As Tandy told Caulfield, "It's what will sell tickets."
Being a breezy, British-born charmer, Caulfield acknowledges compliments about his body with a pleasant thank you very much. He didn't disrobe for the audition. "There were enough pictures around of me in loincloths for Madden to know that I wasn't going to have pendulous growths or anything," he says. He confides that he went to a tanning salon four times a week to get sun kissed, but says, "I just can't spend any more time in that microwave." He eschews weight lifting but runs and swims to keep toned. And his method of preparing for the play would kill Stanislavsky. The main book he read for the role was a Let's Go guide to Greece. Before a show "I usually come screaming into the theater a little late. I immediately rip my clothes off, go into an abandoned office and do 15 minutes of yoga and then go to the stage." To concentrate during a performance, "I picture the Aegean Sea," he says.
Of course sometimes the audience interrupts his Grecian reverie. One evening when Elizabeth Wilson uttered, "Oh, the waste of it" while feasting on Caulfield, a voice from the second row assented, "You're telling me." There are also those mash notes from admirers who would like a "special photography session" with him. Then there was the night when a child whispered delightedly, "Look, Mommy, there's Daddy with no clothes on." That was stepdaughter Melissa's reaction to Maxwell.
For the past four years, Caulfield has been married to Juliet (Nanny and the Professor) Mills, 43. She is the daughter of Sir John Mills and sister of Hayley—and 18 years Caulfield's senior. Their romance began at a rehearsal for a production of The Elephant Man, in which he had the title role. "We fell in love almost immediately," he says. "There's a scene when the Elephant Man meets Mrs. Kendal. When the two look into each other's eyes, she sees a beauty in him that has never been seen before. We were supposed to be playing that scene, but it took on a life of its own." Although Mills was then married, she soon got a divorce. "I don't envision a day I won't love that woman," says Caulfield, who dismisses the older woman/younger man syndrome. Says Juliet: "He has the soul of a 100-year-old."
While Maxwell has found his Juliet, his younger brother, Marcus, 24, is living with Juliet's younger sister, Hayley, 39. "It's too ridiculous," says Maxwell. "I didn't take it seriously at first, but it's close to a year now, and I have to."
From the start of his career, Caulfield has projected more than an image. Born in the British Midlands, he left home and school at 15 to live in London, where he worked as a nude dancer. At 18, he jetted to New York and landed a job in a gay farce, Hotrock Hotel. His highly praised performance as an omnisexual boarder in Entertaining Mr. Sloane led to the lead in Grease 2. Caulfield was supposed to replace John Travolta in the hearts of America. "I was such a chump," he says. "It was crazy to think the world was ready for a successor for Travolta." Eager for stardom, "I did a lot of blowing my own trumpet." His bad-boy reputation persisted until several L.A. stage performances altered that image.
With good notices for Salonika, Caulfield is hopeful about his return to the big screen. He savors his role in The Boys Next Door, an upcoming film about mass murderers. "I know there's a side to me that's psychotic and destructive, so I explored that for the movie." Does Caulfield plan any more nude shots? "I do not intend to take my clothes off again," he says. Then he laughs. "Famous last words." We'll be seeing more of Maxwell Caulfield.
Contributors:
David Hutchings.
They arch from the sand, and these mounds of perfection are what the audience sees first when the lights go up. Soon an elderly lady enters, and even she cannot resist caressing that smooth flesh. In short, Maxwell Caulfield owns what Jessica Tandy, 75, terms "a real baby's bottom."
Advertisement
Today's Photos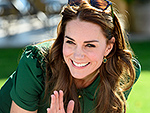 Treat Yourself! 4 Preview Issues
The most buzzed about stars this minute!