People Top 5
LAST UPDATE: Tuesday February 10, 2015 01:10PM EST
PEOPLE Top 5 are the most-viewed stories on the site over the past three days, updated every 60 minutes
Hollywood Sizzle
Once Madonna Was Expected to Fizzle, but with a Hit Film and a Sold-Out Tour She's Now the Hottest Item in Showbiz
—
Madonna
She's tart but delicious, she's campy but coy, she's the pop world embodiment of personality-as-art. She is, of course, rock's Madonna, that bad girl of boy dreams and bawdy snatcher of hearts. And she is now something more as well: the biggest star to hit the stage since the Boss left town for Europe and the Gloved One went home to his pets.
On her first-ever concert tour—a 28-city trek that hits Atlanta on May 14th and Cleveland the 16th—the reigning queen of kitchy-coo has been drawing crowds faster than a Good Humor truck in a heat wave. After the first three shows, the demand for tickets was so intense that the tour—originally scheduled for small venues—was hastily rebooked to include some main arenas. New York's 5,800-seat Radio City Music Hall sold out three shows within half an hour of announcing Virgin Tour ticket sales, and females from 12 to 21, wearing stretch lace, miniskirts and Merry Widows, outnumbered men in the rush to scalpers.
What they're clamoring to see is a woman who looks like Marilyn Monroe and dances like Elvis Presley in a spectacle as tightly choreographed as a Rockette routine. Onstage Madonna swims, frugs and jerks so energetically, she just may inspire a renaissance of those silly '60s dances. She also writhes, wiggles, shimmies her semi-liquid assets and gleefully misbehaves. No female rocker (except perhaps Tina Turner in her Ike days) ever whipped up such an erotic frenzy.
Look deeper and you find more than a hot new rock act and—though her work in the $16-million box office surprise
Desperately Seeking Susan
has placed her squarely in the Hollywood firmament of the moment—more than a hot new movie star.
Consider the way she deals in real life with her friend Prince, even as they are supposed to be (read: weren't, aren't, never considered) having an affair. When the 5'3" marvel of Minneapolis and his usual gang of muscle showed up in San Francisco for her recent date, Madonna (5'4") went calling, accompanied by her bodyguard. As the elevator door opened on his floor, she declared: "Well, time to go visit the midget." Later, she castigated him for his attitude: "He usually wants to be treated the exact opposite of the way he is dressed. His outfits say touch me, lick me, love me, lust me, but then he pretends he's wearing a monk's outfit. He needs to step back, look at his clothing and laugh at it." Is this any way to talk about royalty?
For Madonna, yes, it is: This is exactly what she is about in Susan, what she represents onstage and why she seems now (with indulgence from the gods of hyperbole) the figurehead of something close to a movement. This "Boy Toy" thinks that men, like all experiences, are to be seized, enjoyed, used and, when used up, forgotten. In Madonna's world, yuppie women in suits and bow ties need not apply, though they may—as Rosanna Arquette does as Susan—press their noses at the window and consider their options. In the movie, Arquette's bored housewife comes to envy, then emulate, Madonna's free-form life-style. You do not have to stretch far to see in its portrait of suburban ennui a swipe at preppy-yuppie value systems. After whipping up the crowd with her hit "Like a Virgin", when Madonna shouts out "Will you marry me?" and they scream back "Yes!," there is in that call-and-response the feel of liturgy, the sense of a new faith aborning.
It is no wonder that critic Judith Crist said of Susan's Madonna that she seems to be "dripping self-confident savvy from every pore and glitter spot." The act, see, isn't an act—always the best kind. Anna Levine, who plays Susan's friend Crystal in the film, remembers that Madonna "had a very clear vision of her character, which other people didn't always have, so they left her as Madonna." She did her own hair and makeup and charged the role with her own chemistry: "A certain kind of attitude toward the world," says Mark Blum, who plays Arquette's husband in the film. "It's all hers. Anything she wants she gets, and I suppose there's something there that helps young girls think, 'I don't have to be coy anymore. I can be like Madonna and just go out and take whatever I want.'"
It's worked for Madonna, 26, to whom Hollywood now beckons like the world's biggest toy chest, awaiting her pleasure. Producer Ray Stark has a film for her ("She really projects a feeling of truth and energy in her persona like the stars of the '40s," he says), and so does director Herb Ross, who turned her down for Lori Singer's role in
Footloose
. "There is definite buzz about her," he says now. "It reminds me of what was happening to Barbra Streisand just before we did
Funny Girl
." Another producer is making noises about using her in an updated Cinderella. (Very updated, evidently.) At concerts her per capita sales of T-shirts and memorabilia are among the highest in rock history. "She sells more than Springsteen, the Rolling Stones or Duran Duran," says Dell Furano, the concession merchandiser for her tour. At her San Francisco date, $20 T-shirts sold at the rate of one every six seconds. All this Madonna finds no more than she deserves. After her tour's triumphant debut in Seattle early last month, she playfully raised a glass of bubbly and proposed a toast to "we who rule the universe."
Cocky words from one who, just four years ago, was shopping her demo tapes to dance-club deejays. A Michigan native who had moved to New York's tough Lower East Side, Madonna had little in the way of showbiz credits then: a fleshy role in a never-released underground film, a short stint as chanteuse in a band called the Breakfast Club. She plowed through boyfriends like party snacks, knocked on record company doors until her knuckles turned blue and finally found an audience for her tapes at a disco club. As her audience grew, so did her sense of confidence. "If I seem nonchalant about success," she said, "it's because I knew it was going to happen."
Her boy for now is actor Sean Penn, 24. "She's really serious about him and sees it could be a lot easier for her if she had some permanent anchor in her private life," says a friend. Still, that doesn't stop her from playfully leaving port on occasion. When she invited singer David Lee Roth to attend her L.A. party, he asked, "Should I bring a date or will I be busy later?" Madonna's reply: "Sure, bring a date. We can all do something."
Such invitations, delivered graphically if less explicitly onstage, do draw a crowd. As her popularity has increased (she had her first Top Ten pop song in June), so has her phalanx of security guards. Says her bodyguard Clay Tave, who once helped protect Michael Jackson, "I can feel it happening again. Pretty soon the jogging and window-shopping—we're going to have to give that up." Good luck trying to convince Madonna, whose days begin with a six-mile run, after which she goes through an aerobics workout and several laps in a pool. And she's very much the boss of her road show—attending all sound checks and barking orders. "I can throw a fit," she boasts. "I'm a master at it."
Yes, assuredly, in matters large and small, Madonna will be heard. Not everyone will like the message. Laurie Metcalf, who plays Susan's sister-in-law, has real problems with "that kind of disrespectful bad-girl image that comes across as free and exciting. I don't know that it should be put across to kids all the time." She probably speaks for most of the mothers of America. Madonna asks for a little slack here; she's not endorsing vice and mayhem, she says, just putting on a show: "I know the aspect of my personality, being the vixen, the heart-breaker and the incredibly provocative girl is a very marketable image. But it's not insincere. You just can't take it seriously."
Tell that to the enraptured 16-year-old girl who came out of Madonna's concert in L.A. last month. "Madonna's living out our fantasies," she said. "She's able to do something our parents would never let us get away with. That whole slut image. It's usually just the guys who get to do that. But don't quote me. My mother would kill me."
Contributors:
Carl Arrington,
Hilary Evans.
Advertisement
Today's Photos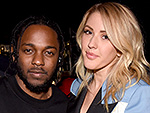 Treat Yourself! 4 Preview Issues
The most buzzed about stars this minute!