People Top 5
LAST UPDATE: Tuesday February 10, 2015 01:10PM EST
PEOPLE Top 5 are the most-viewed stories on the site over the past three days, updated every 60 minutes
A Weird Debut in Washington, D.c. Preserves Peter Sellars' Rep as the Theater's Turbulent Boy Wonder


Not since the young Orson Welles electrified American drama in the 1930s has this country's theater intelligentsia been so infatuated with a prodigy. Predictions of future greatness are routine, and poet-director Timothy Mayer has hailed him as "destiny's tot." Blending eclectic themes from pop culture and film, Sellars' razzle-dazzle repertoire of directorial stunts has also prompted critics to call him "the Cuisinart of contemporary theater" or "the big cashew, the most successful nut in the business." He matches his theatrical style with a flamboyant personality. His expressive features, topped with a bristle brush of hair, convey a churning kaleidoscope of emotions. As he waves his arms to make a point, the loose sleeves of his Japanese hoppi coat flutter like trapped birds. Periodically, the flapping subsides when the tightly wound director explodes with manic fits of nervous, honking laughter. To Kennedy Center chairman Roger Stevens, 75, this kinetic force seemed just the tonic to revitalize the American National Theater. With a pledge from Stevens to put up half of ANT's $6 million budget and a personal salary neither man will disclose, Sellars is proposing to do no less than launch serious, experimental drama as mass entertainment in the nation's capital. "It makes sense to come to the capital to see the latest thing," he says.

The Count of Monte Cristo is certainly like no production ever seen before in the stately setting of the Kennedy Center. Sellars chose to revive the 19th-century melodrama, written by Alexandre Dumas [and revised by Eugene O'Neill's actor father, James], as a deliberately obscure piece of Americana. "I love those grand gestures of the 19th century," he says. "We dismiss melodrama much too quickly. Our brains are wired to film right now, and melodrama connects to film structure." With its gigantic fluorescent green set, glittering mirrored carriages and a dizzying moment when the body of actor Richard Thomas, playing the swashbuckling hero, is flung from a high cliff into the sea, The Count of Monte Cristo aspires to be live theater's Raiders of the Lost Ark. Says Washington, D.C. film critic Paul Attanasio, 25, "Peter is uniquely qualified to revive theater because he's from our generation, which grew up on movies and TV."

The son of public-school teachers who divorced when he was 9, Sellars grew up in Pittsburgh, where he fell in love with the stage at age 10 after becoming an apprentice at Margo Lovelace's Marionette Theater. After prepping at Philips Andover Academy and spending a year in Paris where he sometimes watched movies 9 hours a day, Sellars took the Harvard campus by storm with more than 40 avant-garde productions in four years. In a memorably eccentric King Lear, he had the actors dismantle a Lincoln Continental onstage. Two years ago he concocted the Broadway musical My One and Only for Tommy Tune and Twiggy, only to have the producers fire him just before the show opened because they couldn't stomach his artistic demands. That same week he was awarded a $136,000 MacArthur Foundation "genius grant." He has plunked Shakespeare's Antony and Cleopatra in a swimming pool, garbed the hero of Handel's opera Orlando as an astronaut and driven Gilbert and Sullivan's Mikado onstage in a red Datsun. "We've got to be willing to take some risks," says Sellars. "So much of Broadway is aimed for the taste of some mythological white-haired lady from Westchester [County]. We're after a new audience—the kind that would just as soon spend their money on cassette tapes."

The Kennedy Center has given Sellars five years to find that audience. The ANT's first production, a badly panned staging of Shakespeare's Henry IV, Part I, closed after two weeks, but Sellars is charging ahead. "He can't live up to the buildup," says producer Lewis Allen (who reluctantly let Sellars go from My One and Only). "But he's not a flash in the pan, not a gimmick. I won't predict success, but he's going to make a lot of noise and will be taken seriously as a major figure in the theater for years to come." Sellars revels in the risks. "Theater is about faith—one just has to jump off the cliff," he says. "When it's no longer that, let's redecorate the parking lot."


Wild and wonderful...brilliant, reckless originality," exulted Washington Post drama critic David Richards. Fellow critic New York Timesman Frank Rich wrote a dissenting opinion, icily dismissing the zany show as "this inflated enterprise." With the premiere of his challenging production of The Count of Monte Cristo at Washington, D.C.'s Kennedy Center, wunderkind director Peter Sellars has once again landed himself in the middle of controversy—just where he likes to be. "I want to give people something to talk about," declares the 27-year-old wild child of contemporary theater. "I want audiences to gasp. I want people to laugh and weep and be in hysterics the way they are at rock concerts."
Advertisement
Today's Photos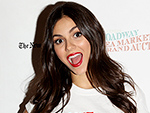 Treat Yourself! 4 Preview Issues
The most buzzed about stars this minute!