On Newsstands Now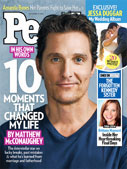 Matthew McConaughey: In His Own Words

Jessa Duggar's Wedding Album

Brittany Maynard's Final Days
Pick up your copy on newsstands
Click here for instant access to the Digital Magazine
People Top 5
LAST UPDATE: Tuesday February 10, 2015 01:10PM EST
PEOPLE Top 5 are the most-viewed stories on the site over the past three days, updated every 60 minutes
Scarcely Out of Their Teens, Sarah Parker and Robert Downey Play House in Hollywood
Sarah Jessica Parker
starred on Broadway as Annie, an adorable red-haired orphan in Mary Janes and pinafore dresses. Offstage too, she acted like a child. While many girls her age had steady boyfriends, Sarah had never even been on a date. But she made up for lost time last year. That's when she met actor Robert Downey (Tuff Turf, Weird Science). Displaying the same precociousness that has marked their careers, the teenagers moved in together just eight weeks after their first date.
Parker and Downey, now both 20, have 53 theater, screen and TV credits between them, and they've been supporting themselves for several years. So when asked if they're too immature for a live-in relationship, Parker says that's ridiculous. "Are you not supposed to be serious about anything when you're 20 years old?" she asks.
Home for Parker and Downey is a rambling two-story Hollywood carriage house, whose former residents include Bette Davis and John Lennon. The living room is decorated in elegant art deco furniture. Two noisy finches twitter in an alcove. If Parker and Downey are playing house, their performance is convincing—to a point. Upstairs, in the pink bedroom, a toy monkey clings to one bedpost and a patchwork stuffed bear sits on a bedside table. Hats, belts and shoes spill out of the closet. When the phone rings, Downey is apt to answer with something like "House of Decadence."
The housemates split the monthly rent as well as housekeeping expenses. "Sarah has made me more practical," says Robert. "She got me an accountant and made me open a bank account." Shunning Hollywood parties, Parker and Downey prefer to stay in. "The reason you go out," claims Robert, "is to find somebody with whom you can live comfortably. I don't think I need to look any further."
The relationship has also helped their careers. "One can be so insecure as an actor," explains Downey. "If I hadn't met Sarah, I don't think I would have gotten a lot of the jobs that I did." Robert's father, underground filmmaker Robert Downey Sr., agrees. "I thank God for
Sarah Jessica Parker
," he rhapsodizes. "Without her, Robert would go at 100 miles an hour into a brick wall. They're very sweet together. He might become a gentleman as a result of this."
Sarah's mother, Barbara Forste, is ambivalent. "Robert is bright and interesting and generous," she says. "But at their age they should be having fun and trying different relationships instead of getting so serious."
But Parker and Downey seem born serious. Growing up in Cincinnati, Sarah regularly visited art museums, the opera and the ballet. She started performing at age 9 with the Cincinnati Ballet Company. "I wanted to be the next Gelsey Kirkland," she says. At 11, she played on Broadway opposite Claire Bloom in The Innocents. The next year she moved permanently to New York with her mother, her stage manager stepfather, Paul Forste, and her five siblings and stepsiblings (later, the Forstes had two more children). Within two years, Sarah was starring on Broadway as Annie. Since then she has glided from one job to another, including featured roles in Footloose and Girls Just Want To Have Fun. She also co-starred on CBS' 1982 series Square Pegs.
Like Parker, Downey grew up in a family devoted to the arts. His father directed such avant-garde movies as Putney Swope and Greaser's Palace, in which both Robert and his mother, Elsie, appeared. Robert made his screen debut in Pound at age 5. At Santa Monica High School, he joined the drama and singing clubs but quit school in his junior year. "It wasn't that I didn't like it," he explains. "It was just that I was learning more on my own." At 16, he moved to New York to become an actor. Soon he landed roles in two off-Broadway shows. "I dated a lot of girls," he says, "but most of them were interested in me because they thought I was going somewhere, not because of who I really was."
That changed when he met Parker. They fell in love during the filming of First Born, a drama about divorce in the suburbs in which Parker and Downey played classmates. "I guess Sarah thought I looked scary enough to be interesting," says Robert with a laugh. At the time he wore a spiky punk hairdo and glasses with Superman stickers. Parker, who was also appearing off-Broadway in To Gillian on Her 37th Birthday, made the next move. She asked Downey if he'd meet her after her show. Even after Downey moved into Parker's West Side apartment, they tried to keep the romance a secret. They'd take the same cab to the set of First Born, but Parker would always get out 100 yards in front of Downey. Says Sarah, "The relationship was so impetuous, we were almost embarrassed for anyone to know."
Six weeks after they met Downey went to L.A. to make Tuff Turf, while Parker stayed in New York to film an ABC Afterschool Special. "It was difficult," she recalls. "But I wasn't going to say to someone I'd known for six weeks, 'Give up the movie!' " Then early this year they spent three months apart while working on separate projects. Of their frequent separations, Robert says, "We miss each other. But we realize that our first priority has to be our careers. Otherwise we wouldn't be any good for each other."
Despite accomplishments and commitments beyond their years, Parker and Downey are still capable of acting like kids. After work they often frolic at an L.A. water slide. Exercise is low on their list of activities. "We bought jogging shoes and went out running twice," says Sarah. "We were like exhausted and vowed never to do it again." At home they sometimes bomb their neighbors with water balloons. Their victims invariably retaliate by turning a garden hose on the couple's carriage house. "You have to run to each window and hope you get there in time to close it. It's very immature, I know," admits Sarah, "but fun."
Meanwhile, they contemplate their future. Parker wears a narrow diamond band from Downey on her ring finger. "It's kind of a hanging-out-together ring," she says. As the children of divorce (Sarah's parents separated when she was 2; Robert's parents split when he was 13), they're wary of marriage. Still, they have already discussed names for their children and made hypothetical nuptial plans. Jokes Downey (who, like Parker, is part Jewish), "We want a Jewish wedding at Le Mondrian Hotel with flamenco dancers." Adds Sarah, "And a band that's not half as good as Lawrence Welk and lots of balloons and bubbles and a nice linoleum floor that looks like marble." Then Robert turns serious: "I'm really happy with Sarah, and I don't want to ruin it by planning too far ahead. But the way I feel now, marriage looks like where we're headed."
Contributors:
Hilary Evans.
Advertisement
Today's Photos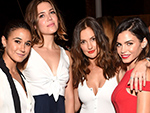 Treat Yourself! 4 Preview Issues
The most buzzed about stars this minute!