People Top 5
LAST UPDATE: Tuesday February 10, 2015 01:10PM EST
PEOPLE Top 5 are the most-viewed stories on the site over the past three days, updated every 60 minutes
Leaving Cocaine and Discos Behind, Bright Lights Author Jay McInerney Turns to Samurai and Sushi
Tom Cruise
as the young hero who by day works as a fact checker at a prestigious literary magazine much like the New Yorker and by night prowls the underbelly of Manhattan clubs. "To some extent I'm going to be made to pay for the success of Bright Lights," says McInerney, who has just turned 30. "Some people may feel the next thing to do is downgrade the stock."
The downgrading has already begun with the mixed reviews so far of his second novel. Longer and more complex than Bright Lights, Ransom is the story of a young American named Christopher Ransom struggling to find himself by plunging deep into the culture of Japan. While praising McInerney's tart descriptions and comic dialogue, critics have complained about his awkward narrative techniques and wordy attempts to make his characters examine their motives. The author, a glib and self-assured young man, remains philosophical. "People are polite to first novels. Now we have the rudeness factor. It would be crippling to take this to heart," he says. "My next book will get a fair shake."
Meanwhile, McInerney is calmly enjoying success. Ransom rolled onto bookstore shelves last month with a healthy 100,000 first printing (5,000 in hardcover). Bright Lights, which came out with a first printing of 15,000, has sold more than 150,000 copies in trade paperback. "I've never heard of a pattern like it with a first novel," says Gary Fisketjon, McInerney's editor and his best friend from the time they were both undergraduates at Williams College in Massachusetts.
Those insouciant McInerney characters who have so intrigued readers bear more than a passing resemblance to the author himself. After a childhood spent globe-hopping (his father was an international sales executive with Scott Paper Co.), McInerney spent two years in Japan on a Princeton fellowship. There, like Christopher Ransom, he studied karate, went to the public baths and, he says, "was very keen on being non-Western. I would go out of my way to avoid passing a McDonald's and had a touch of the Samurai disease. I idealized their standards of self-discipline."
Back in the States he exercised another form of self-discipline by taking a taxing job at the New Yorker, where he worked for seven months as a fact checker. If this sounds like his Bright Lights hero, so does his brief marriage to a model and his habit of spending the better portion of his evening hours club-hopping around New York. "At one time I thought it was the height of human aspiration to know where the good club was, to be able to get into it and to have enough drugs to be able to stay up," he admits. "But if I really were that character, I would never have been able to write the book."
After his departure from the New Yorker in 1980, McInerney moved to a job as a reader of unsolicited manuscripts at Random House. There, through Fisketjon, he met author Raymond (Cathedral) Carver, who urged him to leave New York and enroll in the writing program at Syracuse University, where Carver taught.
At Syracuse, McInerney, by then divorced, began to recast his life. He met Merry Reymond, a graduate student in philosophy, shortly after his arrival on campus. "I thought he was a show-off and a jerk," she recalls. "Then he gave me the short story on which Bright Lights is based. It was a major setback in our relationship. I thought, 'This must be autobiographical, and this is not the kind of guy I want to be with.' " Nevertheless, the two eventually began living together and were married in June 1984. Between short stories, McInerney banged out a first draft of Bright Lights in six weeks during the summer of 1983.
Even the ever-cool McInerney was unhinged by the swiftness with which fame arrived. "I was working nights in a liquor store to make ends meet," he says. "The next thing I knew I was on a plane to Hollywood, being wined and dined as the hot young writer."
McInerney admits that life changed rapidly. First came the black BMW (albeit secondhand). A few weeks ago the couple traded their graduate student digs in Syracuse for a plush duplex apartment in Manhattan, where McInerney will begin work on his third novel—a comedy, he says cryptically, set in America but, because he wants fresh territory, not in New York. "It's funny all of a sudden to go to a place like Elaine's and have writers come up and introduce themselves to you," he says. "I feel like half the time they must be talking about someone else." By way of keeping his feet on the ground, he likes to tell about the call his agent recently got from a friend. "I've got a new writer for you," the caller exclaimed. "He's the new Jay McInerney."
Not yet 30, dusted with cocaine, disco glitter and the faint promise of a literary future, Jay McInerney was like so many other young Manhattan dreamers. Then suddenly last fall, with a buzz heard from Soho to Santa Monica, he was heralded as this generation's J.D. Salinger or Philip Roth. Bright Lights, Big City (Vintage Books, $5.95), McInerney's hip, caustically funny first novel, was called "the Catcher in the Rye for the M.B.A. set" by Playboy, and Hollywood studios began the eager bidding for movie rights. Columbia won out by asking McInerney to write the screenplay and offering him $200,000. No small improvement over the $7,500 he got as an advance from his publisher. Shooting is scheduled to begin at the end of the year with
Advertisement
Today's Photos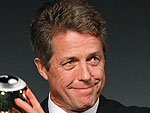 Treat Yourself! 4 Preview Issues
The most buzzed about stars this minute!