Archive Page - 12/1/12 39 years, 2,079 covers and 53,260 stories from PEOPLE magazine's history for you to enjoy
On Newsstands Now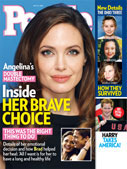 Angelina: Inside Her Brave Choice

New Details on the Ohio Three

Prince Harry Takes America!
Pick up your copy on newsstands
Click here for instant access to the Digital Magazine
People Top 5
LAST UPDATE: Tuesday May 21, 2013 04:10AM EDT
PEOPLE Top 5 are the most-viewed stories on the site over the past three days, updated every 60 minutes

His aunt and uncle couldn't contact him, and a friend of 30 years was sent a form letter in response to a note of concern, but Shirley Boone was permitted to pray over an unconscious Rock Hudson and later over the man's corpse (PEOPLE, Oct. 21)? Since he had seen a priest, made a confession and received communion one week before his death, why was this woman allowed to force her beliefs on him? I'm sure Mr. Hudson is somewhere right now thanking God to be away from the deceptive and manipulated life he was forced to lead.
C.D. Lipton
San Francisco

Enough already...making Rock Hudson into a hero for admitting he was homosexual and had AIDS. Shame on him that he deceived the actresses he kissed as late as last year and played a cruel trick on his housemate by hiding his illness. I don't approve of his lifestyle nor applaud his coming out of the closet too late to protect anyone he supposedly cared about.
Name Withheld
New Roads, La.

I don't condone homosexuality but feel Mr. Hudson must be judged on the entertainment he gave us for three decades. He died with courage, and if his public admission will make even a few think before engaging in casual relationships, then his tragic situation did some good. Let's remember him for his contributions to the movie and TV industry and not for his homosexuality. May he rest in peace.
Carole Doran
Hobbs, N.Mex.

Marilyn Monroe
Roone Arledge just added more fuel to the fire and made us believe even more that we haven't been told the real story.
Angie Cabrera
Lomita, Calif.

They are all dead, gone for many years. Hopefully they can no longer be hurt by scandal and gossip—or each other. The true tragedy in "The Monroe Report" rests in the fact that we remain dominated by a media that delighted in exaggerating Watergate and destroying Nixon but will forever protect the inglorious Kennedys.
Michael Eugene Burns
Lebanon, Ind.

Patti and Sam Frustaci
Spare me! I had empathy for the Frustacis, and I followed their tale with appropriate gladness and sadness. But a lawsuit? Patti and Sam had to know, and be prepared for, the risks associated with Pergonal. Even those of us who never took it know of them. A lawsuit is avaricious, an attempt to profit from, rather than be enriched by, the joy of their surviving children. Worse still, fewer doctors will now be willing to prescribe Pergonal, thus denying this one last chance for childbirth to thousands of women. Patti also complains of being a "house prisoner." Well, let me tell you: I'm the mother of a 10 week old and I too have less freedom, have existed on little sleep and when the insurance ran out, had to dip into savings to pay for household expenses. Further, nobody's running to lend me a car or give me baby food, and the churchwomen haven't beaten a path to my door to offer baby-watching and household help.
Ellen S. Mattes
Berwyn, Pa.

Sam and Patti Frustaci are prime examples of what my mother used to tell me: "Be careful what you wish for—you just might get it."
Patricia Flynn Pruden
Huntington Beach, Calif.

The only Frustacis who have my sympathy and profound regret are the four dead babies, the three barely surviving ones and their older brother. I find it a bitter irony that the parents are suing the medical clinic that administered the fertility drug. Too bad the real victims of this saga, the children, can't sue reckless and greedy Mom and Dad, who are now caught in a web of their own making. A woman who already has a child less than a year old and who takes such a drug can only be regarded, at best, as irresponsible.
P.L. Vaughn
Wheaton, Ill.

Thanks for the touching story on Sam and Patti Frustaci. It amazes me that after the death of their four babies, they still have the courage to go on. I know that if I had been in their shoes, I would not have had the tenacity they did.
Dara Reich
Milwaukee

Many childless couples would be more than willing to accept all the challenges of "spending a day in their shoes." The Frustacis should be more grateful for the medical research and technology provided for all their children, without which they would have no children.
Marne M. Henstridge
Laguna Niguel, Calif.

Robert Mitchum
The inaccurate and out-of-context quotes created the image of a family of isolated individuals living in "awe and fear of a patriarch." I was surprised to see that the family was mine. Be advised that from a childhood of camping and fishing trips to today's daily cross-town phone conversations and weekly visits, our family has been, and remains, as close as a family can be. My father's 46-year marriage should tell you something of the truth.
Christopher Mitchum
Santa Barbara, Calif.

Correspondent David Wallace stands by his story, saying "I captured the feelings and attitudes that I saw. Chris Mitchum may have a different definition of 'closeness.' "—ED.

Picks & Pans
I have just read Ralph Novak's review of Dr. Malvin Ring's book, Dentistry: An Illustrated History, in which Novak suggests that it is "a must...as a gift to the family dentist, and it might make for a discount on that $87,000 orthodontic bill." As an orthodontist and not as a general practitioner, I treat about 35 full cases for that figure and 70 to 100 partial cases. Novak either has an exaggerated sense of humor, has been badly misinformed or can't add worth a darn.
Harry Cimring, D.D.S.
Beverly Hills


Rock Hudson
Advertisement
Treat Yourself! 4 Preview Issues
The most buzzed about stars this minute!