Archive Page - 12/1/12 39 years, 2,080 covers and 53,257 stories from PEOPLE magazine's history for you to enjoy
On Newsstands Now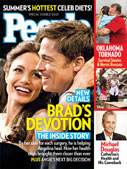 Brad's Devotion: The Inside Story

Oklahoma Tornado: Heroic Rescues

Michael Douglas on Catherine's Health
Pick up your copy on newsstands
Click here for instant access to the Digital Magazine
People Top 5
LAST UPDATE: Friday May 24, 2013 05:10PM EDT
PEOPLE Top 5 are the most-viewed stories on the site over the past three days, updated every 60 minutes
Yaël Dayan and Camelia Sadat Pay Literary Homage—of Sorts—to Their Famous Fathers
In Israel, where the soldier-hero with the black eye patch was known as a feisty, irascible politician, his only daughter is now the Dayan in the news. "I made no compromises while writing," says Yaël of her startlingly candid book, which has been serialized, with accompanying controversy, in the Israeli newspapers. "I did not write about Dayan the historical monument. I wrote about the Dayan I knew, the man of flesh and blood with all his weaknesses."
Moshe Dayan's many sides included the charismatic warrior, the loving father and the melancholy statesman who had little control over his personal life. Yaël writes with great despair of her father's many affairs and condemns him not so much for his infidelities as for his choice of women. "I am not class-conscious," she says, "but there is a matter of good taste. Most of his women were outright vulgar."
Dayan's peccadillos generated gossip over the years and lurid newspaper headlines that humiliated his wife, Ruth, the mother of Yaël and two younger brothers. Moshe expected his family to stand by quietly. "The day you ask for a divorce, I'll grant you one," Dayan once wrote to Ruth, "but it's entirely up to you." When she finally did so in 1971, Dayan married his longtime lover, Rahel Rabbinovitz, 10 years his junior, a cultured and elegant blond mother of two daughters.
The union, according to Yaël, greatly changed her father—for the worse. "I really believe that father was best in his hooliganism," she reflects. "When he walked about in baggy underpants, urinated in a corner of the garden and said: 'If you don't like it, don't look! I cannot change,' he was himself. Father's charm was in the fact that he did not know the difference between whiskey and cognac. Suddenly, under Rahel's influence, he boasted of knowing the difference between Bordeaux wine and Beaujolais and seemed to care for delicacies like caviar. He just wasn't authentic anymore." Nor, Yaël continues, was Moshe his old dashing self. "The brilliance of analysis—courage mingled with humor—disappeared in discussions of electricity bills, the cost of living, the wages of maids and gardeners. He charged for interviews, for speeches, for autographed oil lamps."
But Moshe's most egregious monetary decision, according to Yaël, was disinheriting Ruth, his wife of 35 years, and leaving his children only a few scraps of property. The bulk of Dayan's multimillion dollar estate (derived from the sale of his archeological findings, his lectures and books) went to his second wife. "My love for my father remains untouched," Yaël wrote to her stepmother after hearing the will, "not so my respect."
That love, despite her father's transgressions, runs through Dayan's book, which took Yaël more than a year to finish. (Like all her books, it is written in English, a fact that upsets many of her countrymen, who have fought to establish Hebrew as the national language.) Her story describes the early years on the family farm in Nahalal in northern Israel. Moshe was often off fighting for Israeli independence and Yaël greatly missed her father. When at home, he struggled—sometimes excessively—to mold his children's education and character. "He checked on what I read and slapped my face once when he caught me reading a cheap thriller," she recalls.
In later years, possibly with the notion of following in her father's footsteps, Dayan studied political science at the Hebrew University of Jerusalem. At 17, six months before the obligatory date, Yaël enlisted in the Israeli army and served for two years. This experience provided her with material for her first novel, New Face in the Mirror, published when she was 20. Yaël has written four more novels as well as a journal of the 1967 Six-Day War. It was during that war that she met General Dov Sion, now 62, whom she married shortly thereafter.
The couple live in a fashionable Tel Aviv apartment house with their son, Dan, 16, and daughter, Raheli, 14. Yaël writes political columns for Israeli publications, studies biochemistry at the Open University in Tel Aviv and is planning to run for the Knesset. Should she win, her countrymen might expect to see the characteristics she has shown in writing her book: honesty at any cost, outspokenness and the Dayan bravado.
Sadat's third daughter makes peace with Papa
In 1974 Camelia Sadat began an angry letter to her father that was never sent. The missive was both an act of rebellion and a cathartic examination of a relationship almost too complex and emotional for words. Eleven years later that letter has grown into My Father and I, a graceful chronicle that traces her father's life and her own, from Anwar's childhood in an Egyptian village 75 miles from Cairo to his assassination on Oct. 6, 1981.
Camelia's initial ire gradually has been subsumed by her love and understanding for the man who almost single-handedly brought his country into the 20th century and into negotiations with Israel. The same man who shared the 1978 Nobel Prize for Peace with Israel's Menachem Begin after the historic Camp David meetings also agreed to an arranged marriage for Camelia to a man 17 years her senior when she was only 12.
It was this seeming hypocrisy, the paradox of the publicly liberal iconoclast and the privately rigid traditionalist, that first fueled Camelia's revealing memoir. She says, "It made me furious. He was reasonable about everything else—he had a very, very open and free mind—so why was he not open-minded with me?"
Ostensibly Camelia's letter was begun out of a daughter's sorrow for a relationship that she felt had been neglected because of her father's ambitions. But she quickly saw that regret was not the emotion driving her. "While I was doing the letter, I looked at it and saw it had a lot of anger," she says. "I was a divorced woman with a child. My mind wasn't growing. My life was disrupted from 12 to 22, when I was married." The letter became an exploration of her own life, which she had tried to end at age 21 with suicide. Finally it expanded into 203 pages, having taken two years to complete.
After two failed marriages in Egypt—one arranged to an army officer who, she says, beat her and whom Anwar defended when Camelia first tried to divorce him, and the second to a wealthy engineer and businessman—Camelia moved to the U.S. in 1981. For security reasons she took an assumed name while studying for her master's degree in journalism at Boston University. She learned of her father's death while watching the TV news. Writing about the assassination was extremely difficult for her. "Every time I knew I had to go and do it," Camelia says, "I got fast heartbeats. I'd look for excuses; I'd go to the supermarket. I cried very much when I wrote the book. The sound of the assassins' bullets rang in my ears day and night."
Sadat now lives with her 19-year-old daughter Lula in a green-shingled house in Needham, a Boston suburb. A brass plate with the words "Sadat's House" is nailed to the wall outside the front door, which is adorned by a copper sculpture bearing the first verse of the Koran. "It feels like home to us now," says Camelia, who doesn't go in for dating and is a model of self-sufficiency. She goes shopping in a Renault Fuego, does minor carpentry and electrical repairs and proudly points to the wallpaper she hung herself.
Camelia now wears her family name without fear. She supports herself and her daughter via the lecture circuit, speaking several times a month about her father and about Moslem women in the modern world, a subject that she plans to deal with in her next book.
Since moving to the U.S. she has visited Egypt twice. Camelia's mother, Ekbal, whom Anwar divorced in 1949 to marry the younger and more glamorous Jihan Raouf, still lives there but has never recovered from her ex-husband's violent death. Camelia is saddened by her mother's constant suffering. "She can't get over the accident," reports her daughter. "She talks about it every day."
While her homeland may be the source of disturbing and unhappy memories, Sadat has taken to her adopted country with enthusiasm. "I am very grateful to my God for guiding me to live in the United States," she says. "There is such tolerance of creeds and races here. I'm still Moslem. I'm still Camelia. I didn't have to give up anything to live in this country." She does have one criticism though. "I think credit cards are the worst things I've learned from American culture," says Sadat, adding quickly, "but I don't leave home without them."
Though she hardly lives extravagantly, Sadat feels she has a rich legacy. "My father said, 'I'll leave you the inheritance of love and pride,' " says Camelia. "Wherever my plane lands, people give me love and warmth. They love me because I'm Sadat's daughter. I'm collecting his inheritance wherever I go."
Contributors:
Mira Avrech,
Cable Neuhaus.
When the late Egyptian President Anwar Sadat made his historic pilgrimage to Jerusalem in 1977, Israeli war hero Moshe Dayan, who died in 1981, was there to greet him. Eight years later, in the makeup room of the Donahue show, a less historic yet similarly incongruous meeting occured: Dayan's daughter, Yaël, 46, walked in and, in her best Arabic, said to Sadat's daughter, Camelia, 36, "Good morning, love." The two were preparing for a joint interview in which Dayan would promote her memoir of growing up with Moshe, My Father, His Daughter (Farrar, Straus & Giroux, $17.95), and Sadat would do the same for her opus, My Father and I (Macmillan, $16.95). The timing of publication is coincidental, the authors insist, but the intention is the same—to paint an intimate portrait of life with a legend.
Advertisement
Treat Yourself! 4 Preview Issues
The most buzzed about stars this minute!