Archive Page - 12/1/12 39 years, 2,080 covers and 53,257 stories from PEOPLE magazine's history for you to enjoy
On Newsstands Now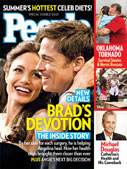 Brad's Devotion: The Inside Story

Oklahoma Tornado: Heroic Rescues

Michael Douglas on Catherine's Health
Pick up your copy on newsstands
Click here for instant access to the Digital Magazine
People Top 5
LAST UPDATE: Friday May 24, 2013 11:10AM EDT
PEOPLE Top 5 are the most-viewed stories on the site over the past three days, updated every 60 minutes
Bundles for Britain
You Think Looking Like That Is Easy? Here's How Diana, Aided by a Staff of Three, Buys a Wardrobe for 200-Plus Outings a Year
know—
Although they do not talk of it
at school—
That we must labor to be
beautiful.
—W.B. Yeats
Her natural beauty and a wardrobe that most women would kill for make the Princess of Wales look like the Queen of Easy Street. But for Britain's foremost walking mannequin, looking good is more than just a luxury; it's a business. This year, in the 182 days between Feb. 1 and Aug. 1, Princess Di attended at least 109 public events in at least 74 different outfits. That's a lot of costume changing considering that no fairy godmother tapped her wand to turn shy Di, the preppy kindergarten assistant, into the world's most elegant princess. And one close companion says that, except for some pointers from experts, Di does it on her own: "What she wears is her choice and her taste."
Unlike the Queen, who gets by in oft-worn duds, Diana has upgraded royalty's dowdy image with her constantly changing wardrobe. Every item she wears in public bears a label from one of Britain's hip young designers; only at home does she sneak into a pair of jeans or Italian threads ("Italian clothes suit my wife very well," Charles has said, "and it is a great shame she can't wear them in public"). Furthermore, she has rarely been known to wear the same outfit in public more than six times. Assembling such a huge and relentlessly spiffy collection requires the kind of care only royalty can command: two full-time dressers, a lady-in-waiting, personal attention from about 10 designers, tens of thousands of dollars a year and a lot of time.
The hub of Di's fashion show is a private dressing room, equipped with multiple mirrors and beige cabinets, off the Kensington Palace bedroom she shares with Charles. Her size 8 dresses and suits are carefully arranged by color and each is protected by a polythene bag. Her size 9½ shoes are neatly ordered in their own cupboards, belts in another. Obsessively neat, Di gets mad when things are out of whack. Old outfits are banished to a basement in mothball-filled cardboard boxes, whence they sometimes go out on loan to Diana's elder sister, Lady Sarah McCorquodale.
Ten or so of Di's favorite designers, including Donald Campbell, David Sassoon and Gina Fratini, fit her at home in Kensington Palace, but she also shops regularly, popping into stores from the fringe of seedy Soho to the heart of snobby Knightsbridge. On these expeditions she takes her $15,000 Ford Cabriolet and drives herself. But a detective sits beside her, and two more bobbies follow in a Rover 3500. The detective always goes into the store with her. On occasion she leaves around 9 a.m. to check out large department stores such as Harrods before opening time ("She's very tall and skinny," says a Harrods saleslady, "with long narrow feet"). But normally Diana heads out around 10:30 a.m., and one of her favorite hunting grounds is pricey and quaint Beau-champ Place. There she tries on classic suits in Caroline Charles' upstairs fitting room or sorts through glittery gowns in the VIP room of Bruce Old-field's boutique. Like most couturiers, Oldfield rarely designs for a specific client, but the Princess has prevailed on him to alter his off-the-rack wear to befit her regal image.
Just like commoners, Di sometimes has hassles while shopping. Once, when she tried to return a pair of pants at Benetton's, the clerk wouldn't take the garment back without a sales slip until the chagrined manager gave her the okay. Usually the Princess gets her clothes at wholesale prices, so $1,000 dresses and suits go for about $400. When Diana needs cash she borrows it from the detective. If she plans to wear the outfit at home, she charges it to an account fed by the $14,000 a year she receives from a trust fund set up by her father, Earl Spencer. If she plans to wear it at an official function, she sends the tab to her husband's Buckingham Palace office. There have been sporadic complaints that Charles has been slow to settle his accounts.
That, however, isn't due to stinginess or disapproval. The Prince has never been known to question his wife's bills. But he does have one quarrel with Diana's shopping habits: She parks in yellow no-parking zones. The trailing bobbies see that she doesn't get any tickets, but Charles gets ticked off at her lawlessness.
Diana takes great pains to make her frame worthy of her apparel. Nearly every morning she spends half an hour doing exercises or swims for an hour two miles away at the Buckingham Palace indoor pool. She watches her diet by eating light foods and drinking lots of water. She has her legs waxed to remove hair, sometimes applying bronzing cream to darken them, and she uses fat-free herbal Lentheric facial makeup. Hairdresser Richard Dalton highlights her hair blond and clips it every month or so at Kensington Palace. She is still struggling to overcome two bad schoolgirl habits: slouching and nail biting.
When she is abroad in the land, Diana has a support system. In case of spills or runs in her stockings, lady-in-waiting Anne Beckwith-Smith carries extra panty hose and spot-removal tissues. For trips Diana's dressers pack for her. Crushable outfits go into long canvas bags and then are hung on hooks in either the royal plane or yacht. Hats are cradled in boxes, shoes in suede pouches, and other items, wrapped in tissue paper, are packed in trunks with pink labels (Charles' labels are blue). On longer trips, such as the Italian visit this year, the Waleses' combined wardrobe is said to have weighed almost two tons. Sometimes the packing can get out of control. Queen Elizabeth once asked for an outfit and was told, "I'm afraid that's been packed away." She got the same answer about another item she wanted. Finally she called for her Land-Rover, "unless, of course, that's been packed away too."
Despite all the pampering and even though she starts off looking like a million pounds, Di's role as fashion plate to the empire is no piece of cake. The press grades her every frock mercilessly. In 1982 a drop-waisted outfit landed her on Mr. Blackwell's worst dressed list (a year later, she topped the fashion editors' International Best Dressed List). That blue-and-white dress she wore to the Live Aid concert was deemed boring amid the splendor of the rockers (but it served nicely for her lunch afterward with the Queen). She is criticized for buying too much. But when she dared to wear an old gown to Milan's La Scala opera in April, everyone groaned. "People thought I was on a fashion tour," said Diana in her recent televised interview. "I wasn't. My clothes were far from my mind."
That seems hard to believe, but one of Diana's more remarkable fashion accomplishments is that she does indeed often look as though she hadn't given a thought in the world to that stylish thing she has on. As she stands before the ever-present cameras—her perfectly tailored outfit uncreased, a healthy blush on her cheeks, her hands correctly clasped before her, a dab of her favorite Miss Dior perfume behind her ears—all the hours of primping, shopping and fitting melt away. Then being beautiful looks like the easiest thing in the world. Then again, that's her job.
Contributors:
Laura Sanderson Healy,
Terry Smith.
To be born woman is to
Advertisement
Treat Yourself! 4 Preview Issues
The most buzzed about stars this minute!