People Top 5
LAST UPDATE: Tuesday February 10, 2015 01:10PM EST
PEOPLE Top 5 are the most-viewed stories on the site over the past three days, updated every 60 minutes
STEP ON IT, PLEASE: Dick Van Patten was the 1,815th celebrity to get a star on Hollywood's legendary Walk of Fame. At the dedication ceremony, he accepted the honor on behalf of his parents, who, he said, got him started in showbiz as a child actor. Said Van Patten: "It feels like people have been walking over me all of my life, and it looks like it's going to continue after I'm gone." He then asked, "Now that I have my star, would you mind curbing your dog?"
BORED IN THE USA: As 1985 drags to a close, the Boring Institute has announced its second annual list of the ten most boring celebrities. Located in Maplewood, N.J. (where else?), the Institute, which was founded as a media spoof, rates stars, politicians, books and national events with a BQ, or Boring Quotient. Although we don't have room for all the most boring, we can give you some of the winners, as the case may be. "Dr. Ruth Westheimer: She achieved the impossible. She managed to make even sex sound boring....
George Bush: If a big shot foreign leader doesn't drop dead from time to time, there would be nothing much for George to do....
Phil Donahue: If he ever runs out of alcoholic drag queens who dabble in Satanism, he's in big trouble....
Jerry Falwell: As far as we can tell, he's never met a foreign dictator he didn't like....
Madonna
: We're hoping the new Mrs. Sean Penn will stay home, raise lots of kids and join the PTA."
SHE PALES BY COMPARISON: Winter may be approaching, but not in Florida, where temperatures last month were in the upper 80s. When Gimme a Break star Nell Carter walked onstage to perform at Miami's Gusman Cultural Center, she commented that this was her third visit to the state. And, she couldn't help quipping, "Before I came out here, I had that California white girl look."
DIDN'T YOU USED TO BE? Cyndi Lauper, Vanessa Willams, Cathleen Crowell Webb, B.D. Hyman et al, take note. Andy Warhol, who made the oft-quoted statement that "in the future, everyone will be world famous for 15 minutes," has had to revise that estimate. Says Warhol: "Considering today's faster moving, media-hyped world, I now give 'em eight and a half seconds."
FUTURE SHOCK: What's in the stars' stars for 1986? We tried asking Jeane Dixon, but her crystal ball was busy. So, with Ouija board, tea leaves and an autographed photo of Shirley MacLaine's latest book in hand, we came up with our own psychic predictions for this last Chatter column of the year. Remember, should but one of them prove true (do dee do do, do dee do do), you read it here first. Chatter predicts:
Madonna
will be hospitalized after taking an "unauthorized" photo of hubby Sean Penn....
Cher will arrive at the Oscar ceremony wearing Halley's Comet....
A tidal wave will sweep Beverly Hills after Pat Boone baptises Raymond Burr in a backyard pool....
Charlton Heston will part Tina Turner's hair....
Marlon Brando will be declared an island....
During her U.S. visit, Raisa Gorbachev will defect at Bloomingdale's....
Bob Geldof will organize a benefit to feed Nancy Reagan....
Yuppie terrorists will hijack Linda Evans' shoulder pads....
And, lastly, a tawdry, tell-all biography of the late Mr. Ed will reveal that TV's revered talking horse once tried to slap Trigger with a palomino suit.
KISS OF THE SLIDER WOMAN: A bubble bath kiss between Dallas' J.R. Ewing (Larry Hagman) and his girlfriend, Mandy Winger (Deborah Shelton), wasn't as spontaneous—or as sexy—as it recently appeared on TV. Seems there were some technical difficulties. Shelton told the Hollywood Reporter, "I kept sliding under the water when Larry went to kiss me, so they came up with 'his 'n' her' sandbags to anchor us in place."
Advertisement
Today's Photos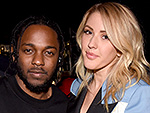 Treat Yourself! 4 Preview Issues
The most buzzed about stars this minute!