People Top 5
LAST UPDATE: Tuesday February 10, 2015 01:10PM EST
PEOPLE Top 5 are the most-viewed stories on the site over the past three days, updated every 60 minutes
The Happy Hit Man
Say You, Say Me, Say Nine Years of No. 1 Songs for Lionel Richie, Pop's Maestro of Mellow


Two things are certain about Richie's method of test driving his music: 1) It's weird, and 2) It works. In a business marked by overnight triumph and equally sudden flameouts, Richie, 36, has quietly compiled at least one statistic no one can match: He's written and/or sung nine No. 1 singles—including "Still", "Endless Love", "Lady" and "All Night Long"—in nine consecutive years. (The runner-up is Paul McCartney with eight No. 1 hits in the years 1971-82.) At the same time Richie has collected five Grammys, including this year's songwriter's award, shared with Michael Jackson, for "We Are the World". Completing the picture, he picked up the Best Song Oscar on March 24 for "Say You, Say Me", his hit from the movie White Nights.

The success, of course, has come with all the trappings: nice cars, a multimillion-dollar home filled with African art, and enough expensive baubles, bangles and beads to allow his wife of 10 years, Brenda Harvey-Richie, 32, to put on the ritz when occasion demands. But all of those surface phenomena depend on one thing: Richie's ability to write songs that sell. That ability is also of critical interest to a swarm of lawyers, accountants and record company executives. Richie's most recent solo LP, Can't Slow Down, was released three years ago and has sold more than 16 million copies—about $136 million worth, or more than Rocky IV grossed last year. Although his follow-up LP was due six months ago, Richie hasn't finished yet. This makes executives reach for the Di-Gel, but Richie is unrepentant. "When you represent XYZ amount of dollars in the industry and don't deliver, people go crazy," he says. "So you don't really want to think about it. The problem with being the creative person is that until the album is finished, your brain is on 24 hours a day. You're sleeping, eating, trying to vacation or party, and that one thing worries you to death."

The problem with the new album is that it needs, in Richie's opinion, "one more good song." He has been looking for that song for three months and has so far discarded 18 attempts. The search has left the normally laid-back Richie frustrated and a little anxious—he describes himself as a Martian—and it has intimately reacquainted him with the vagaries, sweat and silliness of the creative process. On this particular day—Thursday, March 20—he emerged from the shower at 1:30 p.m., humming fragments of what could be the final song of the new album.

"I've always been a champion hummer," he explains what is often his first step in writing a song. "Of course, it can make you look like a damn fool at a party or driving down the street with your head bobbing." The shower, for Richie, has long been a temple of creativity. "There were days when I'd go in and belt out these songs," he recalls. "It wasn't until the last 10 years or so that I realized the songs I was singing in the shower had never been recorded. That's the weird thing." Richie credits the tunes to a "radio that is constantly playing in my head. I get the music and the melody at the same time. The station just turns on and I'm listening just like I'm talking with somebody. The words are a little muffled, that's the only problem."

Actually, that can be a big problem. Lyrics come slowly to Lionel—the songs "Hello" and "All Night Long", for example, took a little more than two weeks each. "That's called 'You don't know what the right words are but you certainly know what the wrong words are,' " he says. Sometimes the words don't come at all; Richie figures he has 25 tunes in need of lyrics that feel right. "I've thrown songs away because I can't find the right words. And people go, 'My God, you've got a great song, keep the song.' And I get mad because the business people around me don't understand what I'm listening for."

For safekeeping, Richie hums this morning's melody into a tape recorder—one of five he keeps stashed in his house, car and in a bag he carries. Before leaving he hums the melody to Brenda for her appraisal. When he arrives at Hollywood's Ocean Way recording studio, he is still humming the tune, but has added a drum beat: "Put-a-boom-boom, put-a-boom-boom."

Richie is happily put-a-booming through the parking lot when he runs into Eric Clapton and Phil Collins, who have been working on Clapton's new LP in a neighboring studio.

"Are you done with that album?" asks Clapton, who five months earlier had laid down several guitar tracks for Richie.

"I'll never again criticize Stevie Wonder for taking so much time," replies Richie.

"Oh dear, oh dear," sighs Clapton.

"And I've got a world tour coming up in June," says Richie.

"So," teases Collins, "you've booked studio time around the world?"

Richie heads for the studio, a high-tech playpen where he usually spends about eight hours a day. Although he doesn't hesitate to experiment melodically while others are watching or listening—his recording studio audience always includes producer James Carmichael, engineer Cal Harris and assorted musicians—he prefers to write his lyrics in private. That became a problem when he and Michael Jackson were writing We Are the World. "We both like to write in private, and now we know why," says Richie. "We talk to ourselves. Working together, we had to allow ourselves to sound stupid in front of each other. There were times when I'd throw out a line, and Michael would fall down laughing. And I'd laugh at him. We laughed all the way through it, with his boa constrictor on the floor and his bird talking to us."

Richie heads for home at 8 p.m., already thinking about how to begin "sweetening" today's song. After days—or, the way things are going, perhaps weeks—of tinkering, he'll take it out for a test drive on the Pacific Coast Highway. If the song survives, it still has one more unusual gamut to run before Richie will consider it for his album: the Lilliputian Test. "That's when I bring in the little people—the children of my friends," says Richie. "With them it's either 'yes' or 'no.' There's no in-between. If they're bobbing their heads to the music, we've got something. If they're looking around, we take it off."

Spiritually, Richie isn't far removed from his midget critics. "I don't want to grow up, and that's the truth," he says. "I'm trying so hard not to be 'Mr. Richie.' That's my dad. Whenever someone says Mr. Richie, I think my dad just walked in."

Richie grew up in Tuskegee, Ala., directly across the street from Tuskegee Institute, where his grandfather had worked in the business office in the days of Booker T. Washington. "My ideals were those Booker T. Washington set down: good hard work, a sound education, strict morals, and you do the best you possibly can do," says Richie. His father, a systems analyst for the Army, and his mother, a high school principal, put up with little nonsense. "I couldn't get away from homework," the singer says. "My mom would always say, 'You do this and don't embarrass me.' Nowadays my father says, 'You can't repay me—but try!' " What little formal musical training Richie received is a credit to his grandmother, Adelaide Foster, now 93, a piano instructor who tried in vain to teach him the classics. "During my lessons, I kept trying to make up my own songs, and it annoyed her," Richie remembers. Eventually she gave up.

Richie attended Tuskegee on a tennis scholarship and majored in economics. One day while he was walking across campus carrying a saxophone case—he didn't know how to play very well, but he thought it would help him meet girls—another student asked him if he wanted to join a new musical group that was forming. Richie signed on, and the group, the Commodores, went on to build a local and, gradually, a national following. Returning from one tour, Richie, who had dated Brenda, a fellow student, became alarmed when she hinted she was thinking of getting engaged to someone else. "It worried me to death," says Richie. "That's when I collected my thoughts and realized I was head over heels for this girl." They wed in 1975.

Although his time was increasingly taken up with the Commodores, Richie eventually completed his economics degree in 1974. He seems to have applied his studies well: Today he is one of very few singers who owns almost all the rights to his songs, videos, tours and merchandise. The Commodores went on to collect three platinum discs, in large part because of such classic Richie songs as "Still" and "Three Times a Lady". In 1982 he decided to go solo. His first solo LP, Lionel Richie, sold a more than respectable five million copies.

Richie's Alabama roots clearly left their mark. He and Brenda still own the cottage, on 12 acres just outside Tuskegee, that they bought just after college. They go there to relax, which Richie does by "tidying the path with my electric weed trimmer." In a similarly nostalgic vein he has maintained his college apartment, which is in the basement of his grandmother's house, just as it was more than 15 years ago, complete with Jimi Hendrix posters, a black light, class notebooks and an old brass bed. "I can close the door, and it's 1969," says Richie. "That's my little sanctuary—my little tomb where I have stopped time."

Life in the couple's seven-room Bel Air home is fancier, though not ostentatious. They strive to maintain the same homey feel they grew up with. Friends like Quincy Jones and singer Sheila E., who calls the Richies "my parents away from home," are welcome to drop by, raid the fridge or crash for the night on the living room couch. "I wanted a house people could live in," says Richie. "When my friends come over they have a place they can hang out and not feel pressured by showbiz. I want to be involved with good home cooking, good friends and plenty of room to run around in."

Except for awards ceremonies, the couple doesn't hobnob a lot. Brenda oversees the marketing of all Lionel Richie merchandise (T-shirts, sweatshirts, etc.) and runs his fan club. Although Richie claims competence in one area of domestic endeavor—"I'm the pool man," he says proudly—he admits to shortcomings. "I like to start things, but I hate to finish," he says. "For instance, I'll have on my notepad, 'The door needs fixing,' and I'll lose the notepad. But Brenda can just walk in and say, 'We are going to finish it now.' And I'm hollering and screaming, but I get it done. Somebody has got to tell Lionel Richie to get up off his ass, and she's the one."

Next on the couple's agenda are kids. "We both love children, and we've been practicing long enough," says Brenda. Adds Lionel: "For 10 years I've said my children and I've meant my records. But I think the fulfillment in life will come from kids." As record executives tap their fingers, smile uneasily and ask, as politely as they can, how the new record is coming, the problems of children seem especially attractive to Richie. "As an adult you have problems like, for instance, the album is late," he says. "But kids come up to you crying, and when you ask what's wrong, they say, 'I lost my shoes.' Now there is a problem I can solve."


Advertisement
Today's Photos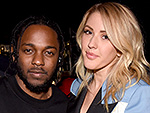 Treat Yourself! 4 Preview Issues
The most buzzed about stars this minute!