People Top 5
LAST UPDATE: Tuesday February 10, 2015 01:10PM EST
PEOPLE Top 5 are the most-viewed stories on the site over the past three days, updated every 60 minutes
America Whoops It Up for Liberty Weekend
Folks from Around the Country Lend Their Talents to Honor the Statue's Centennial and Bring Off the Nation's Greatest July 4th Gala


ABC will broadcast 17½ hours of the events over five days, and other networks will carry highlights: President Reagan lighting the Statue of Liberty's new gold torch, streams of ships and planes, a 40,000-shell pyrotechnic shoot-out, concerts and much more.

After her two-year, $66.3 million refurbishing, Miss Liberty is now ready to welcome the 6 million visitors and New York residents expected to witness the colossal wingding. But it takes people to strike up the band, hoist the sails and sing out with stars, spangles and banners. Herewith, then, are some of those folks who will make the festivities possible.

A BELL RINGER HITS HOME FOR FREEDOM

If Clarence Sandstrom gets his wish, hundreds—maybe thousands—of bells will ring out across America when President Reagan pushes the button July 3 to light the torch of the Statue of Liberty at 10:55 p.m. ET. The spry, 79-year-old retiree from Mount Morris, III. wants everyone to peal away to salute Liberty on her 100th birthday. And if that's not enough clapping, please ring some more on July 4 at 2 p.m. ET. "I think people forget about the Declaration of Independence and just think about the holiday," he says. "Besides, bell ringing doesn't cost much, so this is one little gesture they can make." Ever since the U.S. Senate passed a resolution in 1963 to declare a nationwide, simultaneous bell ringing every July 4th, Sandstrom—once a door and cabinet salesman—has been writing letters to state governors reminding them to sound the tocsin about bell ringing. Feeling like "Don Quixote...with two fingers and a typewriter," he's now convinced Liberty Weekend organizers to promote bell ringing at the time of the torch lighting. "It's a spontaneous thing," he says, of the number to be rung. "Who's going to do the counting?" Doing his part, Sandstrom on July 3 and 4 intends to be in Mount Morris (pop. 2,989) ceremoniously striking a 1,500-pound Liberty Bell look-alike that hangs in the town square. It's not just a ding-a-ling thing, Sandstrom admits. "It's an obsession."

THIS BLUE ANGEL GETS SET FOR HIS FLYBY

As one of 12 children on his parents' farm near Pelham, Ga., Donnie Cochran used to glimpse occasional Navy jet fighters on maneuvers. "I'd think, 'Hey, I wonder if I could ever do that,' " Cochran, 31, recalls. In right-stuff order, he earned a civil engineering degree on a Naval ROTC scholarship at Savannah State College, then won his Navy wings in 1978. Lieutenant Commander Cochran has since flown more than 2,000 hours in jet fighters, logging 469 carrier landings. Last year "my dream came true," he says—he was accepted into the Blue Angels, the Navy's elite aerobatic team that performs for air shows throughout the country. And on July 4th the Angels' first black pilot (in photo, flanked by ground crewmen Carlos Vigo and George Wright) will fly his A-4F Skyhawk attack jet over New York Harbor to salute the Statue of Liberty. "What I'm doing is not just a job, it's an opportunity," says Cochran, whose wife, Donna, 29, and their 4-year-old son, Donnie Jr., live in San Diego. "I'd like to show young people the roads that are open to them in America. Nobody said, 'Here, Donnie, apply for the team, and they'll give it to you.' You have to earn it."

A BIRDMAN WINGS IT

If all flies right, 5,000 "birds of peace" will spring from their crates on Liberty Island July 5 in a giant flap for freedom. The giant homing pigeon race will climax Nancy Reagan's "children's reopening" of the Statue, to be attended by the 50 winners of the Christa McAuliffe Liberty Essay contest. "The ceremony is going to be very emotional for me," says Laurie McConnell (right), the Rochester, N.Y. office worker who organized the race. "My country means more to me now at 50 than when I was a teenager." The birds, owned by some 2,000 pigeon racers, will streak for their home lofts from Maine to Virginia at speeds up to 70 mph. McConnell, who's been flying pigeons since he was 12, hopes one of his 15 entries will take a trophy—for personal as well as patriotic reasons. McConnell's wife "just tolerates" his birds. "When we got married she thought I'd forget about them," he says. "But I know each of my 300. They cost me $3,700 a year to feed, so they better perform."

EVEN COWGIRLS CAN WIN THEIR U.S. CITIZENSHIP

"I was the all-around cowgirl," boasts Melanie Svien, 19, an exuberant woman with rodeo-queen good looks. Indeed, Melanie could hardly have had a more all-American upbringing in the Black Hills outside Rapid City, S.Dak. At 8, she rode her first horse. She later roped steers, tied goats, barrel raced and pole raced in rodeos. On her parents' 50-acre ranch resort, the family raised horses, pigs, chickens, goats, ducks, rabbits and dogs. "Now I want to go into some kind of business," she says. "And yes, maybe win the Miss South Dakota contest this year." She will tell you that she breezed through her freshman business courses at National College in Rapid City and last April was chosen to represent her school at the state's Miss South Dakota contest next November. If she jumps that hurdle, it's on to the Miss U.S.A. pageant. But whoa, pardner. First, Melanie must become a U.S. citizen. That's right, the 5'3", 100-pound, green-eyed, brown-haired cowgirl is still an alien.

Born in Southampton, England, Melanie was brought to the U.S. at 3 by her English mother and American stepfather. Now she has passed her citizenship test, and on July 3, in the amphitheater below Mount Rushmore, she'll be sworn in as a U.S. citizen, along with about 40 others. They won't be the only ones. The evening ceremony at Mount Rushmore is just one of 47 around the country, at which 26,000 new citizens will be sworn in. "I wish I could go to the Statue of Liberty," Melanie says. "That would be the best. But if I can't, Mount Rushmore is the next best thing."

V.I.P. GUIDES ESCORT THE LADY'S PARTY

If you're in New York to catch some of the Liberty Weekend glitter, you just might see this trio of tam-topped lasses. They're among 250 "Liberty Hostesses," college coeds who will guide hundreds of VIPs and the general public at many events. Among the notables attending are French President François Mitterrand, Prince Albert of Monaco, Elizabeth Taylor, Shirley MacLaine, Frank Sinatra, Willie Nelson, Kenny Rogers, Lionel Richie and Liza Minnelli. "I'd like to escort President Reagan," giggles Korean-born Linda Jost, 20 (flanked by Carine Toussaint and a flag-waving Jenny Goodrum aboard a Staten Island ferry). "He leads us all the time, so I'd like to lead him." A sophomore at Marymount College in Tarrytown, N.Y., Jost was 12 when she left South Korea, at her mother's encouragement, for "an education and opportunity" in the U.S. Adopted by an American family and now a U.S. citizen, she says, "I miss my mother, but I could never go back to live there. This is my country now." Likewise, Haitian-born Toussaint, a 20-year-old junior at Fairleigh Dickinson University in Rutherford, N.J., came to the U.S. at 9 to live with her mother, a lab technician in Princeton, N.J., and has since become an American citizen. "I arrived July 4th, and that night we saw fireworks," she remembers. "It was like they were welcoming us to the country." Goodrum, 22 and a New York University junior, was born in Lebanon to American parents and was 13 when they returned to the U.S. Three years later she first saw the Statue of Liberty. "I truly felt like an American," she says. Toussaint adds, "I think that's why we were chosen as hostesses. It also has a lot to do with the spirit we feel inside—our roots, relating to everything, how we feel, how we come across. Just by looking at us, you can tell it means a lot."

A FIREWORKS WHIZ READIES HIS ARSENAL

Jim Souza of Pyro Spectaculars in Rialto, Calif, says what you see isn't what you get. The fireworks bombs, or "coconut shells," he hefts atop stockpiled mortar tubes will be launched during New York's July 4 fireworks shoot-'em-up at 9:45 p.m. (ET). "We paint the sky," he explains, adding the "coconuts" will burst into dazzling golden palm trees. They're part of the 40,000-shell arsenal Pyro and the nation's two other leading fireworks makers, the Grucci and Zambelli families, will set off from 42 barges ringing Lower Manhattan. "It's a big thrill for us," notes Souza, 34. "It's a family business and this is what we know and love best."

A FOREIGN-BORN COUPLE TWIRL TO CELEBRATE

Margie Rannala, 56, fills her attic and closets with dozens of flouncy skirts and matching lacy petticoats in just about every color on the chromatic chart. Her husband, Sten, a 61-year-old painting contractor in Thornwood, N.Y., boasts of owning enough Western-style shirts and ties to match her outfits. "I just like the colors," says Margie. After all, swirling colors are part of their passion for square dancing, which began 12 years and hundreds of hoedowns ago. They immigrated to the U.S. in 1949—Margie originally from Hungary and Sten from Estonia. They'll be two of the 200 square dancers do-si-do-ing at the Liberty Weekend closing show July 6. Their colors? They'll be wearing orange and yellow, but inside they'll really be all red, white and blue. "We are really glad that we could be in it," beams Sten. "We felt that we hadn't yet done enough for this country."

TECH'S GOBBLERS ARE BLOWIN' IN THE WIND

Whichever way your musical taste leans, you're bound to like this pick of the crop. These 11 "Fightin' Gobblers" from Virginia Tech have been chosen to play in the 500-member Statue of Liberty All-American Marching Band (sent by colleges throughout the country). The Tech musicians (from left, Beth Cocker, Scott Hoge, Melvin Black, Richard Mackey, Joy Conway, Kieran Gifford, Karen Levander, Peggy Williams, Kristi Benton, Bill Connor and John Klotz) will play at the Liberty Weekend July 4 fireworks display and the opening and closing ceremonies. "They're the best," says the school's director of bands, Jim Sochinski, 38, who chose his marchers from among 330 candidates. Although the Blacksburg campus looks, sounds and smells like the heartland—alfalfa, cow sheds and tractors abound—Gobblers are mostly engineering, science and business students. Trombonist Richard Mackey, 19, a junior in electrical engineering, says, "It's really neat that it's the hundredth year the Statue has been with us. It makes you realize how many people saw the Statue in such a short period." John Klotz, 20, a civil engineering junior and baritone horn player from Richmond, explains his interest in Liberty is not strictly patriotic. "The trip is a chance of a lifetime," he says, "but I also wouldn't mind going inside and seeing what the Statue is like structurally."

A QUILT QUEEN NEEDLES HER DOUBTING HUBBY

Five years ago Moneca Calvert was toying with the idea of becoming a flight attendant. Her six kids were grown, and she dreamed of traveling. Instead, the Carmichael, Calif. housewife took up quilting. One class and innumerable stitches later, Calvert, 47, has become the nation's hands-on Queen of Quilters. After winning many competitions, she has taken the $20,000 first prize in the Great American Quilt Contest held in honor of the Statue of Liberty. Chosen from among 1,000 entries, her 72-square-inch Glorious Lady Freedom required five months of eight-to 12-hour days to make. "I had calluses on all my fingers, but I didn't do this not to win." Calvert's masterpiece, which will be on permanent display at New York's Museum of American Folk Art, is made of cotton-blend fabrics, hand appliquéd on a machine-pieced background. The quilt shows Liberty rising from a waving American flag against a background of amber waves of grain, purple mountains and the Manhattan skyline. An able seamstress since her youth, Calvert (left, holding another favorite, Fandango) says when she told her husband, Daye, 53, a self-described "quilt widower," that she had found a career, "He said, This is a complete waste of your time and my money.' Now he's become president of my fan club.... and I am getting to travel."

THIS KID HANDS IN A WINNING ESSAY

Cheryl Cimmers, 9, of Magna (pop. 13,138), Utah has never traveled farther than the state line, but because she won her state's Christa McAuliffe Liberty Essay contest, the Webster Elementary School fourth grader will join 49 other state winners in New York. Says Cheryl: "I'm scared. I've never flown on a plane. I think I'd rather ride my bike."

HE COMES FROM RUSSIA WITH LOVE

For three days they painted—1,000 New York City kids working in shifts and spread out over a 30-by 90-foot canvas, daubing words and pictures on the theme of liberty. Told to fill in the spaces on and around a giant sketch of Miss Liberty by artist Keith Haring, youngsters from many ethnic backgrounds—including 15-year-old Dean Austin (above)—will see their six-story-high banner hung in Battery Park City this weekend. Born in the Soviet Union to a black African father and a white woman from the Ukraine, Austin is a Soviet citizen who's also lived in West Germany, Ghana (his father's country) and for the past three years in the U.S. "My parents just travel around wherever fortune takes them," says Austin, a sophomore at the Manhattan Center for Science and Mathematics. A kung fu addict and Rambo fan, Dean says he likes American fast food but prefers borscht prepared by his mother, Tania, a chemist, or spicy African dishes prepared by his father, Samuel, a doctor. On the banner, in Russian, he painted "Freedom" and "Peace on Earth" because, "I thought it would be unique." In America, he adds, there's freedom of speech, "a lot of clothes and no shortage of food." There's also the opportunity, if he keeps getting good grades, to become a neurosurgeon. "I felt really proud being here with kids from so many cultures," Dean says. "It's a great feeling."

SHE REALLY KNOWS THE ROPES

From her perch 85 feet up in the rigging of the three-masted bark Elissa, an unlikely deckhand, 54-year-old Mary Ellen Conrado, is unfurling sails. "It's like going to see a horror movie," she beams about the fright of the height. "It kind of exhilarates you." The second oldest of the ship's 31 crew members, the 5'4" Conrado also oils down 600 feet of teak railings, scrubs the deck, stands watch and takes the helm. A data controller for 18 of 25 years with Shell Oil, she quit in 1977 because "life was dull," took a series of dead-end jobs in Galveston, then in 1982 volunteered to help the city's Historical Foundation restore a 202-footsquare-rigger that had been built in Scotland in 1877. "I didn't know port from starboard," she recalls. "Elissa was the first boat I'd ever been on." Today, after its $4.5-million restoration, the steel-hull merchant vessel serves as a floating maritime museum and Galveston's goodwill ship. The oldest of all the Class A (longer than 175 feet) boats in the July 4 parade of tall ships in New York harbor, Elissa and her 19 sails can be seen in the line of 22 tall ships leading the parade past the TV cameras around midday. You may not glimpse hustling Mary Ellen Conrado (now a paid hand), but once anchor's dropped, most likely she'll be in a deck hammock, the wind in her hair, and like millions of Americans she'll be watching a dazzling spray from tugboat water cannons beneath the grandest, rocket-burstingest spectacle on earth.

—Compiled and written by Ron Arias from bureau reports


It'll be a whopper of a blowout, maybe the biggest party the nation's ever thrown, a $30 million, heartthrobbin' extravaganza that will dwarf the Bicentennial bash. The most ships, the biggest crowds, the most fireworks, the most performers and on and on—all to honor our most inspiring of grand ladies on her 100th birthday. So get out your flags and summer duds, and if you can't make it to New York City's long July 4th Liberty Weekend splash, then celebrate it wherever you are.
Advertisement
Today's Photos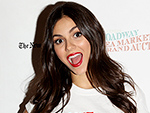 Treat Yourself! 4 Preview Issues
The most buzzed about stars this minute!