People Top 5
LAST UPDATE: Tuesday February 10, 2015 01:10PM EST
PEOPLE Top 5 are the most-viewed stories on the site over the past three days, updated every 60 minutes
Janet Jackson
and James DeBarge, are making the most of the annulment of their marriage. More than a year ago, Jackson's mentor, A&M Records executive John McClain, decided that Janet's public standing as a "teen idol" was threatened by her marriage to DeBarge and persuaded her to have it annulled after eight months. Recently, though, the couple was seen cuddled in a booth at the Voila disco in Los Angeles. The only time the two of them managed to disengage was when Jackson's hit song What Have You Done For Me Lately? was played and DeBarge got up and did a solo dance as his smiling ex-wife looked on.
Princess Di has a whole bunch of commoners in a furious twirl. During the modern-dance lessons the Princess is taking each Tuesday from an instructor at the Royal Festival house, she monopolizes one rehearsal studio. That forces all 60 of the Royal Festival Ballet dancers to cram into one room like so many sardines with leg warmers. However, the high pique caused by Princess Di's pliés did not stop one observer from offering this favorable assessment of the Royal Figure in the plaid leotard and tights: "She doesn't look as anorexic as people make out. She's got long, long legs—and she's got a little butt on her too. She looks really good."
No matter what Pauline Kael, the press releases or anyone else said, Cathy Tyson, who plays a whore with a heart of chromium steel in the critically acclaimed film Mona Lisa, is not now nor has she ever been Cicely Tyson's niece. The only connection she has to Cicely, says Cathy, is that they have the same last name and both of their families are from the West Indies: "I've never even met Cicely Tyson," says Cathy. "But maybe I'll run into her."
When 60 Minutes' Mike Wallace, 68, married retired television producer Mary Yates, 57, in a recent garden wedding at their home on Martha's Vineyard, Wallace put his buddy Art Buchwald in charge of selecting some appropriate music. Buchwald isn't likely to top Grandmaster Flash on any deejay polls, but his choices showed a perspicacious blend of realism and romance. (Hey, this was Wallace's fourth marriage and Yates' second.) His first selection was Johnny Cash singing I Walk the Line; others, however, included Viennese waltzes. Noticeably absent from the guest list were any of the 60 Minutes staff. "We just wanted close friends and family," said Wallace.
When Garrison (A Prairie Home Companion) Keillor fell in love a year ago, he decided there were two things he could do about the state he was in: get married and sing. The groom recently cut an album for Warner Brothers with the working title Love From the Lake. It was recorded with his friend and primo guitarist Chet Atkins, in the basement of Atkins' Nashville home. "I was working so hard just trying to stay on pitch," says Keillor. "It's difficult when you think about it real hard. If you don't think about it, it's pretty easy. But I thought about it and that made it harder, so I had to think even harder." Fortunately, Atkins did not seem to be operating under the delusion that he was working with Luciano Pavarotti. "All Chet asked of me," says Keillor, "is that I start singing where I was supposed to start."
Obviously taking that second time around business seriously, Falcon Crest's Lorenzo Lamas and ex-wife Michele are enjoying a buoyantly successful divorce. Their court proceedings included charges of drug abuse and a bitter custody fight. But baby girl Shane, who was born last November, the same month the divorce was finalized, may have helped her mom and dad let bygones be. Often seen now hand in hand with each other and their 2½-year-old son, A.J., and Shane, Michele and Lorenzo have no immediate plans to remarry, but they are still the chummiest newly unweds around. Says Lorenzo's publicist: "They are friendlier now than when they were married." Maybe it's catching. Two other wedded-bliss alumni, singers
Advertisement
Today's Photos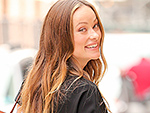 Treat Yourself! 4 Preview Issues
The most buzzed about stars this minute!