People Top 5
LAST UPDATE: Tuesday February 10, 2015 01:10PM EST
PEOPLE Top 5 are the most-viewed stories on the site over the past three days, updated every 60 minutes
JOHNNY'S HEEEEEEEERE?: It was a typical afternoon in Avoca, Iowa, sort of quiet, not much happening. Morris Berndt's doorbell rang. Morris opened the door and there, standing on his doorstep, was about the last person in the world Morris expected to see—Johnny Carson. Johnny asked if he could come in and look around. Morris said sure. Turned out the Carson family had lived in the house when Johnny was in grammar school around 1930. That was before the family moved to Norfolk, Nebr., where he grew up. Johnny and his companion, former secretary Alex Maas, posed for pictures and even dropped in to say hello to a neighbor lady who was getting over an operation. According to the Avoca Journal-Herald, "Judy Rhamy reported when getting the picture of her kids with Carson that she asked him to get his lady friend in the photo even though she wasn't his wife. Judy said he replied, 'She's not my wife yet but might be soon.' "
THEY'RE THE DISEASE; SHE'S THE CURE: Like her son Sylvester, Jackie Stallone, 64, is not one to subtly rebuke wrongdoers. Her latest blast: "I was in a restaurant when the worst, ratty-looking couple came in—
Madonna
and Sean Penn. She looked like she needed a bath and a flea dip—both of them did. Her clothes were shabby and she had no makeup.
Madonna
doesn't have much to start with—her features are average. When I see celebrities looking like this, I become outraged. My son has hundreds of suits; he could wear anything and still look good, but he dresses up because he owes it to his public."
THE PRODUCER WHO DIDN'T LOVE HER: After 24 years as M's ultradiscreet secretary and having struck out with three different 007s, Miss Money-penny is being put out to pasture. Canadian actress and newspaper columnist Lois Maxwell got the bad news in a telephone call from James Bond film producer Cubby Broccoli. "Everything is being changed," she quotes him as saying, "and we will not be using you in the new Bond film (The Living Daylights)." Maxwell says, "The call was expected, but in the past 10 years I have tried unsuccessfully to persuade them to put Miss Money-penny in the field with James and have her blown up, shot, trampled by a drought-crazed elephant or projected into limitless space. I wanted her to die defending her beloved Bond."
PAPA DO PREACH: If you're looking for unlikely material for hit records, try Cuando Estemos Juntos (When We're Together) and Detente (Wait), by Tatiana and Johnny, both big hits in Latin America (Cuando Estemos Juntos hit No. 1 in Mexico and 11 other countries). The records are the brainchildren of Population Communications Service, a program at Baltimore's Johns Hopkins University, and the songs' lyrics are aimed at curbing teenage pregnancy. The message on the songs may be "cool it" but the fans still get fired up when they see ex-Menudoite Johnny Lozada performing with Tatiana. "The girls love Johnny and some of them are very jealous," says Tatiana. "Sometimes they bang their hands on the car, and sometimes they throw gum in my hair."
IT'S 9 O'CLOCK: DO YOU KNOW WHERE YOUR PRESIDENT IS? When the producers of Miami Vice need someone for a cameo, they go to the source: When they needed a tough guy, they got G. Gordon Liddy, and when they needed a reporter, they got columnist Bob Greene. In the second episode of the upcoming season, one of the good guys is played by Lenny DePaul, who in real life works for the Secret Service at the White House. De-Paul, decked out in de rigueur pastels, is seen sharing sushi with Saundra Santiago, who plays Detective Gina Calabrese. DePaul, who has seen his share of VIPs on the job, says he was overwhelmed by the sultry actress. "She gave me her phone number and asked me for mine," he said. "I couldn't remember it."
Advertisement
Today's Photos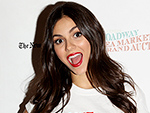 Treat Yourself! 4 Preview Issues
The most buzzed about stars this minute!