Archive Page - 12/1/12 39 years, 2,080 covers and 53,257 stories from PEOPLE magazine's history for you to enjoy
On Newsstands Now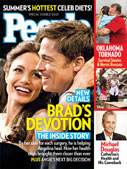 Brad's Devotion: The Inside Story

Oklahoma Tornado: Heroic Rescues

Michael Douglas on Catherine's Health
Pick up your copy on newsstands
Click here for instant access to the Digital Magazine
People Top 5
LAST UPDATE: Thursday May 23, 2013 02:10PM EDT
PEOPLE Top 5 are the most-viewed stories on the site over the past three days, updated every 60 minutes
Sally Quinn, the Shark of Washington Society Reporters, Makes a Splash with a First Novel


Who, in reality, is the book's leading man, Desmond Shaw, a suave, granite-jawed Washington bureau chief of a powerhouse newsmagazine? Who, for that matter is the model for Allison Sterling, the sexy blond reporter whose dissecting articles make the mighty quake? And who, really, is Sadie Grey, wife of the Vice-President and a devoted mother (when she's not plotting an affair with irresistible Des)?

In Washington the parallels are too inviting not to set off that old game of connect the fictional dots. Des sounds a lot like Ben Bradlee, 64, executive editor of the Washington Post and husband of Sally Quinn. Allison sounds like Quinn herself, acidulous star of the Post's "Style" section in the '70s. Quinn, 45, admits similarities. But domestic (if sensuous) Sadie, the author says, is also drawn partly from her own experiences as a wife and as the mother of a son, Quinn, now 4.

That is a different Sally Quinn from the ambitious novice Bradlee hired as a reporter in 1969. Soon she was slicing open the Washington social scene, laying bare the vanities of its social-climbing hostesses and self-aggrandizing men. Norman Mailer once nicknamed her "Poison Quinn." If knowing the turf is any predictor, Regrets Only (Simon and Schuster, $18.95) ought to be the definitive Potomac potboiler. The Literary Guild, making the novel its main September selection, and the publisher, printing 125,000 copies, are betting it will be.

The critics are not so sure. Vanity Fair dismissed the book as basically "a one-pound beach cutting board and suntan-lotion absorber." "I'll confess," wrote the Glamour reviewer, "I stole a peek at the ending—which saved me from needing to turn all 500-plus pages—and have no regrets." Carped Washington Woman, "The only settings described are the china ones found on Georgetown dinner tables."

In the libidinous world of Regrets Only, the Vice-President is cuckolded when his wife has herself smuggled out of the official residence in a garbage can and vanned to her tryst. Preposterous? Not according to Quinn. "We certainly know stories that Kennedy did [have an affair]," she says. "Fanne Foxe, the Jenrettes, people do dumb things. Look in the British government, they're always doing it." But escaping in a garbage can? Quinn says that was dreamed up by an impeccable source, Joan Mondale, whose help Quinn sought in figuring out how a Veep's wife could slip off for an affair.

The book does have its defenders. "In its own way, it takes apart and shows you how a certain segment of Washington works," says Quinn's friend Post columnist Richard Cohen. "It's very good on social Washington and on journalism, the stresses and strains and ethical problems."

The daughter of an Army lieutenant general, Quinn was born in Savannah, Ga. and raised in Japan, Greece, West Germany and the U.S. She attended 22 schools. From being a perpetual outsider she learned "how to be adaptable. I think it does help as a reporter, because you're completely geared to going into a situation and absorbing it quickly and adapting yourself." After graduating from Smith College in 1963, Quinn tried acting and PR before moving to Washington. Though she had worked on the McCarthy and Robert Kennedy campaigns, been a summer staffer in Sen. Barry Goldwater's office and a social secretary for the Algerian Embassy, Quinn did not find her calling until she met Bradlee. When she admitted she had no samples of her writing to show, he replied, "Nobody's perfect," and hired her anyway.

As a reporter, Quinn's métier was eliciting the eye-popping or self-incriminating quote. "I don't think people feared me as much as they feared themselves," she says. "One of the reasons I relied so heavily on quotes is that I didn't really know how to write. In the novel there's an awful lot of dialogue mainly because I'm not a particularly good writer."

Quinn moved in with Bradlee in 1973. After they married in 1978, Quinn discovered that "people became more formal and wouldn't really talk to me. Then I felt everything I did reflected on Ben and the paper." In 1980 she took a leave of absence to start her novel, but instead of the muse she heard the biological clock. "I had never really wanted to have children," she says, "but I had a sort of empty feeling in my womb. I'd walk down the street, see pregnant women and cry." Ben and Sally's son, Quinn, was born in 1982.

At three months, young Quinn suffered heart failure and underwent open-heart surgery. His condition, ventricular septal defect, a congenital heart defect, left him vulnerable to seizures and frequent infections. Although her son hasn't had a seizure in two years, his mother says, "I still don't leave the house even for half an hour without leaving forwarding numbers.

"It certainly does change your life," Sally adds. "For one thing, I'm on the board of directors of Children's Hospital, which is something I never would have expected to do. I think if it hadn't been for [Quinn's condition] I would probably be a lot more concerned about my book and the ensuing publicity, but in the end it doesn't matter."

In the months prior to publication, for instance, a rumor appeared in print that at least one former Post editor had generously rewritten her novel. The rumor was untrue, but Sally hardly seems offended. "I'm thrilled people are saying I didn't write my novel," she crows, "because if it were a loser, people would say, 'Did you read that garbage? She wrote every word.' "


It is the sultry season on the Potomac, when the air is stale with old scandal. But along comes Sally Quinn's first novel, Regrets Only, to set tongues wagging with the whiff of fresh gossip.
Advertisement
Treat Yourself! 4 Preview Issues
The most buzzed about stars this minute!