People Top 5
LAST UPDATE: Tuesday February 10, 2015 01:10PM EST
PEOPLE Top 5 are the most-viewed stories on the site over the past three days, updated every 60 minutes
Designer Mary Emmerling Makes Hay Selling Country Furnishings to City Slickers
Emmerling started her Americana revolution just six years ago, when she published her first book, American Country (Clarkson N. Potter, $30), which has sold more than 150,000 copies. That was followed by Collecting American Country (Clarkson N. Potter, $35) and this year by Mary Ellisor Emmerling's American Country West (Clarkson N. Potter, $35). The books have set off a stampede to antique stores, gift shops and attics in search of her suddenly chic country basics: hand painted wooden watermelons, patchwork quilts, stoneware pottery, vine wreaths, twig furniture, weather vanes, old clocks, Indian rugs, pine washstands and baskets, baskets, baskets. "If you can't find something in my house, it's in a basket," says Emmerling, who even keeps one in the back of her Wagoneer for tools and jumper cables. "They are my life." JoAnn Barwick, editor-in-chief of House Beautiful, says, "Mary's passion for Country has inspired a lot of people. She is responsible for the interest in Country."
Emmerling's love of collecting goes back to the late '60s, when she and her then husband, advertising exec John Emmerling, vacationed in Sugarbush Valley, Vt. John was an amateur pilot and while he was up in the air, Mary hit the antique shops. Her big love was oak and English pine. But during the Bicentennial, in a burst of patriotism, she turned to painted American, mixing it with big, cushiony white furniture against stark white walls. The effect was so distinctive that her apartment soon showed up in House Beautiful and the New York Times magazine. For her first book Emmerling combed the country for houses that epitomized her notion of the style, which wasn't like anybody else's.
"When I turned the book in to my publisher, they said, 'This isn't what we thought we were doing,' " she recalls. "They thought it was going to be dark walls with small windows. Country against white walls looked fresh and clean. That was the big change."
Like the objects she loves, Emmerling's ancestry is early American. She says she is a descendant of William Henry Harrison and Benjamin Harrison, the ninth and 23rd Presidents. Her great-grandmother grew up in the White House. Mary was also raised in Washington, the elder of two children of a Navy officer who died when she was 7; her mother handled public relations for the Sheraton Hotel and put on dance classes for the children of congressmen. "Mother's big thing was making sure Lynda Bird Johnson had a partner," Emmerling remembers. "She was very tall for her age." After graduating from Southern Seminary Junior College in Virginia with a degree in merchandising, Mary got a job as an editor at Mademoiselle in New York, moving on to House Beautiful and Self.
For the past seven years Emmerling, who was divorced in 1979, has lived with English photographer Chris Mead, 36, who shot much of her first two books. She shares custody with her ex-husband of her children, Samantha, 12, who models for Ralph Lauren, and Jonathan, 9. Mary spends about four months of the year on the road, creating or promoting books, though she tries to limit each trip. "After 10 days," she says, "you need a hug."
You also need a bearer. She brings stuff home from all over, for redecorating. "My ex-husband used to say, 'Is the bedroom in the living room tonight?' " she says, laughing. Adds Mead: "She's always up, always thinking of other people. I don't know where she gets the energy from." Certainly not her diet—her staples are peanut butter and jelly and Pepsi—or rest. Her day begins at 6:45 a.m. and ends around 2:30 the next morning, after she's cleaned the house. "It's my time alone," she explains. "Cleaning is my release from whatever anxiety I have." When she hosts a party, "It's always very lush and grand—tablecloths, napkin rings and fresh flowers. If I'm going to take the energy to invite you over, then I want it to look pretty and comfortable so you don't want to go home." That passion has led to still another book, American Country Cooking, to be published next fall. "It's my favorite," she says, "because it's about people."
There are lots of those around her these days. "I met my Bobbsey twin in Tulsa," she says. "We had on the same boots, the same denim dress, the same Ralph Lauren sweater and the same turquoise earrings. It's like a fan club. It's American Country groupies." Nevertheless Emmerling always looks forward to coming home. "When I close that door, it's warm and comfortable. I think that's how I stay positive and up," she says, curling up on the couch with the Navajo rug. "This is my womb."
Contributors:
Joyce Seymore.
A bull's sun-bleached skull hangs above the mantel. A cowhide throw lies across the fence-post bed, a Navajo rug on the sofa, and a collection of kerosene lanterns stands on the sideboard. But out the window you won't see tumbleweed or mountains, and this is no little house on the prairie. It's an apartment on Manhattan's glossy Upper East Side and it belongs to Mary Ellisor Emmerling, who has become a major shaper of American home furnishings. A zippy blonde of 44, Emmerling is not so much a designer as a force of nature sweeping across the country's indoor landscapes, and her taste, shown in books and designs, has made American Country a hot look in home decor. It is a style so eclectic and flexible that it can turn New York into New Mexico or vice versa; Emmerling preaches and practices it relentlessly. When she has time for a weeknight out at a restaurant in her neighborhood, she often shows up in fringed jacket, cowboy shirt, cowboy boots and tumbles of turquoise jewelry. "On weekends I try not to wear denim, because I don't want to burn out on it," she says. "But I always have my turquoise on. I'd feel naked without it."
Advertisement
Today's Photos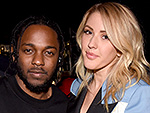 Treat Yourself! 4 Preview Issues
The most buzzed about stars this minute!