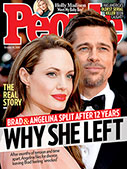 This Week's Issue!
People Top 5
LAST UPDATE: Tuesday February 10, 2015 01:10PM EST
PEOPLE Top 5 are the most-viewed stories on the site over the past three days, updated every 60 minutes
by Lionel Shriver
Deeply troubling, infuriating and filled with the humor of resignation, this terrific first novel uses an engrossing story—it would keep a soap opera busy for weeks—to explore some profound questions. Shriver's tale is about emotional neediness, about masochism, and it all too often seems all too true. The pivotal character is Gray Kaiser, a famous anthropologist who once described herself by saying, "I am very tall, and very strong and very brilliant;" she's 59, resolutely independent and a virgin. She shares a house with her anthropology partner, Errol McEchern, He's 47, bright and maddeningly devoted to Kaiser, even though they have an understanding on the limits of their relationship. Then Kaiser is assigned a graduate assistant named Raphael. Not only is he 25, stunningly handsome and even more self-assured than she is, but he is also a dead ringer for Charles Corgie, an American pilot whose plane crash-landed in East Africa during World War II. To save himself from hostile tribesmen, Corgie convinced them he was a god, and it was a study of his village that made Kaiser famous. Kaiser falls madly in love with Raphael and the plot turns around their hopeless affair. The subservience of Errol to Kaiser, or her to Raphael, is like the villagers' obedience to the tyrannical Corgie. But Raphael too has his longings, including a desperate search for relief from the burden of dominance. As Corgie told Kaiser at one point," 'On the seventh day he rested' is crap. Gods don't get a day off, ever." Shriver, 29, grew up in North Carolina, studied under anthropologist Margaret Mead at Columbia and has taught English at various colleges. She keeps both incidents and ideas coming. Bittersweet jokes abound, too, as when Kaiser, tired of it all, says, "I feel like a carton of milk on its expiration date." The ending seems too melodramatic, yet it's hard to avoid being swept up in it, and it's a stern heart indeed that does not sink at least a little when Errol says, "Sometimes it does work out, doesn't it? Sometimes you fall for someone and they fall for you and you live in the same house and spend a lot of time together. Tell me that sometimes happens." (Farrar, Straus, Giroux, $17.95)
THE NORTHERN LIGHTS
by Howard Norman
Almost everything about this first novel set in Canada is perfect. The first half of the story takes place in an isolated northern land populated mostly by Cree Indians. The hero, Noah Krainik, is a young boy who lives in Paduola Lake. Noah's father, a member of a mapping crew, is often absent. A younger, orphaned girl cousin comes to live with them, and Noah is invited to spend the summer in Quill with another family that has a boy his age, Pelly Bay. In Quill, there are no other families within 90 miles. Monthly mail planes and the radio are the only contact with the outside world. Pelly's aunt Hettie is a Cree; his uncle carves decoys. The old man says grace in rhyme: "Thanks to the forest for the things with feet, thanks to the hungry boys here for leaving me and Hettie something to eat. Amen." Pelly gets a unicycle, and he and Noah plan a circus. Later tragedy strikes, and Noah has to make decisions about his life's course. The author, who lives in New England, has translated two books from North Canadian Algonquin languages. The Indians in this story are especially interesting: not innocent or naive and primitive, but steady, ingenious and capable of great love and generosity. The Northern Lights has a sweet warmth that makes it a book to treasure. (Summit, $16.95)
THE BACHELOR HOME COMPANION
by P.J. O'Rourke
The subtitle of this book is "A Practical Guide To Keeping House Like a Pig," and O'Rourke, like the famous bachelor Robert Browning, obviously has absorbed the truth that "less is more." O'Rourke was editor of National Lampoon, but let's not hold that against him. He notes, for instance, that as a boy he dreamed of being a bachelor in a penthouse, though "It never occurred to me that the penthouse would be littered with dirty socks, damp bath towels, old sports sections, and empty pizza boxes." He also offers the rule of thumb: "How often does a house need to be cleaned, anyway? As a general rule, once every girlfriend." While this might all be com-pressed, say, into 10 pages instead of 126, it is unarguable that any time invested in reading this book will be time not wasted in vacuuming. (Pocket, paper, $5.95)
BAD NEWS AT BLACK ROCK: THE SELL-OUT OF CBS NEWS
by Peter McCabe
That old guardian angel of truth, justice and the American way, CBS News, has fallen hard: layoffs by the hundreds, guillotines in executive suites, lowered ratings for Dan Rather and constant reminders that Saint Edward R. Murrow must be spinning at 1,000 rpm. Look at the CBS Morning News, which, under various titles since 1954, has seen more anchors than New York harbor, among them Walter Cronkite, Jack Paar, Harry Reasoner, Mike Wallace, Sally Quinn, Charles Kuralt, Diane Sawyer, Bill Kurtis, Forrest Sawyer, Maria Shriver, Charlie Rose and, lest we try to forget, Phyllis George. Peter McCabe spent 14 months as a producer on that show until he was fired last year, before the Morning News as we knew it was replaced with Mariette Hartley's papfest, the Morning Program. Now he writes his tell-all tome. McCabe has his juicy anecdotes: about Sawyer as a political beast who learned her skills in the Nixon White House; about former CBS News President Van Gordon Sauter, the man who hired Phyllis George as the "woman of the '80s"; about Phyllis with her frequent bloopers and her hairdresser always at heel. Bad News is entertaining in spurts (and slow in stretches). McCabe amply demonstrates that indecisive, political, wrongheaded CBS News managers never gave the Morning News a chance. "The worst thing you can do is to give people turmoil," explains competitor Steve Friedman, the boss at NBC's Today. "In the morning people have their routines; you don't want to disrupt them." But McCabe's book isn't big enough. He doesn't fully show how takeover titans Ivan Boesky, Ted Turner, Larry Tisch and other CBS stock-gobbling predators and suitors directly affected the quality of news (and entertainment) by forcing the network into debt. At the end of the book, former CBS (now PBS) newsman Bill Moyers explains what's ethically and economically wrong at CBS better than McCabe does: "Once you get it into your head that your viewers are consumers instead of citizens, you drive them away.... When you don't respect their intelligence you lose them." There'll be more opportunities to hear the walls at Black Rock, CBS' New York headquarters, talk. People who spent longer than McCabe at the network—former CBS News Presidents Bill Leonard, Ed Joyce and Richard Salant—are writing books too. Can't wait. (Arbor House, $17.95)
A WORLD OF THEIR OWN: TWENTIETH CENTURY BRITISH NAIVE PAINTERS
by Jill and Martin Leman
Occasionally, it seems as if the naive (or primitive) artist conveys more about real life in the simplicity of his work than any other painter. The naive painter can be funny, as other artists rarely are. (The exception to everything, of course, is Picasso.) Paintings by 45 British artists are reproduced in this book, and one of the most comic is C.T Phipps's "Mr. Pork's Success," in which the butchers are straw-hatted pigs, the customers are animals and the pets are hairy critters with human heads. Francis Hill's "Bull'seye" has nude human females parading in a show ring while a herd of bulls looks on. The best works are those that seem inspired not by other art, but by the need to convey a unique vision. Bryan Pearce's boats in a harbor have that kind of freshness, and the misshapen animals by James Lloyd are magically beautiful. Folk art tells stories, and the imaginative works by these painters, sometimes grotesque, are packed with small truths. The Lemans both are artists; a brief biography of each painter is included. (Viking, $25)
Contributors:
Ralph Novak,
Campbell Geeslin,
Jeff Jarvis.
THE FEMALE OF THE SPECIES
Advertisement
Treat Yourself! 4 Preview Issues
The most buzzed about stars this minute!