People Top 5
LAST UPDATE: Tuesday February 10, 2015 01:10PM EST
PEOPLE Top 5 are the most-viewed stories on the site over the past three days, updated every 60 minutes


SUN BLOCK: Just when it seemed no one had anything good to say about the deposed ex-president of Haiti, Jean-Claude Duvalier, the French Riviera's local paper gives him credit for reducing unemployment. When the French government eliminated Baby Doc's state-financed security guards, Duvalier immediately hired three permanent bodyguards from a firm in Cannes. Each will earn about $1,300 per month to stay by the toppled dictator's side at the villa he rents from the son of arms billionaire Adnan Khashoggi. They'll also watch over Duvalier's wife, Michèle, their two children and any member of his entourage who ventures outside the gates. "At least," reasoned the newspaper, Nice-Matin, "Baby Doc created three jobs on the Côte d'Azur." All of France is sleeping easier.

CLEAN SWEEP: Soul singer Patti LaBelle, who spends most of her life on the road, says that when she fantasizes, it's usually about being at home, "being a housewife, and cooking and cleaning all day long." In fact, Patti never goes anywhere without her cleaning supplies. When LaBelle checks into a hotel (and she stays in the best), she always tells her tour manager, "Give me a bottle of pine oil and some Windex, and I'll clean this room in five minutes." Some fantasy.

WRETCHED ENCOUNTER: Ever since he won raves for Mona Lisa, British actor Bob Hoskins can be thought of as a bona fide movie star. But he still admits to becoming awestruck when he's around the very famous. When a friend invited Hoskins to a party where Bob Dylan, one of his heroes, had also been asked, Hoskins eagerly accepted. Bad move. When Dylan arrived at the bash, a friend introduced the two men and, as Hoskins told London's Sunday Telegraph, "Dylan said 'Hi,' went outside, threw up and went home. I don't think he was too well. Either that or I just made one of my heroes sick."

TYPECASTING: L.A. Law's Susan Ruttan, who plays Roxanne, the infatuated, motherly secretary to cad Arnie Becker (Corbin Bernsen), has bumped up against a few Arnie-types before. "Not a boss," says Ruttan, "but there have been men in my life, ones who really aren't the guys you should go out with—the semi-rats that your mother warned you about." After going into therapy, though, Ruttan says she now has a more sensible approach to the opposite sex. "I'm dating, but I've gone back to it in the traditional sense. You go out to dinner and you go home—by yourself."

CURTAIN UP: The life of a supermodel isn't always first-class travel, champagne and caviar. Consider the case of Beverly Johnson, who traveled to Florida "for a huge client, an institution in America." And her accommodations? "They put us in a motor lodge on a busy street," she says. "You couldn't shut the curtains, and people would look in. The room was full of mildew. I thought Tony Perkins was going to come in when I was in the shower."


STICKY SITUATION: As Miss America, Kellye Cash attends a lot of local beauty pageants and is always surprised at what contestants will do to win. "Girls use tape [to create cleavage]," says Cash, "but if you are not careful, it will rip your skin." Cash says breast enlargements are the most common thing. "I hear girls talk about picking them out and how much they cost," she says, "and I think, 'What is this, buy one, get one free?' " There are two tricks of the trade Cash admits to: "I do put Pro-Grip on my butt," she says. (The antislip adhesive helps her swimsuit stay down.) But there is a drawback. "If you sit down you stick to your seat." And she used to rub Ben-Gay on her thighs, wrap them in Saran Wrap and run three miles. "That gets rid of all the fat," she explains. How could anything the other girls do really surprise her?
Advertisement
Today's Photos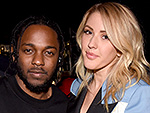 Treat Yourself! 4 Preview Issues
The most buzzed about stars this minute!