People Top 5
LAST UPDATE: Tuesday February 10, 2015 01:10PM EST
PEOPLE Top 5 are the most-viewed stories on the site over the past three days, updated every 60 minutes


BLACK TIE-BREAKER: The only runoff in which you are likely to find columnist William F. Buckley Jr. is one at the mouth. Speaking to students at the University of Massachusetts in Amherst, the politically conservative writer was asked if he would ever consider running for President. "The answer is no," Buckley said. "I'm not very good at being popular. I ran for Mayor of New York and got 13 percent. My voting would be by invitation only."

HIS PERSPECTIVE IN JEOPARDY: When Hollywood Squares went East, replete with new permanent center square Joan Rivers, New Yorkers got excited, filling Radio City Music Hall to capacity and setting a record for the largest audience (6,000 people) ever at a game show taping. All of this was too much for host John Davidson, who got positively misty when the Seaford, N.Y., high school band marched down Radio City's aisles during one of the 10 shows that were taped. "I'm totally overwhelmed," said an awestruck Davidson backstage afterward. "This has been the highlight of my career. To think that as a performer I played Radio City Music Hall on a game show. Now, that's something to be proud of. I'm sorry, I don't mean to be hokey, but I'm overcome."

ON THE BALL: Shelley Long also loves Lucy, her character's name in both her 1984 film, Irreconcilable Differences, and her latest, Hello Again. "I've always admired Lucille Ball," says Long. "Perhaps it's no coincidence that the name Lucy bodes so well for me. I can't think of a bigger thrill than having the opportunity to work with her, and that almost happened. At one time she was set to play my mother on Cheers. It didn't work out, but I did get to tell her in person how much I respect her."

TWO'S COMPANY: She's back in the saddle with the syndicated She's the Sheriff, but Suzanne Somers certainly sympathizes with Valerie Harper, who was dropped from her NBC sitcom, Valerie, after asking for more money. Somers was dismissed in 1980 from ABC's Three's Company for the same reason, and she knows what that can do to an actor's reputation. "When I left the show, I carried this baggage around for seven years," says Somers. " 'She's trouble.' That's what they said about me. The networks wanted some star who they felt was asking for too much money to be the example, and I was it. Now, Valerie Harper will find out what I learned. They make you the example and label you 'trouble.' "

NO SOLID GOLD CARD: Although he's an American Express cardholder, vintage ghoul rocker Alice Cooper was passed over when the company chose its celebrity endorsers. "I was up for it," Cooper, 39, told the Boston Globe. "It was between me and Picasso's daughter [Paloma], and they decided to go with her 'cause it was safer." This despite Cooper's having the entire ad figured out: "I have this long piece of luggage that looks like a pool cue, only it's my suitcase for my snake, and I say, 'You probably don't recognize me without my makeup and my snake....' " Cooper still nurses hopes of signing on with some advertiser but says prospects appear bleak. "We tried to figure out what Alice could promote," he says, "and we have not found one single thing that anybody would really want my name on."


POKER PARTY: If you spot Steve Martin sporting a cap with a badge that reads "Gourmet Poker Club," don't try calling his bluff. Martin told London's magazine that said club meets three times a year and boasts a membership that includes Neil Simon, Chevy Chase and Johnny Carson. The card games are beside the point. Says Martin: "We start at 7 p.m., have an appetizer, start playing at 9, have a gourmet dinner, then at 11 everyone's exhausted." And sometimes flushed.
Advertisement
Today's Photos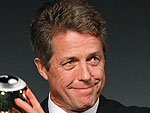 Treat Yourself! 4 Preview Issues
The most buzzed about stars this minute!