People Top 5
LAST UPDATE: Tuesday February 10, 2015 01:10PM EST
PEOPLE Top 5 are the most-viewed stories on the site over the past three days, updated every 60 minutes
Wait a Minute, Mr. Postman—Aren't You Freddie Gorman, Who Co-Wrote Please Mr. Postman?
The man walked back into his house.
Freddie Gorman shrugged; by now he's become bemused by the ironies of his unlikely career. More than 25 years ago he was a mail carrier in Detroit. There he co-wrote the Motown classic "Please Mr. Postman" for the Marvelettes and formed his own singing group, the Originals, which scored hits with "Baby, I'm for Real" and "The Bells." That group withered away in the 70s, and now Gorman is once again keeping a familiar beat: up at 5 a.m., sorting mail by 6, and then on to his 500 to 700 addresses. Forget wind, rain and sleet—not even fame, it seems, could keep Gorman from his appointed rounds. But no sympathy cards, please. "I've never felt I was above working," says Gorman, 48. "It honestly didn't bother me to have to return to the post office. I started looking around but realized I wasn't qualified for too many other jobs. It was sort of ironic that I ended up back where I started."
His musical career took off in 1960 when the then 21-year-old mail carrier was introduced by friends to a group of girls who called themselves the Marvels and had won a talent contest sponsored by newly-founded Motown Records. The girls were told to come back when they had some original material. Enter Gorman, who, along with four friends, wrote a song using the title "Please Mr. Postman," which Motown had already approved. The result was a No. 1 hit for the renamed Marvelettes; it stayed on the charts for almost six months, was covered by the Beatles on their second album and again became a million-seller for the Carpenters in 1975.
Success notwithstanding, Gorman kept his postal job for a few more years before turning to music full-time, figuring "unless you reach superstar status, you're only as hot as your last record." Nights were spent singing and writing at Motown—Gorman sometimes drove the Supremes home from the studios—and harmonizing with the guys who, in 1964, would join with him to form the Originals. (The quartet, which for a while became a quintet, took its name from a bottle of "original Champale.") They had their first hit in 1969 with "Baby, I'm for Real," and also sang backup on Marvin Gaye's "Chained" and Stevie Wonder's "For Once in My Life." Says Motown legend Brian Holland, who helped write such classics as "Stop! In the Name of Love" and "You Keep Me Hangin' On": "I'm surprised they're no longer together. He has one of the greatest baritone voices in the business."
Gorman's career began to go sour in 1975, when Motown failed to promote an album the Originals had recorded. When the same thing happened with the Originals' next two efforts, Gorman knew the end was near. "They were concerned with other groups like the Temptations and the Four Tops," he says. "We were not a priority." Two more albums released by other, smaller labels went nowhere, and the group began to drift apart. "We had families to take care of," says Gorman. "We seemed to lose interest in continuing the struggle." In 1981 a friend recommended that he try to get reinstated with the postal service. "I hadn't even thought about it," he says. "But I was blessed to get my job back. I had been gone 15 years."
He wound up at L.A.'s Griffith Park station, where he kept mum about his past. "I didn't tell anyone because people don't expect someone who was in a group with gold records to be working in the post office," he says. "It gets to be a hassle explaining it all the time. Everyone expects you to be a millionaire. But we never got the big money." The truth came out last year when a fellow courier spotted Gorman's picture on an old LP. Now Gorman, who also acts as the office safety captain and is in charge of the savings bond drive, has become the star of the station, appearing in a postal service marketing video that features "Postman" on the sound track. "He gets teased a lot," says station manager Joan Campuzano, "but it's only because we're so proud of him. Many of us grew up when he was making those hits. We were fans."
Gorman lives in suburban Duarte with his wife of 27 years, Dodie, and their 18-year-old son, Dillon. Father and son make music in the garage, and Dillon, who hopes to start a four-part harmony group of his own, says, "It's time for 'Mr. Postman' to be revised." He also thinks Pop should go back into show business. "I'm sure he wants to. I can see it in his eyes." Gorman himself dreams of an Originals reunion but isn't pushing anything. He enjoys his quieter life, which includes fishing with his family and serving as a deacon in the nearby Friendship Baptist church. "How can I get upset about anything?" he says. "I've had what many have dreamed of. It couldn't go on forever."
—Written by Tim Allis, reported by Darlene Donloe
Contributors:
Darlene Donloe.
The way Freddie Gorman tells it, he was on his usual mail route in suburban L.A. one day when a guy came out of his house singing "Please Mr. Postman." "I bet you wish you'd written that one," said the man. Gorman was startled. "I did," he replied. "Uh-huh," muttered the man. "But I did," insisted Freddie, a broad grin on his face.
Advertisement
Today's Photos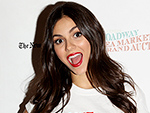 Treat Yourself! 4 Preview Issues
The most buzzed about stars this minute!