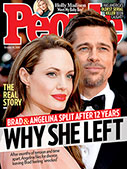 This Week's Issue!
People Top 5
LAST UPDATE: Tuesday February 10, 2015 01:10PM EST
PEOPLE Top 5 are the most-viewed stories on the site over the past three days, updated every 60 minutes
AIDS & the Single Woman
A Look at What Has Changed, How Experts Assess the Danger—and What Happens When the Threat Becomes Reality


Though done in jest, the bar drill highlights a dismaying truth: The romantic evening isn't what it used to be, thanks to the specter of AIDS. To find out how AIDS has altered the dating landscape, PEOPLE engaged Market Facts of New York to conduct a national telephone survey of 500 single women age 18 to 49. At the same time, reporters interviewed women across the country to find out what they had to say about the impact of AIDS. The poll results: Seventy-five percent said they were "extremely" or "very" concerned; 40 percent said their sex lives had been directly affected. Even though very few AIDS cases have yet occurred outside of the known risk groups—male homosexuals and bisexuals, intravenous drug users and their sex partners—anxiety and confusion have become unwelcome chaperones on some enchanted evenings. Says Kay Corlett, 30, an L.A. store manager: "Sometimes I feel like locking myself in the house and never coming out."

"It's sad," says Justine Massara, 22, a Drexel University student. "When I think of love, I think of romance, not technical instructions on how to use a condom."

Of the women who've made an adjustment in their sex lives, 78 percent say they've become more discriminating about their sex partners. "I feel I am at extremely low risk for AIDS," says Pam, 35, a Houston medical writer. "I have only normal heterosexual intercourse, if I'm lucky enough to have it at all. But I've become a lot more selective about my partners." Nanci Easterling feels the same way. A 25-year-old New Orleans caterer, she tends to date older, recently divorced men: "If they've just come out of a 15-year marriage, the risk factor is a lot lower." Muffy Giglio, 22 and owner of a yupscale Pittsburgh bar, has devised a safe-dating program: "We have to be friends first, not even kiss for two months. Then we have to date for four more months. Then we will have AIDS tests."

Many modern romances seem to simmer longer these days before reaching the heat of reaction, and the one-night stand "has gone the way of the Edsel," says Al, 24, of Memphis. "I wouldn't take a woman home from a singles bar for all the money in the world." Bartenders generally agree that restraint is on the rise. "Two years ago the parking lot was always full on Sunday mornings from cars left behind the night before," says Jeannie Vassallo, a Philadelphia bartender. "Now there are just a few cars."

Three-fourths of those who have made changes in their behavior say they want to know a new partner's sexual history—and insist on condoms. Says a New York writer: "When I'm going to sleep with someone, I ask about his drug use and whether he's had some big blood transfusion. Now everybody has that conversation at the start. It's part of dating etiquette." She also requires her partners to use condoms. "One guy got angry. He said, 'I won't.' He tried to make love to me, but I wouldn't let him. Stalemate." Marion, another New Yorker, realized how her fears had shifted when her boyfriend's condom broke: "First I thought about AIDS—then I thought about pregnancy. Two men refused to wear condoms. They said, 'Nothing is wrong with me.' I said, 'Yes there is. You have an attitude problem.' "

"I don't think guys like condoms much," says Karen, a senior at Middlebury College in Vermont. "I hope they get over it." Colleges nationwide are trying to help; at the University of Kentucky, condoms are sold in candy machines on campus. Still, many students said that convenience often doesn't translate into compliance. "We're concerned," says Maureen, 19, from the State University of New York at Albany. "But we have sex anyway because everyone's horny."

Some women who haven't altered their sexual behavior despite AIDS say that's simply because there wasn't much to change. "I am very religious, and AIDS does not affect me," says Catherine, 20, a Pittsburgh college student. "Every hemophiliac, every child born of an AIDS mother, every unsuspecting spouse exposed to AIDS and everyone who dies of AIDS—it's all because someone, somewhere was doing something wrong." Other women who haven't changed admitted that the problem was willpower—or, perhaps, won't-power. "It's like smoking," says Joanne, 34, of Chicago. "Intellectually, I know that every time I light one I'm killing myself. But I still do it." And some women, says Jill, a 36-year-old Los Angeles computer programmer, "are just so tired of being told sex is wrong for one reason or another. We just don't give a damn anymore."

Most women are in the middle: They give a damn, but they're not thrilled by the notion of chastity. "I'm not having less sex," says Tina, 22, a Mary Kay model in Cincinnati. "I'm just having it with one person." Indeed, monogamy seems to be getting a reappraisal by both sexes. "I'm just looking for the woman I can spend the next 40 years with," sighs Al from Memphis.

That's one side effect that doesn't necessarily call out for a cure.

—By Margot Dougherty, with bureau reports


Advertisement
Treat Yourself! 4 Preview Issues
The most buzzed about stars this minute!