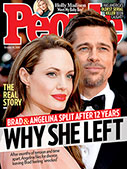 This Week's Issue!
People Top 5
LAST UPDATE: Tuesday February 10, 2015 01:10PM EST
PEOPLE Top 5 are the most-viewed stories on the site over the past three days, updated every 60 minutes
Iris Murdoch Is Britain's Prolific First Lady of Fiction


If there is, indeed, nothing like a dame, there is certainly nothing else like Murdoch in fiction today. With the publication of her 23rd novel, The Book and the Brotherhood, she has added yet another widely admired work to her impressive oeuvre. The Book and the Brotherhood is packed with symbolism, philosophical ideas, impossible loves, shocking deaths and intricate plotting. The New York Times hailed the novel as "a triumphal celebration of literacy as a social bond. ... The human process by which ideas are transformed into feelings, feelings into gestures, and gestures into always unforeseen consequences—no other living writer has it down so well."

At 68, Murdoch has been turning out, on average, a novel every 18 months since her first, Under the Net, in 1954. She also has published four plays, four books on philosophy and one of poetry. While her talent leaves reviewers rapturous, and her prodigious output would strain the sturdiest bookshelf, the author has little time and less inclination to sit down and talk about herself. ("Iris Murdoch," Britain's Sunday Telegraph once noted, "makes good books and bad interviews.")

Yet neither is Murdoch a Garbo. After the establishment of diplomatic contact by mail (only close friends have her unlisted phone number), she reluctantly allowed herself to be cornered at her modest redbrick home in Oxford. There, in the comfortable living room of the house she shares with her husband of 32 years, John Bayley, Oxford University's Warton Professor of English, Murdoch settled down to chat somewhat uncomfortably about her own life.

As a writer, Murdoch has managed to overcome the disadvantages of a happy childhood. A beloved only child ("I wouldn't have tolerated anybody else," she maintains), Iris was born in Dublin. When she was 1, her Protestant Irish parents moved to London. "I had decided I wanted to live in England, and my wishes were immediately gratified," Murdoch deadpans. Her father entered the British Civil Service, eventually rising to the rank of deputy registrar-general. "He was bookish and intellectual, not an ambitious man," says Murdoch. "My mother was very beautiful and full of merriment."

By the time she was 9, Murdoch had decided to become a writer and was churning out "stories about pirates and other exciting things." She attended Oxford and earned a first class degree in Greats (Greek, Latin, ancient history and philosophy) at Somerville College in 1942. Though she would have preferred to stay on at Oxford, Murdoch was then conscripted into the wartime Civil Service.

During the war, the man Murdoch loved, Oxford classmate Frank Thompson, was captured by the Germans after parachuting into Bulgaria to join pro-Allies partisans. He was executed in 1944. "Oh, dear," she says, voice cracking as she speaks of him. "We weren't engaged, but hoped to be married." Consolation arrived in 1952, four years after Murdoch had returned to Oxford to teach philosophy, when she pedaled her bicycle by the window of a junior instructor named John Bayley. For him, it was love at first sight. Even at a distance, he insists, he could tell Murdoch was "mature, sensible, mysterious and humorous. It may sound improbable, but that's one of those things about falling in love." He didn't actually meet Murdoch until two weeks later, but they have been inseparable ever since.

Murdoch cut back on her teaching in 1963 to devote more of her time to writing, all of which is done in longhand. "I can't type," she admits, and she regards word processors as "horrid things." In her novels, she never describes sex and disdains the use of four-letter words. "I feel a book should have a sense of decorum," she says. A gentle soul who seldom speaks harshly of others, Murdoch nonetheless has strong views on the subject of editors. "I wouldn't let anyone put a finger on my books," she says firmly.

Murdoch is proud of her achievements as an author, though she hedges when discussing her place in the literary pantheon. "It is difficult to tell what will survive and remain of interest," she says. "My problem is not being great. I'm in the second league, not among the gods like Jane Austen, Henry James and Tolstoy. My characters are not as memorable as theirs. I'd like to think people enjoy reading my books and consider me a good storyteller—like Dostoyevsky or Proust—at my own modest level."

Murdoch and Bayley lead quiet lives. She writes all morning and then fixes herself lunch—"something out of a tin." Early afternoon is devoted to housecleaning, laundry, shopping and correspondence. At 3:30 she takes a half-hour nap, then writes until 7. By then, her doting don has returned from St. Catherine's College and started dinner. "I cooked for a fortnight after we were married," says Murdoch with a dry laugh. "He said I wasn't very good and should let him do it."

Murdoch was 37 when she married Bayley, who is five years her junior, and they have no children. "We left it to the gods," says Murdoch philosophically, "and that's just how things worked out." Bayley feels Murdoch has had no trouble filling whatever void might have existed. "She wouldn't like to hear this," he says, "but her books are very much her children."

—By Ned Geeslin, with Fred Hauptfuhrer in Oxford


Last year the much admired novelist Iris Murdoch was awarded the female equivalent of knighthood, a D.B.E.—Dame Commander of the Most Excellent Order of the British Empire. Typically she made light of the distinction. When a friend asked how it felt to be a dame, Murdoch replied, "There have been far too many references to South Pacific."
Advertisement
Treat Yourself! 4 Preview Issues
The most buzzed about stars this minute!