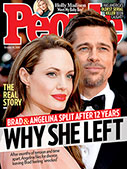 This Week's Issue!
People Top 5
LAST UPDATE: Tuesday February 10, 2015 01:10PM EST
PEOPLE Top 5 are the most-viewed stories on the site over the past three days, updated every 60 minutes


JAGGERNAUT: Now that Mick Jagger has cast the first stone by rolling right along as a solo artist despite pleas to do another Rolling Stones tour, disgruntled bandmates Ron Wood and Bill Wyman may have found a replacement. London papers reported that while playing at a recent all-star rock jam, Ron and Bill eagerly listened to current pop sensation Terence Trent D'Arby rip through a version of the Stones classic Honky Tonk Women. "He made Mick sound like a strangled chicken," Wood said. Added Wyman: "I wouldn't mind getting together with D'Arby again in the future in a studio with Keith [Richards] and Charlie [Watts] and seeing what we could come up with."

BLUE YONDER THERAPY: Following the suicide of her husband, Edgar Rosenberg, last summer, Joan Rivers responded by flying in the face of grief. "The minute I became a widow, a friend of mine said, 'Don't land for a year,' and that's exactly what I've done, and it saved my life," she says. In the seven months since Rosenberg's death, Rivers has crisscrossed the country with Hollywood Squares and to do her stand-up act. "This way I'm always tired, so I don't have time to get depressed. I'm not going to sit home, stare at the walls and say, 'My God, we had a house together,' " she adds. "Everyone suffers and mourns in a different way. To me, moving constantly is my saving grace."

BY HOOKER BY CROOK: Joining the snickering congregation taking pleasure in Jimmy Swaggart's downfall is Margo St. James, founder of COYOTE (Call Off Your Old Tired Ethics) and outspoken advocate of the legalization of prostitution. "The most powerful are the most likely to topple because they make sex into something so attractive that it is irresistible," says argo, who's currently in France organizing prostitutes there. "They want to preach and tell people how to live right, but they're fascinated with sex, and eventually they succumb to it—tasting the forbidden fruits themselves. I'm waiting for Jerry Falwell to get it next." And what do her colleagues think of these kinky sexual communions? "They think these guys are really weirdos."

SPOCK IT TO ME: Teri Garr, who was 18 in 1968, when she appeared in the Assignment Earth episode of Star Trek, says she would love to make a movie with Vulcan-turned-director Leonard (Three Men and a Baby) Nimoy. In fact, she already has a project in mind: "I have the idea for the ultimate yuppie movie. It's called Three Babies and a Man," Teri says. "It's about these three babies who adopt a yuppie and have to take care of him because he can't take care of himself." Waaahn-derful idea.

HASTY CONCLUSIONS: As Harvard's Hasty Pudding Club Man of the Year, that wild and crazy Steve Martin was asked about his failure to get an Oscar nomination for his Roxanne script and performance. He said, "The worst part about it was that my wife [Victoria Tennant] was in England, and I had to call her up and tell her I got screwed while she was away


A FAMILIAR RING: Jackie Stallone, Sylvester's mom, is currently making the rounds promoting ladies' wrestling for GLOW Gorgeous Ladies of Wrestling), a syndicated TV program. "GLOW isn't just women banging each other around in the ring," Jackie told the Houston Post. "These girls are trained and finely conditioned athletes." Jackie made less than glowing remarks, however, about her eldest son's past loves. On first wife Sasha: "She was a greedy little zero." And on Brigitte Nielsen: "Mark Gastineau shouldn't marry her because she's so inflated with silicone bags. I'm afraid if he fell on her during the wedding night, she'd explode." As for Sly's current flame, Cornelia Guest, Jackie said nicely, "They have a lot in common—both love horses, cats, books, vitamins and, hmmm, maybe sex too."
Advertisement
Treat Yourself! 4 Preview Issues
The most buzzed about stars this minute!