Archive Page - 12/1/12 39 years, 2,080 covers and 53,257 stories from PEOPLE magazine's history for you to enjoy
On Newsstands Now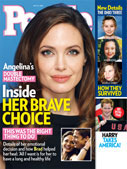 Angelina: Inside Her Brave Choice

New Details on the Ohio Three

Prince Harry Takes America!
Pick up your copy on newsstands
Click here for instant access to the Digital Magazine
People Top 5
LAST UPDATE: Wednesday May 22, 2013 06:10AM EDT
PEOPLE Top 5 are the most-viewed stories on the site over the past three days, updated every 60 minutes
A Courage Beyond Understanding
Her Burns Were Terrible, but with a Spirit the Flames Could Not Devour, Sage Volkman, 6, Has Won Back Her Life


"Some people cry when they first see her," says Jill Peterson, a therapist at the center. "Someone came in here with a broken finger," says Karen Harley, a co-worker. "He took one look at Sage and said, 'I really don't have any problems.' Sage makes everybody else feel like their problems are small."

Seventeen months ago Sage Volkman's life descended into nightmare. Caught in a fire in her family's camper, she suffered third-and fourth-degree burns over half her body, lost her nose, her eyelids, her left ear and both her hands. Extensive skin grafts helped piece her back together, and further operations should provide additional restoration.

Her ordeal puts the mundane woes of others in perspective, to be sure. Yet what is most remarkable about this intelligent, green-eyed first grader is the perspective she has somehow acquired about herself. Far from being a bleak cautionary tale, Sage's story is a testament to the resilience of the human spirit. "When I think about being burned, I feel sad," Sage says simply. "The sad part is that I got burned, and my dad got burned. But I'm happy that I can walk now. I can walk because I practiced and practiced, and then one day I thought I could do it, and it happened."

On the morning of that other, blacker day back in October 1986, Michael Volkman had risen early to fish with his son, Avery, now 9, while Sage slept late in the family camper. Volkman, 42, a tree planter for the Southwestern Forestry Workers Co-Op in Placitas, N.Mex., was taking a few days off to camp with his children at Bluewater Lake near the town of Grants; his wife, Denise, 41, was kept at home in Placitas by her kindergarten teaching job. At 6:30 a.m., not five minutes after checking in on his sleepy daughter, Volkman, then trout fishing, noticed a thin curl of smoke rising above the trees in the vicinity of his campsite. He and Avery rushed back to find their camper engulfed in flames.

Michael kicked open the door and dashed into the blaze to save his daughter. Choking on smoke, he scooped up Sage along with her melting sleeping bag and emerged seconds before the camper exploded.

Michael's hands and eyelids were charred in the blaze, which firemen later determined was caused by a spark from the camper's wood stove. Sage lay on the ground, limp and apparently lifeless. His heart in his throat, Michael pumped on her tiny chest—so forcefully that he broke a rib—until she was breathing again. By then, a nearby fisherman who had heard the explosion arrived at the scene. He drove the three Volkmans to a Ranger station to call for an ambulance. Later, Sage was flown by helicopter to the University of New Mexico Hospital's burn center 60 miles away.

Denise Volkman, who was in her classroom that day, heard the terrifying news by phone from a Bernalillo deputy sheriff and hurried to her daughter's side. "When I first saw Sage," she remembers, "I would not have known that was my child if they hadn't told me." In the agonizing days that followed, Denise began a letter she prayed Sage would survive to read:

I love you Sage so very much, please hang in there with us. Six days have gone by since the accident—the fire. This is the first day I have been able to write about you or what has happened. I, as your mother, am doing this for you because it is my legacy to you. You will be forever changed by what has happened and have a right to know about this time in your life when your energy is being used to help heal your body and you are in a doorway to a dream. I will give this to you when you are ready, when you ask to know how it was.

Sage's hospitalization lasted two months. Near death initially, she rallied enough to receive the first of eight skin grafts three days after her arrival, then nearly succumbed to pneumonia. At the Shriners Burns Institute in Galveston, Texas, where Sage was transferred in November, she grew accustomed to the frequent dressing changes and hot baths necessary to prevent infection, though each was so painful it was preceded by a shot of morphine. As she healed, Sage watched the patients around her and learned to hope. "I knew a kid at Shriners that got burned really bad," she remembers. "But then he walked across the hall."

Michael and Denise stayed with their daughter morning and night, their own pain eased somewhat by friends who visited regularly and by letters and prayers from members of their Mormon church. Money, at least, was not an immediate worry. The Shriners Institute had volunteered to pay the majority of Sage's medical expenses until her 18th birthday—a promise bound to cost more than $1 million. Almost immediately, contributions began pouring in from strangers as far away as Wisconsin and Florida, so her parents set up a Sage Volkman Fund.

A wondrous thing happened—we, you and me and Avery and Michael—started getting support from strangers and friends. Sage, I can't tell you how many, many, many people started to come to the hospital and help. Help by praying, sending energy and support, helping me do the mundane.... It was overwhelming to me everything that happened. Why you sweet girl? I love you so.

As the weeks passed, Michael and Denise grew accustomed to the sight of their daughter's ravaged face. "We mourned the death of the Sage we knew and accepted the new Sage," says Michael.

Avery too was adjusting. "I cried and cried," Sage's brother admits. "I got over it by knowing that she would always be the same person." Sage did not see her new reflection until she was released from the hospital two months after the accident. Denise, whispering words of support, held her up to a mirror. "You're looking great, Sage," she said. "When I first saw you, you looked like a pumpkin." She paused. "You know, you don't have a nose." Without flinching, Sage studied the girl in the glass. "Yeah, I guess you're right; I don't have a nose," she replied. "I don't have an ear either. Oh, well."

Oh Sage, all I can think about sometimes is I wish it was like it used to be, but it can never be that way again. Not that it has to be bad, but I miss the old you. But I know I'll love the new you. I remember last Halloween and you as a copy cat, Avery as a ghost, and the cake he won in the cakewalk. I love you Sage.

In December, Sage came home, although it wasn't her real home. She came out to a cramped apartment her parents had rented in Bernalillo, two miles south of Placitas. Their own house, old and filled with the dust of deteriorating concrete, would have increased Sage's chances of infection. Because her slowly healing skin was taut and resistant to stretching, moving her limbs at first was a torment of pain. But Sage proved her mettle from the start. "I can do it myself," she began announcing, and it turned out that she actually could. She learned to walk, then to run, wearing the brace that still supports her weakened left leg. In May, a charred cornea was replaced, new eyelids were fashioned from skin behind her ear and shoulder. A mechanical prosthesis enabling her to write and draw—a favorite pastime—was attached to her right arm, and she mastered the tricky techniques required in six months. She joined a Brownie troop and, by selling 140 boxes of cookies, won a free two-week stay at a Girl Scout camp. Lately she has been contemplating dancing lessons and learning to ride a bike. Despite their fears that she might suffer new physical or emotional hurt, Sage's parents have encouraged her return to the mainstream of life. "We tried very hard to get her out in public early, really fast," Denise says. "You know, we don't live in a burned world, and it's important for her to get out."

The excruciatingly painful baths Sage endured during her hospital days are still a part of her life. As she sits in the tub each evening, Denise and Michael scrub off new scabbing to avoid infection and cleanse the raw, healing areas with hydrogen peroxide. The nightly ritual lasts an hour—down from the initial three—and Sage often cries. But she never asks her parents to stop.

All the changes. Learning to do so many things over for the first time again in a different way. I'm afraid Sage, and yet I don't want you to see my fears because they won't help you....Who will love you like we do? Who will care? Who will see that beautiful spirit inside? Who? Who? Who?...Oh Sage, it's so overwhelming. All I know is I love you princess.

Each weekday morning. Sage takes the school bus to Placitas Elementary School, a short ride from her family's brand-new adobe home. Beneath her little-girl jeans and high-tops she wears a skintight body stocking designed to minimize her scarring. Her classmates no longer gape as they did when she returned in September, though Sage says their curiosity never bothered her in the first place. "I just let them stare at me," she shrugs. Sage is a bright, attentive student—intelligence tests show that she is well above average. "She's an inspiration," says her first-grade teacher, Jan Pawelec. "Here is someone who is supposedly incapable, and yet she performs." In addition to excelling at her studies, Sage has regained acceptance as one of the gang. "When I first saw her, she was different," says classmate Kate Scott, an old pal. "But it's okay, because we're best friends."

The world at large is not always as wise. Sometimes, when she is out shopping or at a restaurant, Sage feels stares or hears cruelly insensitive remarks. Even then, she keeps her composure. "We've rehearsed what she would say if somebody asks her what happened," explains Denise. "I just say, 'I got burned,' " says Sage. "I would ignore them if they would say I was ugly." Once, she remembers, "there was a little girl who saw me who screamed and went running up the stairs. I just figured that washer problem."

The years ahead will not be simple for the Volkmans. There will be more operations, at least eight by the time Sage is 18. Some will stretch her skin, which continues to shrink as it heals. Others will be reconstructive. Sage likes to think about how the surgery will make her better. Someday, her doctors have said, she may even have a new nose. "There was this girl who got a nose [at the hospital]," Sage says. "They took a tip from her ear and put it on her nose. That's all it took."

Sage, are you a gift giver? Yes, you are a gift giver. A gift giver of strength and courage and much more. You have opened many people's hearts and minds. The whole family is behind you Sage forever and ever. Together you can make it. We all can.

Sage's surgeon at the Shriners Institute, Dr. David Herndon, is optimistic about her future. "The majority of burn victims do better than you might expect," he says. "Many would assume that these people would live as hermits the rest of their lives." The Volkmans rejected that possibility long ago. "We heard all those stories about how these kids end up in the closet," says Denise. "There's the feeling that you don't want your child ostracized by the way she looks, but we don't think twice about it anymore."

And a good thing, too, because Sage, 17 months after being changed by fire, seems single-minded about regaining her rightful place in the light. "I want to be a doctor," she says. "If a little kid was burned, I would say, 'You can do it, you can do it.' I just feel like I want to help people."

—This story was first told by Julie Klein and Vickie Lewis in Sage's hometown newspaper, the Albuquerque Tribune.


Regulars at the Sports Physical Therapy and Rehabilitation Center in Albuquerque, N.Mex., know that progress is measured in pain. The injured athletes and car crash victims grunt and grimace as they work to restore their bodies, pedaling furiously on stationary bikes and hoisting hand weights until they feel the burn. Suddenly the frantic activity slows as eyes turn toward the door. Six-year-old Sage, the gym's undisputed champ in the conquest of pain, has come by for treatment.
Advertisement
Treat Yourself! 4 Preview Issues
The most buzzed about stars this minute!