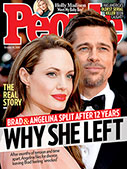 This Week's Issue!
People Top 5
LAST UPDATE: Tuesday February 10, 2015 01:10PM EST
PEOPLE Top 5 are the most-viewed stories on the site over the past three days, updated every 60 minutes
Binding Up the Wounds
Michael Reagan Finds a Brother He Never Knew, Purges the Demons of His Past and Comes Home to Ron and Nancy


In a first family whose children are often noisily outspoken, Nancy had good reason to be wary of another offspring author. Daughter Patti's mischievous novel, Home Front, about a President much like her father, had left Nancy badly rattled. And she knew Michael, 43, to be a much looser cannon than Patti, 35, his sister, Maureen, 47, or his half-brother, Ron, 29. Thin-skinned and resentful, he had long seemed the odd man out in the Reagan brood. "I didn't feel I belonged in so perfect a family," he says now. "I've spent my life trying to figure out how to make Ronald Reagan my friend." Although his relationship with his father was curiously stilted, Michael's anger had come to settle on Nancy. Their feud became public in 1984 when Michael was absent from a Thanksgiving gathering and Nancy described father and son as "estranged." Michael responded that he was "shocked and hurt."

So when Michael heard that a tell-all version of his life as Ron's son could fetch $1 million, he admits he was tempted. "If I could write a 'Daddy Dearest'," he reasoned, "I could get enough money up front to live comfortably for the rest of my life. And if I had a lot of money, I would be important and—even though [Ron and Nancy] weren't talking to me—important to them. So I would be their friend. That was the mentality."

Fortunately for his family—and perhaps for himself—Michael decided upon a toned-down and more introspective account of life in the shadow of his famous father. During the course of a nearly two-year journey of self-discovery, the younger Reagan confronted demons that had haunted him since childhood. After 36 years of self-loathing secrecy, he disclosed for the first time that he had been sexually molested as a 7-year-old. Then, impelled by an overwhelming urge to find out about his heritage, he decided to search for his natural parents.

As his book, On the Out-side Looking In, is on its way to bookstores around the country, Michael Reagan is a changed man. He has found a half-brother he never knew he had and through him learned of a mother who, until the day of her death in 1985, never stopped loving the illegitimate child she had given up for adoption. His rapport with Ron and Nancy is improving; he has begun a new career as a game-show host on Canadian TV, and the ill-tempered defensiveness that was once the hallmark of his personality has been replaced by openness and optimism.

When Reagan sat down to write his memoirs in August 1986, he was filled with bitterness. "I didn't know where all that anger and hate was coming from," he says, "but it was aimed smack dab at my family." He was 41 years old, with an undistinguished and somewhat checkered career, capped by 20 years as a fast-talking boat salesman. He had tried to be an actor, without much success, and his future looked trivial and unpromising. Everything he did seemed to pale in comparison with the achievements of his mother, actress Jane Wyman, and his father. "If my parents weren't so damned famous," he remembers thinking, "I wouldn't be going through all this. It's their fault. It was easy for them to achieve more than their parents, but how do I achieve more than the Presidency and my mother's Academy Award?" Stymied by his own barely suppressed rage, he found himself unable to express his feelings.

Then a friend, hoping to coax the book out of him, suggested that Reagan approach his story with total honesty. Heeding the advice, Michael decided to expose his darkest memory. He wrote about being sexually molested by his counselor at an L.A. summer camp—a secret he'd kept from everyone. He didn't tell Colleen, his wife of 12 years, until the eve of their 11th anniversary in November 1986, when he was writing about the incident in his book. Pictures of the episode had been taken, and aside from a residual feeling that he was "dirty" and a "bad person" for allowing such a thing to happen, Michael lived in abject fear that the pictures would someday surface. "I thought the press, looking for a skeleton in the closet, would finally find one—and it would be me," he says. "I really never got to be what I wanted to be because I was afraid that if I were successful, that man would come out and sell the nude pictures and ruin me. So I thought it was better for me not to get into the public eye."

When Michael's co-author, Joe Hyams, saw how shaken he was by reliving his experience as a molested child, he suggested that Reagan enter a Santa Monica treatment center for molested children. His individual therapy eventually freed Michael of his burden of guilt, convinced him that he was truly a victim and prompted him to undertake another phase of psychological housecleaning. He decided to search for his biological parents.

In September 1987, Michael applied for his California state adoption papers. The President encouraged him, and called Gov. George Deukmejian, informing him that Michael's quest had his blessing. "When my father helped me with this, it was the biggest gift he ever gave me," says Michael. "He set me free." By pure coincidence, within a week after receiving the papers, Michael got a message on his telephone answering machine from someone he hadn't seen in years. The caller was Margie Darlington, a friend of his ex-wife's (who he will now identify only as Julie). "I think I've found your brother and your family," she said. "If you're interested, please call back."

Michael was more than interested. He was, he says now, "in shock." Phoning Darlington, he learned that she had met a man named Barry Lange during a business trip to Ohio. He was the manager of a chain of stores called Waterbeds 'n' Stuff, and during a car ride Darlington had mentioned to him that she had been to Hawaii to attend Michael Reagan's first wedding in 1971. Lange then let slip a conversational bombshell: He told her his mother had said Michael Reagan was her child, born out of wedlock and given up at birth.

Stunned by the news, Reagan asked Darlington to pose some questions to Lange: What color were his mother's eyes? How many brothers and sisters did she have? What was Michael's given first name? The answers all checked with what Michael had learned from his adoption papers: hazel, nine, John. A meeting was arranged—"Talk about pressure!" says Lange—and on Oct. 25, 1987, the two were brought together in Joe Hyams' home in Los Angeles. "They looked at each other for a minute and then fell into one another's arms," reports Hyams. "There was an instant rapport."

Lange, 36, six years younger than Michael, had brought along a photo album bulging with clips from fan magazines and newspapers. They were pictures of Michael—often with his father, Ronald Reagan—lovingly collected through the years by Irene Flaugher Lange, the mother Barry and Michael shared. Suddenly it became clear to Michael that a woman he had never known had been tracing his steps when he was continuously shuttling from school to school. For the first time in his life, he felt that his natural mother was not uncaring and, like Jane, had actually loved him in full measure. "It was the most wonderful feeling in the world when I found out she knew all along who I was," he says. "And that this mother had kept track of this child."

Lange filled in much of what Michael had not known about his past. Their mother was 28, unmarried and living in Arizona when she became pregnant with Michael in 1944. Her parents, strict Protestants of Swiss-German descent, never knew. The baby's father, a soldier whose identity she confided to some of her siblings, paid her way to Los Angeles, where she gave up her son, born on March 18, 1945. Afterward she stayed in L.A., where she worked as an actress. Using the stage name Betty Arnold, she got bit parts in bit movies—her most notable role was as an extra in The Big Wheel, with Mickey Rooney—and became friends with such '40s stars as Peter Lorre, John Garfield and Mischa Auer.

Meanwhile, her son John had been adopted when he was 4 days old by movie star Ronald Reagan, 34 and fresh out of the Army Air Forces, and his first wife, Jane Wyman, 31. The couple wanted a son, and Wyman was unable to bear more children after the birth of Maureen four years earlier. When the marriage ended in divorce in 1948, Michael stayed with Wyman and looked forward to visits from his father. When he was 4, he was told that he was adopted, a concept he didn't fully understand until his first year at boarding school, at the age of 6. "You're a bastard," his classmates told him by way of clarification. "Your mommy and daddy didn't want you—they gave you away." Subsequent family folklore—that Michael's sister Maureen had wanted a baby brother so badly that she had saved up 97 cents to buy him—did little to assuage the boy's feelings of confusion and abandonment, and the traumatic separations that filled so much of his childhood seemed to him all of a piece. "Being sent away to school was no different from my biological mother giving me away," he explains now. "All I could think was 'What's wrong with me? Mothers must not like me.' "

Not until the appearance of Barry Lange could Michael be persuaded otherwise. "My mother wanted to have contact with Michael," says Lange, "but she didn't want to initiate it. You don't go knocking on the door and say, 'I'm the mother who gave you up for adoption. Aren't you going to invite me in to tea?' "

While Wyman was pursuing her acting career and Michael was being sent from one school to another, trips to his father's ranch were the highlight of his peripatetic existence. He has vivid memories of awaiting his father's visits on Wyman's front curb, and he still laughs uproariously when he recalls the look on his adoptive mother's face the day he and Maureen persuaded Reagan to let them take home a pet goat. The actor wordlessly dropped the animal off with the children before beating a grinning retreat.

When he was 14, Michael moved in with Dad 'n' Nancy, as he calls the couple, in Pacific Palisades. He stayed with them five years before enrolling at Arizona State University, where, he says, he majored in "fun and trouble." By that time, Michael would learn later, his mother, Irene, had married Harvin Lange, a restaurateur, and moved back to Ohio with him and their only child, Barry.

Michael and Barry have met twice so far and have found they have much in common. Aside from the "Flaugher forehead," they share a quick sense of humor and a tendency to gesture with their hands when they talk—which is, more often than not, perpetually. Neither got through college; Michael lasted a year, Barry dropped out after three at Ohio State. At one point in the '70s, they lived within a mile of one another in L.A., where Barry had moved at age 20. After five years writing TV scripts—he apprenticed on Happy Days and Laverne and Shirley—Lange moved back to Columbus, Ohio, to become a successful businessman. Though separated from his wife, Barbara, Barry has a son, Zachary, 8, while Michael has a son, Cameron, 9, and a daughter, Ashley, 4.

It was in August of 1980, during the Republican National Convention, that Barry learned Michael was his half-brother. Lange, his wife and his mother were driving to a Cincinnati Reds game when Ronald Reagan's presidential nomination was announced. "Mom started crying and said she'd done an awful thing, and she didn't want me to hate her," Lange recalls. "At one point I thought she'd had an affair with Reagan." When Irene managed to explain, Lange was so shaken by the news, he says, that he "took a wrong turn, and we ended up across the Ohio River in Kentucky."

Although Barry's father urged Irene to get in touch with Reagan, she never did. The day after Christmas 1985, a month after her husband had died of cancer, Irene suffered a fatal heart attack. Barry wanted more than ever to meet Michael, but hesitated. "I never perceived from what he said on interview shows that he wanted to meet me," he says. Even after the serendipitous car trip with Darlington, Lange's expectations were low. "I didn't think she believed me," he says. In fact, she was undecided, but three months later she was doing her morning chanting—Darlington is a Buddhist—"and it came into my head," she says, "that I had to pursue this."

Michael Reagan is forever indebted. The catharsis of the simple discovery that his mother loved and remembered him seemed to alter forever his view of himself and the world. And sharing the news with Ron and Nancy at their Santa Barbara ranch last Thanksgiving seems to have brought him closer to them. "I think Nancy knows how I feel, because she's adopted too," he says. "When she looked at the pictures of Barry's and my meeting, she teared up." As for the President, "I don't think it's really hit him yet," says Michael. "Dad was Dad. He stood there smiling." But when Michael visited the elder Reagans at the White House in January, Ron escorted his son to a private room at the end of the day and talked to him for nearly an hour. "It was the first time in their lives that they had a one-on-one conversation without it being prompted by a crisis," says Colleen. When he told his father something of his old bad feelings of abandonment, says Michael, Ronald Reagan replied, "My God! I thought just telling you I loved you was all I had to do." For his part, Michael finally understood how the secret of his molestation had gnawed at him and strained his relationship with the President and Nancy. "Now they know why they had such an angry son all his life," he says. "I was in tears when I realized the things I had done to cover up what happened to me and the pain I had inflicted on people from not being totally honest."

As this story is being written, Mike has yet to tell Jane Wyman—who he read was also adopted—of what he has learned of his biological mother. "She raised me," he says. "I'm worried about what she is going to think." Last May when he tried to tell her about being molested as a child, Wyman was too busy filming episodes of Falcon Crest to meet with him, he says, and he was forced to deliver the news by phone. "She was very quiet," he reports. "She has not, to this day, really dealt with it."

His book will be on sale this month, and the new, improved Michael Reagan "is much less emotional, less dramatic and less self-pitying," according to Hyams. Colleen says that finding his biological family has proved as liberating for Michael as dealing with his sexual molestation. "It eased his feelings of insecurity," she says. "He has never been more self-confident about his decisions."

Padding barefoot around his one-story, three-bedroom stucco home in Sherman Oaks, Calif., wearing red sweatpants and a T-shirt decorated with Cameron's handprints in paint, Reagan seems, indeed, self-assured. He still talks with nonstop ebullience—that much seems unaffected by his emotional make-over—and he declares himself a natural at his new job, as host of the Canadian TV game show Lingo. Buoyed by success, he feels that he's finally made his show-business mark. "I could do this until the cows come home," he says. Come next January, he jokes, "it's my dad who won't have a job."

—By Margot Dougherty, with Lois Armstrong in Los Angeles


Advertisement
Treat Yourself! 4 Preview Issues
The most buzzed about stars this minute!