People Top 5
LAST UPDATE: Tuesday February 10, 2015 01:10PM EST
PEOPLE Top 5 are the most-viewed stories on the site over the past three days, updated every 60 minutes
Picks and Pans Main: Song
Fortune and Men's Eyes
The three musicians who are the core of this group—lead singer-guitarist Karl Hyde, keyboardist Rick Smith, guitarist Alfie Thomas—have worked together for eight years. They previously led a band known, though to not too many people, as Freur. They have, in a couple of words, been around, and they haven't been wasting their time. In this new incarnation, joined by bassist Baz Allen and socko drummer Bryn B. Burrows, they coalesce into a rock band that deftly blends a little synthpop, a little funk, a little social conscience and a lot of surging rhythms that usually lead to something—dare it be said?—almost melodious. Hyde possesses one too many names and not quite enough drama or finesse to belong yet in the Bono school of pop singing, but he's on the right block. True, he could use an articulation lesson or two; it is often hard to make sense of the lyrics. The dance-oriented fan will not be too troubled, of course, and at times the murky diction is no loss: "Your love is terminal/ And I let you give it to me/ Your love's a juggernaut/ And you tried to drive it through me." The lyrics of the title song, though, pull off some nice turns as they voice the ever popular rock fear of nuclear war, and Bright White Flame suggests an impressionistic sense of enduring passion. It might stretch the point to suggest that a little Dylan Thomas rubbed off the group's Welsh background—Smith and Thomas are Welsh, while Hyde is English, and the band's formative years were spent in Cardiff. (The three co-write all the songs.) This is grownup stuff, though, with a sound that's a real attempt at originality. Welcome to the surface, gentlemen. (Sire)
Morris Day
He's back. Confident verging on arrogant. Narcissistic and egomaniacal. So far this sounds like Sting. But wait, amid all the preening and bragging, there's a strong sense of humor lurking in here—something no one has ever accused Sting of possessing. So this must be Morris Day. The sharp-dressed soul man continues to make a career out of the self-absorbed character he created with his former band, the Time, and perfected in Prince's film Purple Rain. Day still has the image down cold (check out the cover photos on the album), even if he's muted the attitude a little since his first solo album, The Color of Success. But once again, he's skimped on the music. His voice also seems to have grown blander. At least Daydreaming has two catchy tunes, Fishnet and Love Is a Game. Both were produced by and written with Jimmy Jam and Terry Lewis,
Janet Jackson
's guides to the promised land and Day's former Time bandmates. Otherwise the album is full of lackluster R&B grooves. The slow mood of A Man's Pride is interesting as a change of pace, for example, but the arrangement soon becomes repetitive, then pompous. It also contains some atrocious female harmonies. Maybe Morris made the ladies sing off-key. He's the kind of guy who doesn't like to be upstaged. Even by his own music. (Warner Bros.)
Kingdom Come
Say what you will about Lenny Wolf, the German-born singer who leads this band, but the guy is obviously a Plant lover—as in Robert Plant, singer for the once and future kings of hard rock, Led Zeppelin. This debut album by an international quintet has drawn attention because of its sonic reconstruction of Zeppelin. Most of that comparison is predicated on Wolf's vocal resemblance to Plant. In fact his timbre is often remarkably similar. He also shares Plant's ability to shift his tone suddenly from teasingly sultry to pyrotechnic. But in the slower sections, it's apparent that Wolf's pitch is lower and not as electrifyingly subdermal—he's unlikely, anyway, to get under anyone's skin. Outside the vocals, the Kingdom Come-Led Zep comparison crumbles. Kingdom Come's Danny Stag can't generate the stunning guitar fireworks Jimmy Page did. Just as important, James Kottak is nowhere near the hammerhead drummer that John Bonham was. Wolf, who does most of the composing, can't write as well either, although What Love Can Be and Get It On are interesting attempts at cloning Zep's formula. Face it: Kingdom Come isn't the second coming of Led Zeppelin. But hard rock fans can dream, can't they? (Polydor/Polygram)
Jennifer Hall
Somewhere about two minutes and 14 seconds into the fourth track on the second side of this album, Hall comes close to rendering an actual musical note. That's about as close as she gets to really singing. At her worst, she conjures up the specters of such dilettantish disco divas past as Raquel Welch. Some of her songs, too, can only be taken—and then barely—as parodies; how else to accept Car Wash, in which a wealthy young woman sings about dropping by the local car wash when she's bored because "nothing hits the spot/ Like the car wash guys/ Behind the parking lot"—and it doesn't sound as if they're there to discuss Vivaldi. Occasionally, though, the record has a whimsical charm. Hall, 29, daughter of actress Leslie Caron and Sir Peter Hall, director of Britain's National Theatre, tosses off her talk-singing with a dramatic flair that when not reminiscent of Raquel suggests something of Lauren Bacall. One or two songs show promise; of a ne'er-do-well boyfriend in No Good, she writes, "On your first day at work/ You were two weeks late." Producer Alan Tarney, who has worked with a-ha and Dream Academy, gussies up the tunes with dance-club grooves and engaging melodic twists, creating an enjoyable contrast between Hall's semidrone and the music's lightness. Ice Cream Days, about a woman's reunion with a girlhood playmate that Hall and Tarney wrote for the Bright Lights, Big City sound track, has a couple of nice sentimental moments. The overall effect is like a jigsaw puzzle whose pieces have been squeezed into the wrong places to make them fit. There was clearly effort put into the project. It's not uninteresting. It's just not what it is supposed to be. (Warner Bros.)
Contributors:
Ralph Novak,
David Hiltbrand.
Underworld
Advertisement
Today's Photos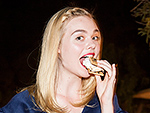 Treat Yourself! 4 Preview Issues
The most buzzed about stars this minute!