People Top 5
LAST UPDATE: Tuesday February 10, 2015 01:10PM EST
PEOPLE Top 5 are the most-viewed stories on the site over the past three days, updated every 60 minutes
Denise Crosby, Granddaughter of Bing, Beams Down from Star Trek for Some New Enterprise


Not that she didn't ask for it. After 23 episodes of standing rigidly (if curvaceously) at attention, Crosby, 30, felt she could no longer hold her two-toned hairdo high. Beneath the communicator pinned to her left breast beat a heart bursting with emotions that she was never permitted to express. "I didn't want just to say, The frequency's open, sir,' for five years," Crosby says, explaining her decision to leave the hit series.

Barefoot in T-shirt and jeans, Crosby stands in stunning contrast to her 24th-century Wac character. On the steps of the West Hollywood duplex she shares with her husband of five years, rock video director Geoffrey Edwards, she hoots at an owl in a sycamore tree. "We're jamming," she explains.

Inside, the hoots turn to sighs as Crosby discusses the nude layout of her in the May issue of Playboy. The shots are reprinted from a 1979 Playboy pictorial in which a punked-out Denise, who is the illegitimate daughter of Bing Crosby's son Dennis, was displayed under a headline labeling her "a different kind of Crosby." She says she was not told the pictures would be reprinted. "It's a bit exploitative of Playboy to do that, I suppose. But I'm not bitter about it."

Ironically, those same photographs had been Crosby's introduction to her husband. "My girlfriend at the time also had very short hair," Edwards, 29, recalls. "One day she said, 'Want to see what's really hip?' and showed me the Playboy pictures." The images made a lasting impression, presumably not for Crosby's coiffure alone. Months later, Edwards, by then unattached, was invited to dinner by a friend. His semiblind date for the evening (he had seen quite a bit of her, after all) was Crosby. The girl who walked off the Playboy pages turned out to be "statuesque and smart," he says.

"It was love at first sight," Crosby recalls. "I had one other blind date in my life, and it was a nightmare. I ended up puking in the guy's car. But Geoff had it—he turned me on. I was 20, he was 19, and we went for it. Four days later we were living together."

That chemistry led to the marriage, four years later, of two Hollywood bloodlines. Edwards is the son of director Blake Edwards and Patricia Walker, and both Geoff and Denise are close to Edwards and his second wife, Julie Andrews. Crosby also frequently sees her mother, Marilyn Scott, a retired accountant, and stepfather Dan Predovich, a Beverly Hills car salesman.

Such nice family scenes played no part in Crosby's early childhood. Denise Michelle Crosby was the subject of a bitter paternity suit that came to trial in 1960, when she was 3. "I remember going to court and it being packed with paparazzi," she says. Though Dennis was ordered to pay child support, that day in court was the only time Denise ever saw him. "It's very strange," she says quietly. "To have a child is a wonderful experience, and he unfortunately missed out."

Growing up comfortably in the middle class, Denise nonetheless saw herself as a rebel. "To this day, I'm probably the only person who was voted Homecoming Princess in 11th grade at Hollywood High and refused it," she says. She later enrolled in the drama department at Cabrillo College in Santa Cruz, but her academic career was cut short by an interview in the local paper. "They interviewed me because I was in a production at school and I was from this famous family," she says. "One of the drama teachers used the story to illustrate to the class that this crap is what Hollywood's all about, using people's names to get somewhere. I was very, very hurt by it. So I just checked out."

At 20, she began modeling, soon connecting with Playboy. It was, she admits, "some kind of rebellion on my part, some way of saying screw you to the family image."

Crosby never met her famous grandfather and didn't know any of his kin. But a chance encounter four years ago with Mary Crosby—one of Bing's three children by second wife Kathryn—led to friendship. "I'm really glad I met her," says Mary. "I think she's terrific."

That opinion is shared on the Star Trek set. "She was very well liked," says series creator Gene Roddenberry, who did not, however, try to convince her to stay by promising meatier parts. So she departed, without temper tantrums, tears—or, in fact, a firm job offer. But this fall Crosby will be seen co-starring with Mare Winningham and Anthony Edwards in a feature film, Miracle Mile, in which she plays a tough business executive. "I wouldn't have left the show if I didn't have a sense I could get another job," she says.

In her final moments aboard the Enterprise, Tasha appears as a hologram to impart her wisdom to her ever-orbiting pals. "I do a four-page monologue," Crosby says proudly. "Ironically, I had to die to get the show I wanted."

—By Susan Toepfer, with Michael Alexander in Los Angeles


It will be a quick death. Not messy, not gory and—the victim herself assures us—"not grisly at all." When Tasha Yar, security chief of the starship Enterprise, succumbs to "the most negative force in the universe" on Star Trek: The Next Generation this week, it will be with a violent twist. "I was wired, yanked and flipped," Denise Crosby says. "I whiplashed my neck and pulled ligaments getting killed."
Advertisement
Today's Photos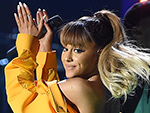 Treat Yourself! 4 Preview Issues
The most buzzed about stars this minute!