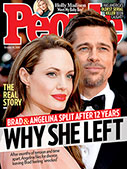 This Week's Issue!
People Top 5
LAST UPDATE: Tuesday February 10, 2015 01:10PM EST
PEOPLE Top 5 are the most-viewed stories on the site over the past three days, updated every 60 minutes
As Amen's Vampy Virgin-in-Waiting, Anna Maria Horsford Keeps Viewers Congregating on Saturday Night


"The nice thing about playing Thelma is that she's really the 'ideal,' and men like those kinda girls," says Horsford of her virginal-but-marriage-hungry alter ego. "When men meet you, they immediately tell you they're for you. But don't let the act fool you; I play everything opposite to my reality."

For one thing, Horsford would never be jilted 18 times, which was Thelma's total at last count. "I've had a lot of boyfriends, but I'm one who doesn't necessarily want to get married," says Horsford, 39. Which is not to say that she's short on admirers. Among them: actor William Hudson III, the series' 13-year-old boy reverend. "He had the biggest crush on me," reports Horsford. "He said, 'Anna, tell me you're not old like my mother.' I said, 'William, I'm not 13,' 'cause that's what I figured he wanted me to be."

The fact is, for the Harlem-born Horsford, guiding men into altered states has always taken a back pew to more important pursuits. Everybody, it seems, always knew that she was heaven-bent on being an actress. "She's been that way inclined, always that way," concedes her father, Victor, an Antiguan-born Harlem Realtor. Confirms her Santo Domingan mother, Lillian: "Ever since she was knee high, she'd dress herself up and pretend she was something she wasn't, like a fancy lady or anything else she could think of." Horsford, of course, concurs. "I was the one, out of the four children, that either went to Radio City Music Hall or the Apollo Theater. It was almost like there was something shining down, saying, 'This one's gonna be in the business.' "

After graduating from New York's High School of Performing Arts, Horsford went through the lean years that fill every actor's résumé. She took a "temporary" receptionist job at the PBS station in New York, stayed for 10 years and left as the director of the landmark black variety show, Soul.

To make the switch from temp to thespian, Horsford tried the daytime soaps (as a prisoner on The Guiding Light), then films (St. Elmo's Fire) and finally TV movies like Bill and Nobody's Child. While filming the latter, she was called to meet with Ed Weinberger, producer of the old Mary Tyler Moore Show, who was creating a new series about a black Philadelphia church, starring Sherman Hemsley of The Jeffersons. At her audition for the part of Hemsley's ditsy daughter, she came costumed in a pink bathrobe, a pair of little-girl teddy bear slippers and with a supermarket tabloid under her arm ("I said, if she doesn't work, then what does she do?"). As the planned five-minute reading stretched into 1½ hours, the role of Thelma took shape. "With the sitcom format, you get maybe 10 lines, and you have to add everything else," says Horsford. "You have to bring a person to the people."

On the Amen set, Horsford isn't merely a person but a presence. The "lovable gadfly," as co-star Clifton Davis has dubbed her, freely dishes out advice to lovelorn crew members, strokes the egos of faltering actors and provides the soul to balance Hemsley's Sturm und Drang.

"It's hard for me not to like her, to not be attracted to her," says Davis, who plays Horsford's very-hard-to-get love interest. "I really wish they would write in a little more romance for us."

For romance off the set (it's only marriage that she's wary of), Horsford looks to Arnol Tolbert, a video technician six years her junior. The two-bedroom West Hollywood home that the couple bought last summer is filled with other loves that fit her tastes: a wooden mask from Upper Volta, 50 glass and porcelain vases and assorted collectibles from her frequent visits to L.A. auctions and elsewhere. Packages of Gummi Bears fill the cupboards ("I could eat them all day"), jazz, soul and R&B records line one living room wall, and a metallic brown '66 T-Bird sits in the garage ("I'm afraid to drive the beast; it's sooo big").

Even boyfriend Tolbert, however, has learned his limits when it comes to Horsford. "Arnol came to a taping recently, and he said he thought one scene wasn't funny. I said, 'Arnold, I think this should be the last time you come to a taping.' As a performer, I don't need objective criticism. If you call yourself a friend, you have to be a healer, saying, 'I think you were wonderful.' If people call that lying, that's fine. Lie to me."

That won't be necessary, Anna. It seems your critics haven't got a prayer.

—By Joanne Kaufman, with Rick Holmstrom in Los Angeles


The name of the hit NBC show is Amen, but it's a woman, Anna Maria Horsford to be precise, who's got TV viewers praising the lords of Saturday night scheduling. As Thelma Frye, homebody daughter of a crusty church deacon (played by Sherman Hemsley), Horsford provides the mix of pizzazz and piety that has won the sitcom a legion of converts. For Amen's fans these days, the show doesn't really seem to roll until Thelma uncorks her favorite whine: "Ohhhhhhhh, Dadddddddddy!"
Advertisement
Treat Yourself! 4 Preview Issues
The most buzzed about stars this minute!