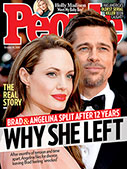 This Week's Issue!
People Top 5
LAST UPDATE: Tuesday February 10, 2015 01:10PM EST
PEOPLE Top 5 are the most-viewed stories on the site over the past three days, updated every 60 minutes
Kathleen Beller Takes a Flier on Marriage with Thomas Dolby


He (gently touching her hand as they snuggle on the living room couch of their charming house in Los Angeles): "I don't think I have ever been romantic before. You brought it out in me. [Pause] If we drive through a tunnel, we have to kiss, especially on the little one-lane roads that have trees that form a tunnel."

She (with a giggle): "We unbuckle our seat belts first."

There are a couple of options here: You can give in, glaze over or retch. C'mon, give in. Isn't it nice to know that sappy romances can still happen, even to the hip, hot and happening denizens of hard-boiled Hollywood? Meet the lovers: She is actress Kathleen Beller, 32, the voluptuous art teacher on NBC's The Bronx Zoo. He is musician Thomas Dolby, 29, the "mad scientist" of technopop with a new LP called Aliens Ate My Buick. "We got to know each other very deeply, very quickly," says Dolby, confiding that they plan to wed on July 2. "How many seconds of your life do you feel so complete?" asks Beller. "I'm thrilled."

Before the gush gets out of hand, let's go back a year to a time when our goo-goo-eyed romantics were unabashed cynics on the singles scene. Beller, divorced from actor Michael Hoit, had despaired of finding "a passionate lover and a companion" in the same man. "I had dated most of Los Angeles," she allows. "Then AIDS came along, and I slowed down."

For his part, Dolby says he used to seek out "unhappy, self-destructive relationships—married women, my best friend's girl. I thought suffering was the only way I could write good music." Kathleen changed his outlook—and his prejudice against American women. "They just didn't have the kind of mystery and allure that English women had," he says. "Kathleen was the first Yank lady I'd met who was dark and mysterious."

"Me?" says Kathleen, blushing. "You really thought I was mysterious?"

Scoff if you must, but Dolby and Beller met cute enough to warm the computer terminal of even the most jaded screenwriter. One February afternoon in 1987 Dolby walked in on his friend and collaborator Grant Morris, who was on a blind date with Beller. After Dolby walked out, Kathleen says, "I was thinking to myself, 'Hmmm. I wish the blind date had been with him.' " Kathleen says it was Dolby's black, pointed shoes that turned her on. "I have a pointed-shoe fetish, and the only time sex is really good is if he's wearing them," she jokes. "With or without socks," says Thomas, howling. (These two, dear reader, are their own best audience.)

Later, Dolby called Beller and arranged a date. On Friday, March 13, the two went to dinner with a group of friends at a Hollywood eatery. "All through dinner, I was just in heaven. It was just one of those things I can't explain," says Beller.

She gave him a ride home that evening, and after an hour's conversation in Dolby's driveway, he invited her in for a spot of tea. "We sat in the kitchen, and he made me a proper cup of tea. He heated the teapot first," recalls Kathleen dreamily. "Then we talked until about 4 a.m. I just sat there and thought, 'Uh oh, I'm falling in love.' "

That lucky Friday-the-13th date led to a string of not-so-brief encounters. "We just started seeing each other every night," says Beller. The fourth day of their acquaintance, Dolby came over to Kathleen's house in the wee hours. "I was completely asleep, and I heard this vague knock. I woke up and was at the door like boom! I knew who it had to be. We kissed out on the doorstep and finally he asked to come in. I was thrilled to pieces," she smiles. Dolby smiles too. "So," he says, "I spent the night." And they've been playing house ever since.

Not surprising. Both have always been precocious. Dolby has been making music since his childhood in London and Oxford, where his parents were teachers. The youngest of six children, Thomas remembers pulling his mother's silver spoon set out of a drawer and playing percussion along with the Drifters and Buddy Holly.

Graduating to guitar at age 12, he began picking out folk tunes. Born Thomas Robertson, he was known as Dolby by classmates at school in London because of his interest in electronics.

Deciding at 16 that music had more allure than his studies, Thomas dropped out of school to work as a sound mixer, a rock musician, a composer for New Wave singer Lene Lovich and, in an attempt to build his own solo writing and performing career, as a street musician in Paris: "I felt that it was an important part of an artist's life to struggle for a time in Paris."

The struggle didn't last long. After three months of singing for his souper, Dolby was tapped to play synthesizers for Foreigner's 4 album. He followed up with a hit of his own ("She Blinded Me with Science") and a move to the U.S. "I needed a breath of fresh air," he says. "Which makes it rather strange that I would pick L.A."

During his first few years there, instead of working on his own music, he produced records for others and wrote film scores (Howard the Duck, Gothic). Dolby credits his fiancée with putting his life back in order and back in tune. "After meeting her, I felt good about myself as a performer again, and I really wanted to get out there and play," he says. "When you've spent a night of bliss in the arms of someone you love, you work with power," beams Dolby. "However, I would walk around with this grin on my face looking completely stupid."

Those who spend time with Dolby and Beller will attest to that. "I love watching the two of them together," says actor Jerry Levine, who as math teacher Matthew Littman lusts after Beller on Zoo. "Thomas is Kathleen's first priority. If you ask about her, you're going to hear what's doing with Thomas. And vice versa."

Such full-scale support is probably just the thing for Kathleen's peculiar combination of shyness and gumption. "I'm insecure, and sometimes I just feel like I'm really ugly," she says. The daughter of a psychiatric social worker and a retired math teacher-jazz pianist, Beller grew up in suburban New York and decided to become an actress after watching an episode of The Brady Bunch. "I said, 'I can do that. I'd rather do that than baby-sit.' "

The 14-year-old Beller's search for early financial independence led to a job in a Mars Bar commercial after only three days of pavement pounding. Roles in the soap Search for Tomorrow and onscreen in The Godfather Part II followed. So did a move to L.A. There, Beller played the title role in ABC's Emmy award-winning Mary White in 1977, appeared in such feature films as The Betsy, Promises in the Dark and Fort Apache, the Bronx and did a two-season term of duty as the majordomo's daughter on Dynasty before landing in The Bronx Zoo, where, she says, she's finally happy as an actress after years of frustration.

In 1976 she briefly left show business to become, of all things, a shampoo girl at a Club Med in Cancun. "I felt like acting had turned into convincing men whom I didn't like that I wanted to play characters I didn't like," she says. Beller returned after six months with the self-confidence to weather rejection. At auditions she would react to criticism with becoming defiance: "My hair is not too black, my legs are not too short, my breasts are not too big." Dolby applauds her attitude.

Neither holds any residual bitterness about the past. "I've made some major mistakes with men," says Kathleen, "but if one of those relationships had worked out, I wouldn't be here with Thomas. I don't think I would have been this happy with anybody else. When I was a little girl, the kind of relationship I used to dream about is what I have with Thomas."

Kathleen says it was Thomas who made the dream perfect by suggesting they should get married on a boat in England. "I just started to cry," she says. "It was such a romantic idea."

There they go again.

—By Joanne Kaufman, with Vicki Sheff in Los Angeles


She (with a longing gaze at her boyfriend): "I find him to be the most romantic man in the world."
Advertisement
Treat Yourself! 4 Preview Issues
The most buzzed about stars this minute!