People Top 5
LAST UPDATE: Tuesday February 10, 2015 01:10PM EST
PEOPLE Top 5 are the most-viewed stories on the site over the past three days, updated every 60 minutes
Riding Out a Storm of Rumors, Justine and Jason Bateman Battle Their Image as Showbiz Brats


A scant 10 miles away from her neon-trendy Hollywood Hills home, a boy with similarly seductive eyes stands in scruffy shorts and T-shirt, lazily pondering the contents of his condominium's refrigerator in an apartment decorated in early pool table. "I want an imported beer collection to round out the atmosphere," Jason Bateman jokes.

Separated by style, united by blood, Justine and Jason Bateman are two of TV's most admired young actors. Not to mention the sexiest sibling act since Warren Beatty and Shirley MacLaine. But, hey, what's this? The recent scandal sheets have been referring to both Batemans as "brats." Reports have Justine, 22, tossing temper tantrums on the set of her smash NBC series, Family Ties, not to mention sniping at cast members. Jason, 19, has been accused of having a swelled head, cold-shouldering the fans who wait outside the studio where he films NBC's Valerie's Family.

Certainly the Batemans have had more than their fair share of problems of late. Six months ago Justine and Jason must have been devastated when their parents—Kent and Vicki—announced they were separating after 23 years of marriage. Then the kids had trouble with their own love lives. Justine split from her boyfriend of three years, sound mixer Bobby Anderson, and Jason risked alienating his steady girl, Beverly Hills High School student Dawn Garrett, when he went on The Tonight Show in February and told Johnny Carson he felt "locked up" and wanted to play the field. Further troubles came with the recent failure of their respective feature film debuts—Justine as a garage rock and roller in Satisfaction, Jason as the hairy antihero of Teen Wolf Too, directed by dad Kent.

No choice then but to beard the Batemans in their respective lairs to get their side of the story. As it turns out, they've heard all of the above allegations as well as some new ones.

Chain-smoking in her gloriously modern pink-and-white-walled home, Justine turns ashen with anger when she talks about the rumors that rippled through town last summer when she was hospitalized for a ruptured appendix. "People heard that I had slit my wrists because I was so devastated by the fact that my boyfriend had dumped me," Justine says bitterly. "That's sick. My appendix burst. That's all there is to it."

Since both her parents were out of town, she reached out to brother Jason, who called an ambulance. "I wanted to die," she admits. "I wanted to be out of my body. I'm not suicidal in any way. It's just that when you're in that much pain, wouldn't it be convenient if you could just be out of your body?"

Switching tones, Justine reaches across the black lacquer table and points to the scars on her wrist. "You want slashing?" she asks. "There. I slashed my wrist right there. I missed, though. On the set of the TV movie Can You Feel Me Dancing? I went to this old door and turned the knob with my right hand and pushed with my left—it was really thin, brittle old glass—and my hand went through it like butter. It just happened."

Okay, her breakup with Anderson took its toll. Some wondered if the black-black-black of her clothing reflected the darkness of her moods. A dedicated club-hopper—"I like to go dancing, have a few beers"—Justine also says, "I like being alone too. I have days where it's 'God, get me a shot of tequila.' But I don't have a general rule about it."

Despite the punk duds and late-night howling, Bateman denies she's on a fast track of self-destruction. Since January she has taken up with former teen idol Leif Garrett, now 26 and trying for a comeback. Leif's fleeting encounter with fame might well provide some grounding lessons for Justine, though she says she doesn't need them.

Everyone connected with Family Ties denies her alleged "temper tantrums" and sniping on the set. "It bothers me if I hear somebody say something about her that I know isn't true," says co-star Michael J. Fox. "Justine is a great friend and seriously loyal. When we get together, we talk about relationships and pressures. Just because she takes a Porsche to work doesn't mean all her attitudes come from that life-style," he says in her defense. "It's really good that her brother is kind of going through the same adjustment to being famous. They keep each other in check."

Not that the sibling revelry extends to Jason. Though he shares his sister's heavy smoking habit and though his $2,000-a-month bachelor digs have the Animal House aura appropriate to his age, Jason's most rebellious behavior seems to be shooting indoor hoops. On the other hand, he did steal that chipmunk ashtray from the Disney studio—a crime to which he readily fesses up. And he is wearing black—black-checked pants, black T-shirt and bare feet. "You dress like your sister," a visitor suggests, as Bateman settles down to talk in his near-barren living quarters. "Oh, please," comes the response.

Jason has been putting his shoulder to the showbiz wheel since age 5, when his director father put him in a commercial he was shooting. Recruited in 1982 to play Silver Spoons star Ricky Schroder's humorously obnoxious pal, Jason was soon posing a threat to Schroder's popularity. Asked about Schroder's rumored jealousy, Jason chooses his words carefully. "I was 13 and it was my first rude awakening to the dark side of the business," he says. "Ricky taught me a lot about what not to do. I came off looking a lot better not being like Ricky."

By the time Valerie rolled around in 1986, Jason was such a winning presence that the grapevine blossomed with rumors that series star Valerie Harper's much-chronicled war with the producers could be traced in part to her jealousy of Jason's popularity. Dropping Harper, but keeping Valerie's Family (with Sandy Duncan filling the star spot), NBC now has a full-fledged hit—thanks in large part to Jason's avid adolescent following.

"When he comes out and 150 girls scream, I think he likes it because he's human, but it also makes him uncomfortable," says Valerie's Family executive producer Tom Miller. "Jason doesn't find being cute a negative in his life," says Miller, "but he also wants to be taken seriously."

Contrary to the talk, that incipient sex appeal hasn't led Jason romantically astray. Despite his comments on the Carson show, Jason says that he and Dawn Garrett, 18, his girlfriend of two years, remain steadily, if not often publicly, together. "I'm not one of those who goes out every night," Jason adds. "My sister is. She's into that stuff."

Her brother was already well established in his career when Justine decided to try modeling seven years ago. She quickly switched to acting but hit a brick wall. "She was at the terrible age of 14, when agencies hunger for the 18-year-olds who look 14 so they don't have to deal with school requirements," Kent recalls. Yet when, at 16, she finally did get her shot—a reading to play Mallory, Fox's ditzy sister on Family Ties—the role was instantly hers. "They took a real chance on me," Justine admits. Indeed, her character's dim-witted demeanor bears about as much resemblance to Justine as a tricycle to a Harley-Davidson.

Justine's fierce independence may have its roots in an itinerant childhood. In 1981 she and Jason hit Los Angeles, after roaming from Rye, N.Y., to Winchester, Mass., to Salt Lake City with showbiz veteran Kent and his wife, Vicki, a flight attendant. "I loved it," Justine says of the family's portable life-style. "My body clock after four years said, 'I'm ready for a new set of friends.' " Jason also professes nonchalance toward the moves. "Luckily, I was young enough not to know what it is to establish yourself at a school," he says. But while Justine believes she didn't grow up "anywhere, so much as everywhere," brother Jason says he considers himself "a real California boy."

Both kids moved out of the family's Woodland Hills house soon after their 18th birthdays—with their parents' blessing. "They couldn't wait to get me out," says Justine. "My dad found my place, my mom helped me pack, and my brother was making architectural plans for my bedroom. It was just what you do at 18."

Considering their divergent styles, it's no surprise that Jason and Justine get along a lot better now than when they were living under one roof. "We used to have dogfights," Jason recalls. "Brother and sister stuff. Brutal wars, hurling remote controls at each other." These days, he says, he sees her "anywhere from twice a week to once a month. When she's in between boyfriends and my folks are out of town, that's where I fit in. Lifesaver and the Emmy date."

And the occasional target. When Justine appears for a photo shoot today, she steps into Jason's apartment with a sneer. "It looks like the cat yakked in here," she declares.

To his credit, her little brother doesn't make a move toward the remote control.

—By Susan Toepfer, with Michael Alexander in Los Angeles


Dark hair framing an intense pale face, T-shirt declaring her biker's allegiance, black boots pulled over sleek black jeans, Justine Bateman whips out her black sunglasses and points her black Porsche toward the music of the night. "When in doubt, always wear black," she advises.
Advertisement
Today's Photos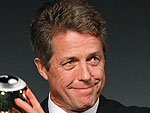 Treat Yourself! 4 Preview Issues
The most buzzed about stars this minute!