On Newsstands Now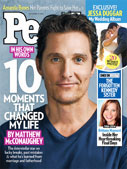 Matthew McConaughey: In His Own Words

Jessa Duggar's Wedding Album

Brittany Maynard's Final Days
Pick up your copy on newsstands
Click here for instant access to the Digital Magazine
People Top 5
LAST UPDATE: Tuesday February 10, 2015 01:10PM EST
PEOPLE Top 5 are the most-viewed stories on the site over the past three days, updated every 60 minutes
Don Regan's Scorching Attack on the First Family Brings the Controversy Over White House Tattlers to a Boil


Whether you deem it a betrayal of Oval Office confidences or a novel application of Truth in Government, Ronald Reagan is the first President in the nation's history to suffer—while still in office—such opportunistic vivisection by former associates. Nor are the tattletales yet done with him; more unvarnished memoirs are aborning. Within weeks of stepping down last November as Secretary of Defense, Caspar Weinberger had banked a $500,000 advance for a book on his Reaganaut years; his former deputy, Richard Perle, is at work on a roman à clef about official Washington for which Random House has paid $300,000; and Helene von Damm, the onetime presidential secretary who in 1985 was pressured to leave her post as U.S. Ambassador to Austria, will be making her own book-length revelations next year. White House veterans insufficiently ambitious to write a book can have their say too. Armed with a reported $3 million advance from Simon & Schuster, scalp-hunting biographer Kitty Kelley is whipping about the capital in a red Mercedes (a little side benefit in her publishing deal), debriefing witnesses for her planned warts-and-all biography of Nancy. By the time the Reagans' own autobiographical accounts appear, their tales may have been foretold—and outsold.

While the authors' styles vary, their portraits of the Reagans have a certain consistency. With the exception of Nancy's former chief of staff, James Rosebush, whose recent First Lady, Public Wife is a coffee-table paean to the woman he once served, they limn the President and Mrs. Reagan in a harshly unflattering light. Reagan is seen as a cheerfully detached character who has mastered the role, if not the substance, of the Presidency. His diminutive helpmate is described as a tireless warrior who uses press leaks, political legerdemain and astrological guidance to protect her husband and dispense with the couple's enemies.

Chief among those who crossed Mrs. Reagan and lived to tell all is Donald Regan, the former Secretary of the Treasury and the White House Chief of Staff ousted unceremoniously in February 1987. A blustery, wisecracking autocrat who spent the first 34 years of his career with Merrill Lynch (rising to become chairman of the board), he claims to have been the victim of a palace coup authored by Nancy. "It's no secret that [she] wanted to get rid of me," he says. "She thought I was bringing the President down and apparently didn't care for me personally. She fanned the flames of bad publicity."

In For the Record Regan extracts his revenge. In the opening scene a stammering Nancy calls Regan to report that doctors had found a dangerous-looking lesion in her husband's intestine, but that surgery might be delayed, apparently until her astrologer could determine a propitious date. Willful, vigilant, unemotional, she stage-manages the news coverage of her husband's colon cancer operation with the skill of a public relations professional. Aides were kept at bay, and photo opportunities were carefully contrived to put an optimistic gloss on the President's condition.

As Regan tells it, Nancy ran interference for her 77-year-old mate even when he was in full fettle. "She was phoning me constantly," Regan says. "I talked to her three times as much as [to] the President...." Typically, the calls were made in the late afternoon, when the President took his two hours of exercise in a gym in the family quarters. "Sometimes she would cover the mouthpiece and call out an answer to a question he evidently had asked her while using the rowing machine or the stationary bicycle," Regan says.

It was Nancy, he claims, who did the political housecleaning. "She becomes very vindictive if she thinks somebody is going to harm the reputation of her husband or herself, or won't give in to her," he says. By his account, she campaigned to dispose of controversial Administration members, including Labor Secretary Raymond Donovan, Communications Director Pat Buchanan, Health and Human Services head Margaret Heckler and CIA chief William Casey—who lay on his deathbed as she pressured her husband to dismiss him. When Regan suggested that such a move would be inhumane—particularly at Christmastime—she allegedly replied, "He's got to go. He can't do his job. He's an embarrassment to Ronnie."

Regan claims that his own fortunes fell after he crossed swords with the First Lady over the Iran-contra scandal. As he reconstructs the story, the White House was immobilized for three months beginning in November 1986; although he begged the President to come forward to tell his side of the story, Nancy, following her soothsayer's advice, insisted that such a move was unwise. The tension built as the public controversy heated up; during one of her phone calls, she asked, "Are you still here, Don?" When the press—prompted, he claims, by a deliberate leak from the White House—reported on February 27 that Howard Baker would be his replacement, "I was humiliated and angry," he says. "I learned that you can be thrown to the wolves any minute."

Regan insists that he wrote his account primarily to correct the historical record and will donate the book's $1 million-plus proceeds to charity. Still, he does not disguise his relish in getting even in so spectacular a fashion. The book was born the day he left the White House, enraged over his treatment by Ron and Nancy Reagan. Riding home in a chauffeured limousine to Mount Vernon, Va., says Regan, "I asked myself, 'How in the hell could this happen to me? What is this, going home with my tail between my legs?' I thought, 'You've got millions [reportedly $30 to $40 million], you've got a great family, you've got the world by the tail and here you are humiliated...'

"I decided I had to write a book," he says. "It couldn't end this way. I won't be a scapegoat."

Of all the recent memoirs, Regan's has drawn the most emphatic put-down from his former employers. Reported to be "very, very upset" about Regan's ungentlemanly tone, Reagan accused him of choosing "to attack my wife." Said the President: "I don't look kindly upon that at all." Nancy issued an ironic understatement: "I was taken aback by the vengefulness of the attack. It comes through to me that Don Regan doesn't really like me."

Fellow author Speakes could have told Regan it wouldn't be easy. Even before his Speaking Out was officially published in early May, the onetime press secretary was assailed by journalists—"moochers" and "whiners," as he has called them—as well as by the Administration. Reagan himself was reported to be "furious" over Speakes's admission that he had concocted statesmanlike quotes and fed them to the press as Reagan's own. With the salvos coming in from all directions, Speakes resigned from his $300,000 job as chief spokesman for Merrill Lynch and began pumping his best-seller full-time. "I'd planned to cram [the promotion] into one week," says Speakes. "But everything has changed now."

Although Speakes had spent nearly six years enhancing the President's image, his own unhedged assessment of the First Couple undid much of that work. Reagan, he writes, was an "inexperienced and sometimes downright disinterested President." Nancy was a back stabber, obsessed to the point of absurdity with guarding her husband's reputation. The Reagans' children, the President's staff—everyone is fair game for Speakes: Maureen Reagan is a "punch-you-in-the-nose type" who intimidates even George Shultz; Edwin Meese, "an ideologue" who earned the nickname Poppin' Fresh for his Pillsbury Doughboy girth.

"If you are doing an honest book," Speakes explains, "you can't make it a puff job." However, he acknowledges that he may have shot himself in the foot. "I think my credibility has been tarnished," he says. "My one goal in life is to restore [that]. Hopefully people will give me credit for telling the truth."

The tell-all authors waiting in the wings are hoping for the same break. Von Damm, for one, is readying a memoir that may well be juicier than her predecessors', if that is possible. Given her intriguing past, Von Damm should at least have no trouble triggering a public response for her tome, tentatively titled Behind the Ambassador's Smile. Secretary to Reagan since his days as the Governor of California, she was appointed to her post in Austria in 1983. Washington gossips suggested that a jealous Nancy Reagan had arranged to have Von Damm shipped out of flirting distance. In Vienna, she created a stir by shedding her third husband in favor of Peter Gürtler, owner of the elegant Hotel Sacher. The incident played badly in Washington, and when she submitted her resignation, her longtime boss didn't try to dissuade her.

While she is tight-lipped about specifics, Von Damm (who is now estranged from Gürtler) hints that some heads should lie uneasy. Is Nancy Reagan's among them? For the nonce, Von Damm says only, "I'm going to try my best to do her justice." Judging by what has gone before...DUCK, NANCY!

—By Michelle Green, with Garry Clifford and Jane Sims Podesta in Washington and Fred Hauptfuhrer in Vienna


The prototype appeared in 1986—The Triumph of Politics, a faintly subversive $2.4 million memoir about Ronald Reagan's economic doctrines by his former budget director, David Stockman. That same year First Daughter Patti Davis (taking aim with the help of a ghostwriter) had fired potshots in a mean-spirited novel titled Home Front. Last February the Great Communicator's erstwhile image maker, Michael Deaver, weighed in with a surprisingly indiscreet book called Behind the Scenes. Now the onslaught of White House tell-alls is under way in earnest: Five months into 1988, readers have duly devoured adopted son Michael Reagan's painfully candid portrayal of his parents, On the Outside Looking In, and Larry Speakes's coyly titled Speaking Out, a pointed depiction of the White House as the official spokesman saw it. Last week Donald Regan's excoriating For the Record, with its tales of soothsayers, iron fists and velvet gloves, put the White House under its heaviest literary siege yet (see story, page 106). Inside jobs on the Reagans, it seems, are now a full-fledged literary genre.
Advertisement
Treat Yourself! 4 Preview Issues
The most buzzed about stars this minute!