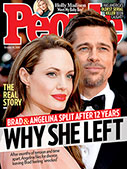 This Week's Issue!
People Top 5
LAST UPDATE: Tuesday February 10, 2015 01:10PM EST
PEOPLE Top 5 are the most-viewed stories on the site over the past three days, updated every 60 minutes
After Winning a Pulitzer for Driving Miss Daisy, Alfred Uhry Emerges as Theater's New Top Dog
Aman stopped Alfred Uhry on a Manhattan street the other day to congratulate him on winning this year's Pulitzer Prize for his off-Broadway play, Driving Miss Daisy. "It's long overdue," said the man. [P] "What's overdue?" asked Uhry. [P] "The Pulitzer." [P] "But this is only my first play." [P] One can hardly blame the man for jumping to such an outsize conclusion. Uhry's small-scale comedy-drama about a cranky Southern Jewish widow and her black chauffeur, whose 25-year relationship spans the civil rights movement, has been making a big noise since the show debuted a year ago at a 74-seat theater. Since then, Miss Daisy has won numerous awards for the two original stars, Dana (The Color Purple) Ivey and Morgan (Street Smart) Freeman, moved to a larger theater and spawned a just-opened production in Chicago with Sada [Family) Thompson, a national touring company with Julie Harris and a London version with Dame Wendy Hiller that has just started rehearsals. "I couldn't get luckier," says Uhry, 51. [P] He's getting richer, too. Last August, producers Richard Zanuck and David Brown bought the movie rights for more than $500,000 and hired Uhry to write the screenplay. Though Uhry is rooting for Oscar nominee Freeman to repeat his stage role, he's declared open season on the casting of Miss Daisy, who must age from 72 to 97. "I just heard Shirley MacLaine is interested, "he says. (She'll have to get in line behind Katharine Hepburn—who wants to co-star with Sidney Poitier—Bette Davis, Maggie Smith, Angela Lansbury, Lucille Ball, Ann Sothern, Liz Taylor and Vanessa Redgrave.) "I don't know which movie star would be right," says Uhry, diplomatically. "There are 50 scenes, and I'd like to see all the actresses who want to play Miss Daisy do a scene. It would start with the youngest and end with Lillian Gish." [P] The right to such flights of fancy has been hard won. Uhry, after all, has spent the past 20 years struggling to make it as a lyricist in the musical theater. At Rhode Island's Brown University, from which he graduated in 1958 with a degree in English, Uhry began a 25-year collaboration with composer Robert Waldman. Their most successful venture, The Robber Bridegroom, ran for three months on Broadway in the 1976-77 season and earned Uhry a Tony nomination. [P] To support his wife and four daughters, Uhry taught English and drama at New York's Calhoun High School until 1980. (He continues to teach a graduate course in lyric writing at New York University.) Increasingly disenchanted with putting words to music ("After Sondheim, why go on?" he asks), Uhry kept thinking how he'd like to write a real play. [P] Then, he says, "A switch went on. I thought, 'I'll write about my grandmother.' " Alfred spent the next year, 1985, creating Miss Daisy. His grandmother Lena Fox actually had been 72 when she smashed her car and the family hired her a black chauffeur. His name was Will Coleman, and he spent 25 years driving Miss Lena, who died at 95 in 1973. "Having a chauffeur wasn't an elitist thing—$12 a week in 1948," says Uhry, who comes from an upper-middle-class Jewish background in Atlanta. His late father was a furniture designer. His mother, Alene, is a Wellesley graduate who still lives in Atlanta. Says Alfred: "I grew up in a household that never said, 'I love you,' they just did it." [P] Uhry is more demonstrative. "I'm very huggy and kissy," he says, sitting on a couch in the living room of his enormous, four-bedroom Upper West Side apartment. "It's rent controlled, $700-something a month," he says, as two cats and a collie climb over him. It was in this apartment that he and the former Joanna Kellogg, 51, a teacher, whom he met and married at Brown, reared four girls: Emily, 27, Elizabeth, 24, Kate, 21, and Nell, 19. The family also owns a farmhouse in Morris, Conn., which Alfred—helped by a small inheritance—bought in 1968. "I'm glad this success didn't happen to me earlier," says Alfred. "It would have taken me away from my family." Says Joanna: "Alfred spent most of his adult life working at home, which has made us all feel very lucky." [P] The play's success hasn't gone to Uhry's head. "I don't plan to wave my Pulitzer around," he says. He feels the prize comes with a responsibility. Uhry has a work in progress, again based on his childhood in Atlanta. "With Miss Daisy I wrote a play that says warmth and dignity can be yours until the very end," he says. "I think I owe the Pulitzer committee at least one more." [P]
Advertisement
Treat Yourself! 4 Preview Issues
The most buzzed about stars this minute!